Polk State Theatre kicks off 51st season with "The Dining Room"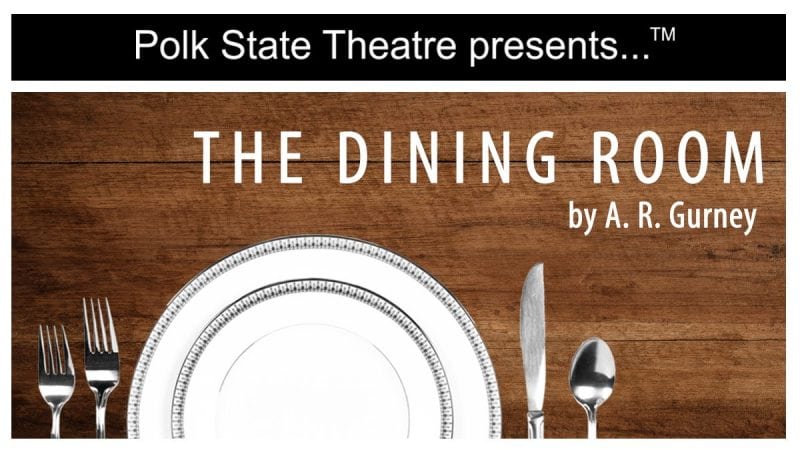 Polk State Theatre is making its 2018-2019 season debut with "The Dining Room" – a comedy of manners by A.R. Gurney.
The six-member cast will take the stage Oct. 4 for three evenings of shows and a Sunday matinee at the Winter Haven Campus Fine Arts Theatre, 999 Ave. H N.E. Curtain time is 7:30 p.m. Oct. 4 to Oct. 6, and 2:30 p.m. on Oct. 7.
Tickets are $5 for the public on opening night and $10 for all other performances. Shows are free for students, faculty, and staff with their Polk State IDs. The box office opens one hour before curtain time, but it is recommended that reservations be made in advance online at polk.edu/boxoffice or by calling 863.297.1050.
"The Dining Room" follows the stories of different families throughout the 20th century tied together by the same dining room.
"We are excited to begin our season with this funny, charming play and invite everyone to come and see our cast of six talented young actors portray 57 different characters of all ages," said Director and Theatre Program Coordinator Mark Hartfield.
Polk State Theatre, in its 51st season, gives students the opportunity to perform a challenging slate of shows each year, from classic comedies and musicals to Shakespearean dramas.
The 2018-2019 season will include performances of "Our Town" by Thornton Wilder, "12 Angry Jurors" by Reginald Rose and adapted by Sherman L. Sergel, and "A Funny Thing Happened on the Way to the Forum" – a book by Burt Shevelove and Larry Felbart, with music and lyrics by Stephen Sondheim.
For more information about this season's performances and The Arts at Polk State College, visit polk.edu/arts.