Polk State Theatre didn't skip a beat through COVID-19 & looks forward to upcoming season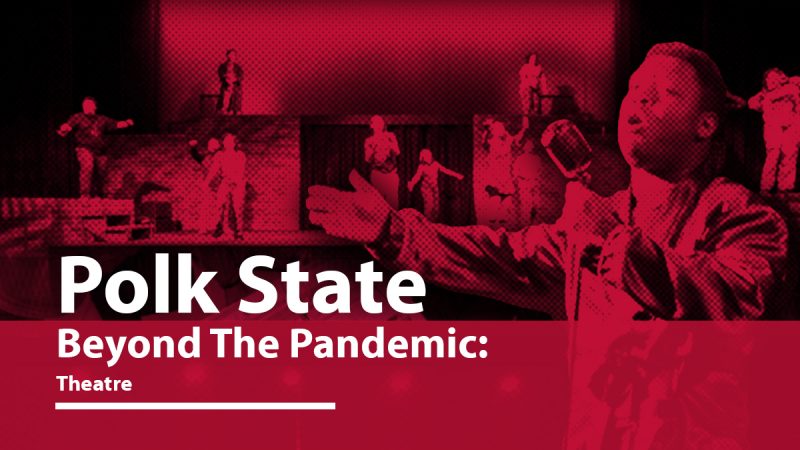 While theatres were closed across the nation, Polk State Theatre was proactively designing protocols and putting health precautions in place to get students back on the stage as quickly and safely as possible. And audiences, albeit socially distanced, followed in support of the Theatre and Polk State's talented students, keeping the tradition of live performance alive during an unprecedented time.
The 2020-2021 Academic Year was largely successful for Polk State Theatre, which held a full season of four shows with three original works, including one inspired by impacts of the pandemic: Pandemonium Café – A Pandemic Cabaret.
"Throughout the season, 37 actors and 40 crew members performed and produced 22 shows for small audiences that totaled approximately 490," Polk State Theatre Professor Mark Hartfield said. "But the most important number is 0. To our knowledge, not a single cast or crew member, staff member, or audience member became infected with the COVID-19 virus while participating in the Polk State Theatre Program this year."
And as vaccination rates continue to rise and Polk State enters Phase III of its Return to Campus Plan, the Theatre is confident in its ability to not only provide an entertaining season of live performances but to also do so in a safe manner that keeps the health of students and patrons at the forefront.
The Polk State Theatre's 2021-2022 Season is comprised of a diverse repertoire of productions:
New Play Readings
Directed by Mark Hartfield
September 30 & October 1-3
The Importance of Being Earnest by Oscar Wilde
Directed by Mark Hartfield
November 11-14 & 18-21
A Doll's House Part 2 by Lucas Hnath
Directed by Leeann Haley
February 17-20
Next to Normal by Brian Yorkey (book and lyrics) and Tom Kitt (music)
Directed by Mark Hartfield
April 7-10 & 14-17
Polk State Theatre productions are free for students, faculty, and staff, and $8 for the public. Tickets are available online at www.polk.edu/boxoffice. Curtain time for each show is 7:30 p.m. except for Sunday matinees, which start at 2:30 p.m.
Students are thrilled to take the stage for the upcoming season and credit Polk State Theatre for continuing to prove a quality learning experience despite obstacles presented by the pandemic.
"I have had a fantastic experience. After being in quarantine for so many months, the Polk State Theatre Program has really helped me to connect with people again," said Lydia Marshall, who contributed written work to the Pandemonium Café – A Pandemic Cabaret which highlighted the trials, tribulations, and triumphs over the last year through song, dance, monologues, and more.
Marshall added that for students, faculty, staff, and members of the public, attending Polk State Theatre productions serve as a way for them to reconnect with others too.
"I encourage everyone to come out because we are doing great work here," she said. "What better way to interact with your community than to go see a show?"
Student Austin White echoed a similar sentiment.
"This isn't something you see every day. To watch something on TV or in a movie, you're seeing it after it's happened. But to see the magic of something face-to-face not even 20 feet from you happening; things will go array, but that's half the fun," White exclaimed.
White, who attends Polk State on a Theatre scholarship, also encouraged other aspiring entertainers to join the Polk State Theatre Program. With scholarship opportunities and Polk State tuition at a fraction of the cost of universities and private schools, the College provides an affordable path in The Arts that does not sacrifice quality or performance opportunities.
Students who are interested in joining the Polk State Theatre Program can contact Professor Hartfield at mhartfield@polk.edu.
Individuals who are interested in attending an upcoming Polk State Theatre production should note that Polk State College will enter Phase III of its Return to Campus Plan on August 2, 2021. All individuals who are fully vaccinated may resume normal activities on campus. Individuals who are not fully vaccinated are strongly encouraged to wear masks, practice social distancing, and follow health and safety guidance on campus.
More information about Polk State Theatre, including upcoming performances and box office access, is available at www.polk.edu/theatre.