2021-2022 Season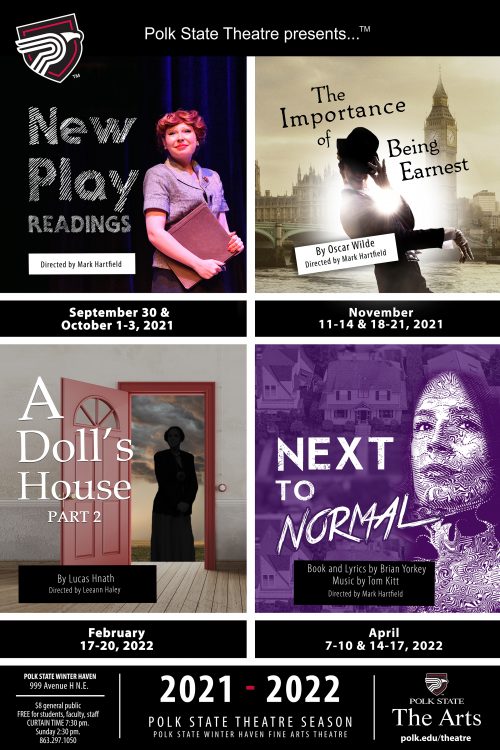 New Play Readings
We are reading through new plays from playwrights around the country, including our local area, and will perform an evening of readings of these plays for a few nights in October.  Come and see what creativity the past few years have inspired.
The Importance of Being Earnest by Oscar Wilde
"A Trivial Comedy for Serious People" as the play is subtitled.  Wilde uses the comedy of mistaken identity and farcical situations to take a satirical stab at Victorian social hypocrisy.  Classic and funny for audiences of all centuries.
A Doll's House Part 2 by Lucas Hnath
After 15 years, Nora Helmer returns to the home she left at the end of Henrik Ibsen's famous play, A Doll's House.  Lucas Hnath's play, which was nominated for seven Tony awards in 2017 (and won for Best Actress in a Leading Role for Laurie Metcalf), is written with a contemporary style and humor and revisits the challenges of women and family in the 19th century and beyond.
Next to Normal – music by Tom Kitt / book & lyrics by Brian Yorkey
Originally scheduled in April of our 2020 season but postponed by the pandemic only a few weeks before opening, we are proud to re-mount our production of Next to Normal for April of 2022.  This beautiful musical explores how one suburban household copes with crisis and mental illness. Winner of three 2009 Tony Awards, including Best Musical Score and the 2010 Pulitzer Prize, Next to Normal was also chosen as "one of the year's ten best shows" by critics around the country, including The Los Angeles Times, The Washington Post, Rolling Stone and The New York Times.
WINTER HAVEN MAIN STAGE THEATRE
999 Avenue H NE, Winter Haven – Fine Arts Building
Curtain at 7:30; Sunday Matinees at 2:30
FREE
Box Office opens one hour prior to curtain