Polk State students win big in Enterprise Rent-a-Car elevator pitch contest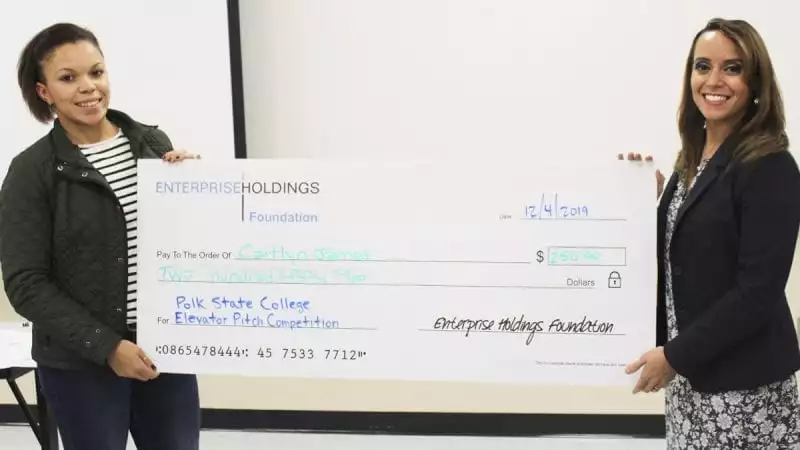 Going to class paid off last semester for three Bachelor of Applied Science in Supervision and Management students.
Caitlyn James, Jenniffer Webster, and Kristi Smith won a total of $500 from Enterprise Holdings and the entire class benefited from participating in an Enterprise Rent-a-Car elevator pitch contest during their Communications in Business course.
"It was nerve-wracking but the experience has helped me to talk comfortably and to get my message across successfully," said James, who took home the first-place prize of $250 and aspires to open a spin exercise studio.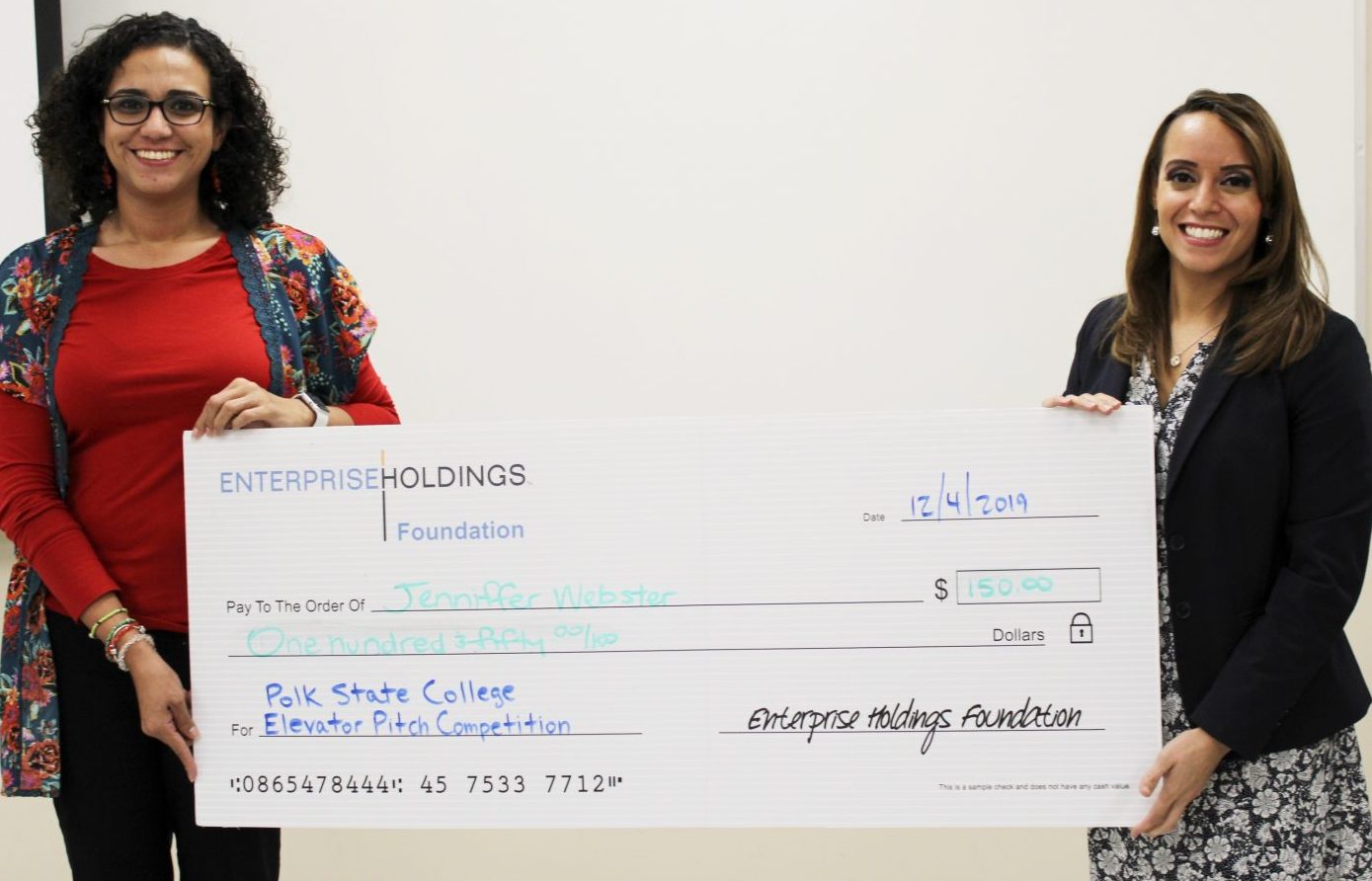 Christina Reese, Enterprise Rent-a-Car Talent Acquisition Specialist, hosted the elevator pitch contest to provide students with feedback about their communications skills as well as to facilitate a networking opportunity.
Companies such as Enterprise Rent-a-Car encourage job seekers to prepare an elevator pitch or a short statement that combines who they are and what they can offer a company. The idea is that the pitch can be provided in the time it takes to travel by elevator from the ground floor to the top of a tall building.
"It is important that you can effectively communicate your skills and the value you can bring to a company to ensure that you receive the career opportunities you are all working diligently toward," Reese explained. "As recruiters, we want you to integrate what you are learning here – your education – into the workforce and to become valuable employees with our companies."
Each student gave their pitch three times: once to Reese, once to Professor Erica Smith, and once to Matina Wagner, Coordinator of Internships and Experiential Learning.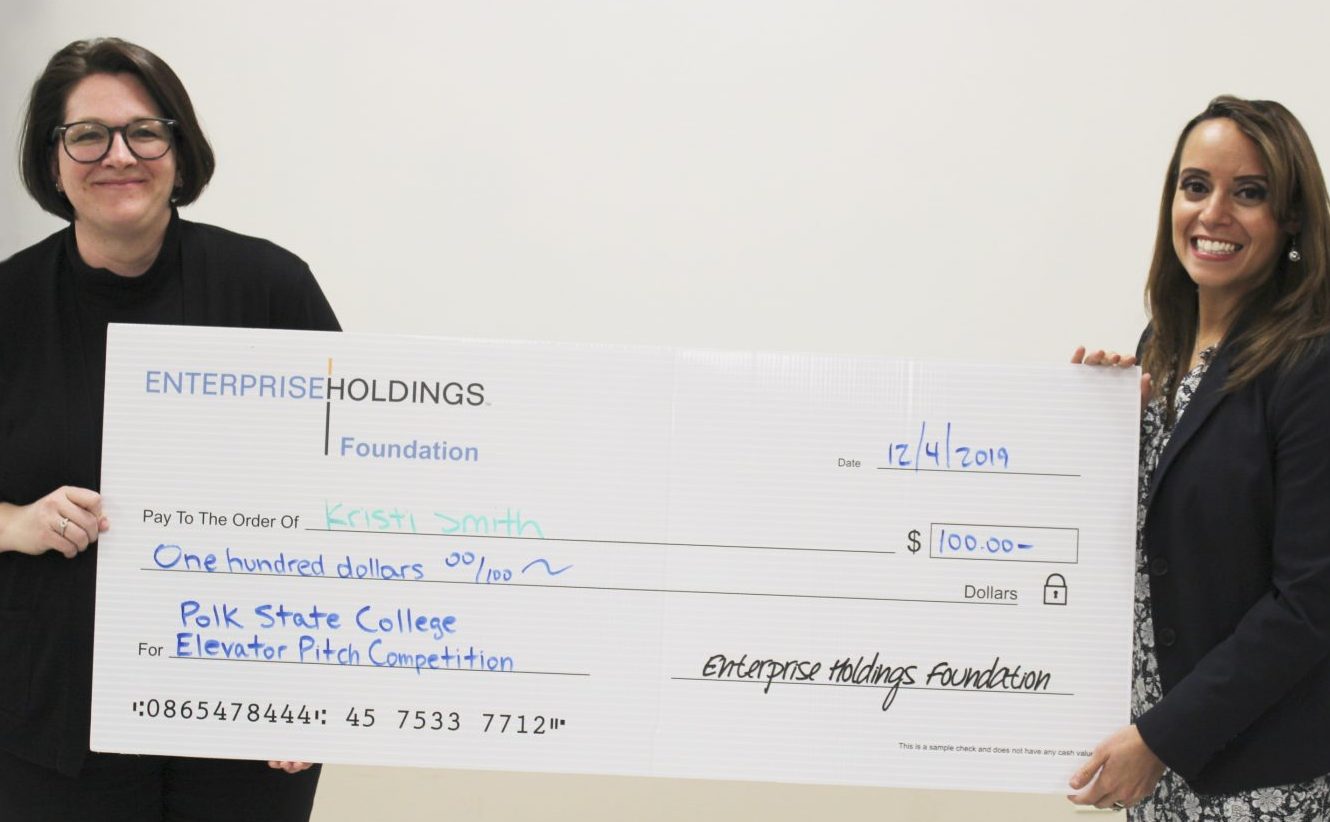 This was the fourth elevator pitch contest hosted by Enterprise Rent-a-Car at Polk State, and the company's investment of time, mentorship, and funds illustrates its confidence in the College in preparing students for the workforce.
"Enterprise Rent-a-Car is a phenomenal business partner and provides students with the opportunity to further develop their communications and soft skills," Wagner said. "The benefit to the business partner is the opportunity to share with students the type of talent they are looking for and to connect with potential future employees."