Polk State students meet Polk County delegates in Tallahassee ahead of 2020 Legislative Session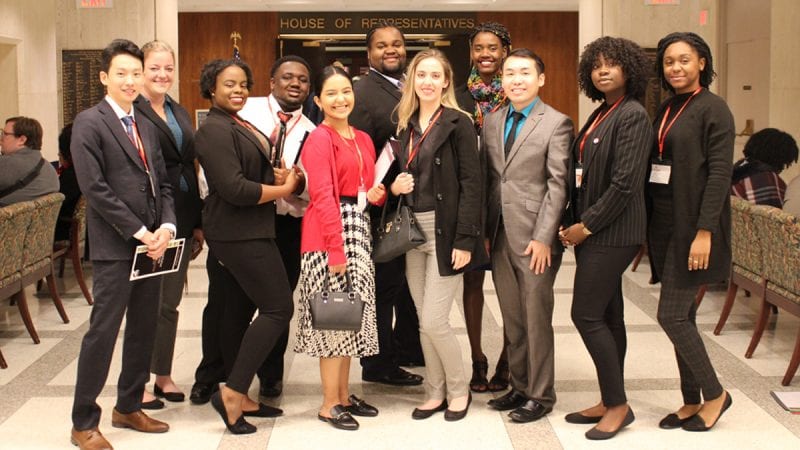 Polk State College students connected with members of the Polk County Legislative Delegation in Tallahassee ahead of the 2020 Legislative Session to share the critical importance of investing in student services such as advising, as well as maintaining the accessibility of a Polk State education in Lake Wales.
Members of the delegation listened attentively to the needs of the College and shared valuable advice with the student leaders as they continue their journeys at Polk State and beyond.
"Coming to Tallahassee has been a great opportunity for us to represent our peers and to see that our elected officials are up here representing us," Polk State Associate in Arts student Yohan Kim said. "This experience has allowed us to see the big picture, to learn the process, and to have our voices heard."
Representatives Melony Bell, Colleen Burton, Sam Killebrew, Mike La Rosa, and Josie Tomkow, and Senator Ben Albritton and Senator Kelli Stargel continue to support Polk State's students and hear their concerns, specifically regarding funding for the Polk State JD Alexander Center – the Lake Wales Campus – and the need to bolster student services College-wide.
Student Government Association (SGA) Lakeland President Giselle Araujo, a Polk State Lakeland Gateway to College Collegiate High School student, shared the positive impact her advisors have had on her educational path, thanking the members for their support in securing funds to reduce the College's advisor-to-student ratio.
"Coming to Tallahassee has been a great opportunity for us to represent our peers and to see that our elected officials are up here representing us. This experience has allowed us to see the big picture, to learn the process, and to have our voices heard."

— Yohan Kim, Polk State Associate in Arts student
"As the first generation in my family to attend college in the U.S., I wouldn't be here without the guidance I've received from my advisors," Araujo said. Approximately 33 percent of Polk State students identify themselves as the first generations in their families to attend college. "My family and I didn't know how to navigate college. My advisors opened the doors for me and allowed me to discover what opportunities are out there. With more support, more students will receive the guidance they need to be successful."
Representative Tomkow echoed the importance of advisor-student relationships, pointing to her time as a Florida College System student at Santa Fe College in Gainesville.
"The need for more advisors is a good problem to have because that means more students are enrolling each day in our state colleges," Tomkow said. "We will continue to look at where we can find funds to support the growing needs of our students."
Students particularly highlighted the importance of maintaining these services in southeast Polk County at the Polk State JD Alexander Center – the College's Lake Wales Campus.
At the Lake Wales Campus, approximately 1,100 students access associate degree and Bachelor of Applied Science in Supervision and Management degree programs each year, including advising services that assist a student population that is 53 percent ethnic minority, 66 percent female, financially in need with 47 percent receiving need-based federal Pell grants, and transportation disadvantaged similar to 38 percent of Polk County residents.
"A whole community depends on this campus," SGA Centers Vice President Bri Sutton said. "Lake Wales is where I got my start when I had just become a single mom. For many students, they walk or carpool to campus and would not be able to reach a Polk State education in Winter Haven or Lakeland because they do not have reliable transportation or time in their schedules to commute."
The funds to operate the campus were included in the 2019-20 State Budget in a $2.5 million line item titled Polk State College Access to Academic and Workforce Programs, which made it vulnerable to veto.  Until the Legislature incorporates it into the College's base operational budget, it will continue to be vulnerable each year.
"The Lake Wales Campus is at the top of our minds," Representative La Rosa said. "For many students in my district, it is their only option and we are doing everything that we can to make it clear that this is not a program, it is a necessary campus."
Representative Bell also echoed support of Polk State's presence in Lake Wales, as well as the need for expansion in other parts of Polk County.
"We know where growth is happening and we want to ensure access to affordable, quality higher education throughout the County," Bell said, pointing to northeast Polk as one of the fastest-growing regions in Florida.
The College continues to look at the development of its property on U.S. 27 in Haines City near AdventHealth Heart of Florida.
Senator Albritton expressed his support of the Florida College System and his interest in Polk State continuing to expand its degree and workforce training options as the needs of Polk County grow.
"I am a big believer in our state college system," Albritton said. "The return on investment of our state colleges is significant and I believe there is no better place than one of our state colleges to receive the fundamental, quality higher education students need to be successful."
Rachel Barnes, Senator Stargel's legislative assistance, shared that "from our point of view, Polk State does a great job. What is the point of view of the students?"
The students agreed, adding that they are advocating for their peers to ensure that all students have the "Polktastic" experience they have had the opportunity to be a part of.
"The College does a great job at giving us the education, extracurricular activities, and opportunities we need to be successful," SGA Winter Haven Vice President Febie-Anna Joseph said. "We want all students to have access to the opportunities we have received through our degree programs, advising, the different campuses and centers, and more."
Representative Killebrew commended the students for being a voice for their peers.
"I can tell that you want to make things happen," he said. "When you visit us, write letters to us, and share your stories with us, it gives us a better understanding of how we can help you."
"Polk State is important to our community," Killebrew added. "We're here to make sure your needs are heard."