Polk State student leaders celebrate presidential inauguration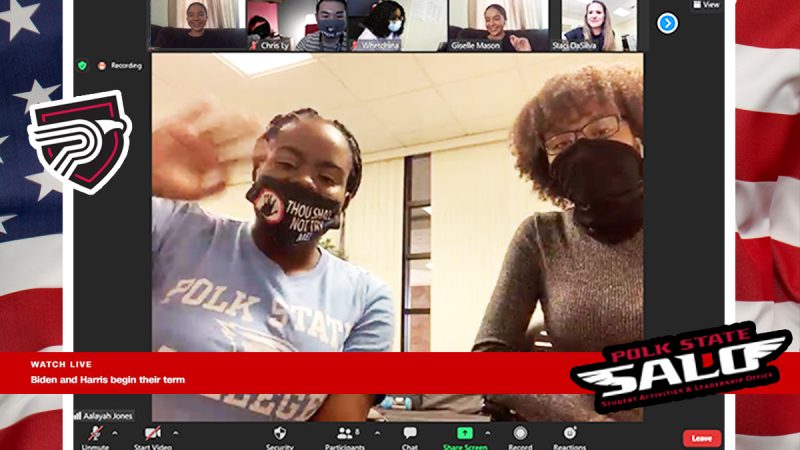 Student leaders celebrated the inauguration of President Joe Biden and Vice President Kamala Harris on Wednesday with a virtual watch party, where they shared emotions, cheers, and happy dances on Zoom throughout the festivities.
"Despite political views and whether you agree with this administration or not, you have to acknowledge the history behind this moment," Lakeland Student Government Association (SGA) President Giselle Mason said.
Students were especially excited about the inauguration of the first female, first Black, and first South Asian vice president of the United States.
"To have a female voice heard on that level means so much. This is not only a day of inauguration, it is also a day of change," Lakeland SGA Vice President Aalayah Jones said. "Little girls and boys now know that they can really do it – it can be done… it means so much to Black, Hispanic, Asian – to all cultures of different races. American people can see it does not matter where you come from – if you are dedicated, you can make change."
After watching the inauguration, students shared their hopes for the next four years and beyond.
"My expectations are high because [President Biden] has promised justice for all and I hope he makes good on that promise because, to me, that's what the American Dream is all about," Lakeland SGA Senator Ritinella Lewin said.
The overwhelming theme of Wednesday's watch party was the importance of unity.
"Democracy doesn't just look like us," Lewin added. "It looks like you, it looks like our neighbors. It's a melting pot, a land of ideas, and we cannot truly have democracy without unity."
Mason shared similar thoughts.
"I am looking forward to the contributions of different ideas, even if they are not necessarily ideas I agree with," she said. "I want people to have the opportunity to share their ideas and be heard, and I'm looking forward to seeing that collaboration. We need the best from each person and each of our differences, and that's how we will create a perfect union."
Polk State's Student Government Associations and the Student Activities and Leadership Office (SALO) are known for embracing diversity, different ideas, and ensuring students' voices are heard.
"We need to continue to encourage students to vote," Jones said. "It is critical to our country, our society, and our culture."
"Especially for us college kids. We are about to become fully contributing members of society and need to know what environment we're going to be in," Mason added about being engaged.
Students can get involved in SGA and SALO by enrolling in the Virtual Student Center on Canvas at https://canvas.polk.edu/courses/7115.
"Especially in this pandemic, we need everybody to be together," Jones said. "We're still a union, we're still together."