Polk State Speech and Debate Team Brings Home Numerous Honors from State Championship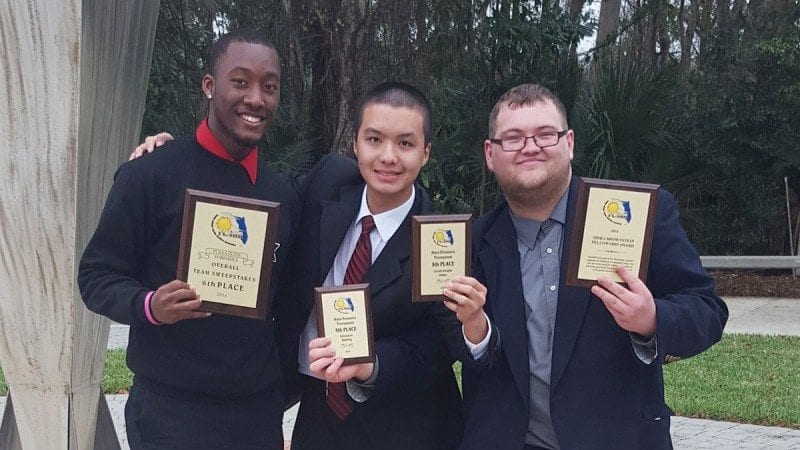 Polk State's Speech and Debate Team made a strong showing at the recent FCSAA State Championship.
At the state competition earlier this month in Jacksonville, Polk State faced off against colleges such as Broward, Miami Dade, and Tallahassee Community College. Polk's results included:
Lakeland resident Toby Pelland placed fifth in Informative Speaking. His peers also selected him to receive the Shira Brownstein Award, which is given to the student who best embodies fellowship, generosity, humility and overall service.
Lakeland resident Jinming Chen placed fifth in Lincoln Douglas Debate.
Together, Pelland and Chen placed sixth in Parliamentary Debate.
The team, which also includes Lakeland resident Jawan McClinton, who competed in poetry and impromptu speaking, claimed the sixth place Overall Team Sweeps Award.
Of the Shira Brownstein Award, Pelland said:
"I was extremely honored that all of the other schools decided I was worthy of that award, even though I'm new to the forensics community. I feel that I've done my duty to Polk State, by showing that Polk State's team can stand out, even though we're a small and new team. I feel even more determined to do my best."
Coach Christina Gesmundo, a professor of speech communication, brought home an honor of her own: the 2016 Forensics Coach of the Year Award. Gesmundo's peers voted for her to receive the award.
"Honestly, I was completely surprised by the award. There are some incredibly knowledgeable and experienced coaches in this state. I'm relatively new and so is our team," Gesmundo said.
"It was touching really to be acknowledged by those peers. We all work hard at coaching, which is in addition to our regular teaching, community, and college responsibilities, so credit for my coaching efforts was really nice. I'm happy to see and hear that what I'm doing is being positively evaluated and received by my peers."
As for her team's performance, Gesmundo said:
"At each competition, the team members demonstrate a greater understanding of the rules and procedures, and their performances become more polished … It is rewarding to see their scores and placements moving up."
The Polk State Speech and Debate team was established about two years ago. This was the first time it had competed at the FCSAA State Championship. The team will next compete at the FIFA State Championship in late February at Florida State University.
"This will be a tough one as we will be competing not only against some of the state colleges, but much bigger, more established, and stronger teams such as Florida State University. It is a fantastic opportunity for growth, as well as observation of some of the amazing content and talent within Florida forensics. The rich forensics community here in Florida provides some fantastic student models. My belief is that competing with strong teams will help us to become stronger," Gesmundo said.
For more information about the team, contact Gesmundo at cgesmundo@polk.edu or 863.669.4950.