Polk State Science Professor Named Outstanding Educator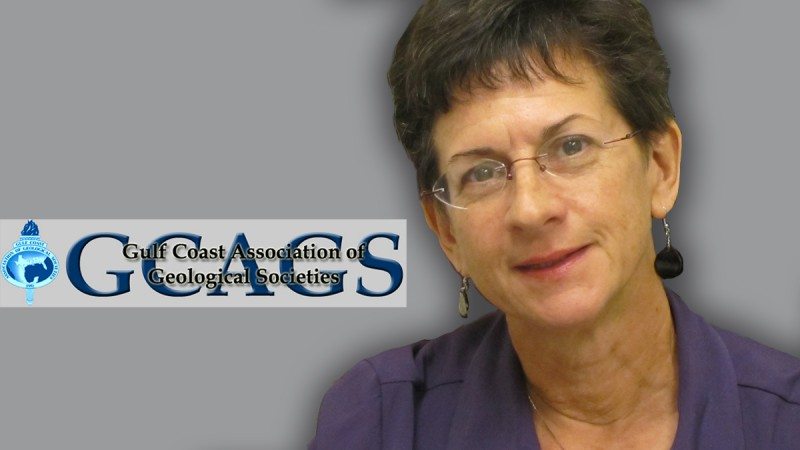 Polk State Earth Science Professor Natalie Whitcomb has received the 2013 Outstanding Educator Award from the Gulf Coast Association of Geological Societies (GCAGS) for the innovation and enthusiasm she displays in teaching her students.
Whitcomb received the award during the GCAGS' annual conference earlier this month in New Orleans.
The Southeastern Geological Society (SEGS) nominated Whitcomb for the honor. The SEGS was founded in 1944 to provide Florida's geological community with a forum for networking and research. The SEGS is one of several member societies of the GCAGS.
According to the SEGS:
"(Whitcomb) is recognized by her college, students, community and geological society as an exceptional classroom teacher, as well as an enthusiastic and innovative educator whose work and encouragement has brought together schools and community leaders to promote the knowledge and application of geosciences among citizens, resource managers, and other educators. In addition to teaching a heavy load of geoscience courses at her college, Natalie has developed highly successful extracurricular programs with an emphasis on field-based experiences, that ignite interest in the geosciences in her students, many of whom would otherwise have little aspiration toward STEM subjects."
Whitcomb said she considers the award a great honor — but also one she must share with her colleagues.
"It's incredible, but I didn't do this by myself," she said.
Whitcomb said she and Biology Professors Anthony Cornett and Logan Randolph have worked to incorporate local service learning projects into their teaching to help students form real-life connections with the material. She pointed to the cleanup of Lake Gem, adjacent to Polk State Winter Haven, and the planting of rain gardens on the campus, as two prime examples.
"It adds a dimension of civic awareness, that students have a role in local issues and local government," said Whitcomb. "It also helps them understand that science is accessible. They can use science to solve everyday problems. When they see that they can use science to solve local problems, it gives them the confidence to use science and understand it. It's the beginning of scientific literacy."
Whitcomb has also been involved in creating Polk State Honors Program seminars that integrate local geology and literature, as well as helping to organize field study opportunities to locations within Polk County, the Everglades and Bahamas.
"She's passionate about what she does and she's experienced. She not only brings us her strong educational background, but also her experience as a professional geologist," said Polk State Winter Haven Science Department Chair Logan Randolph. "In addition to that, she's passionate about bringing service learning into her courses to give students a hands-on, real-world look at how the material is applied."
In addition to her colleagues, Whitcomb credits the Polk State administration for its support of the Science Department's efforts.
Whitcomb has worked at Polk State for six years. She earned her bachelor's and master's degrees in Geology from the University of Mary Washington and Duke University, respectively, and is currently working on her doctorate in Education at Nova Southeastern University.
At Polk State, students study a broad range of natural and physical sciences, either as requirements for their Associate in Arts degrees prior to transferring to four-year institutions, or entering one of the College's bachelor's or Health Sciences programs.