Polk State President receives 2020 ATHENA Leadership Award from Lakeland Chamber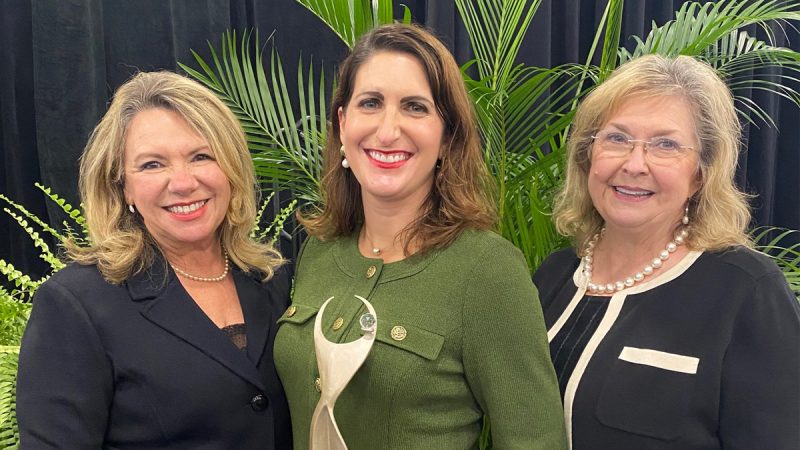 Polk State College President Angela Garcia Falconetti recently received the 2020 ATHENA Leadership Award from the Lakeland Chamber of Commerce. The award honors women who strive toward the highest levels of personal and professional accomplishments, excel in their chosen fields, devote time and energy to their community in meaningful ways, and forge paths of leadership for other women to follow.
The ATHENA Leadership Award Program has honored more than 7,000 women leaders from hundreds of cities and eight countries since 1982. The program was founded by ATHENA International, a women's leadership organization that supports, develops, and honors women leaders. The program is facilitated locally by the Lakeland Chamber of Commerce, a licensed ATHENA host organization, and was presented this year by the Junior League of Greater Lakeland.
"It is an honor to annually host this event celebrating women leaders who strive to achieve the highest levels of personal and professional accomplishment, who excel in their chosen profession, who give back to their community, and serve as an inspiration to others," Lakeland Chamber President & CEO Cory Skeates said. "Dr. Falconetti not only contributes to the betterment of our community through her excellent work as President of Polk State College, but also fosters opportunities for others to follow in her path by serving as a role model and mentor to many. That is what the ATHENA Leadership Award is all about."
The Lakeland Chamber of Commerce received more than 60 nominations for this year's ATHENA Awards in the areas of Leadership, Young Professional, and Organizational.
Falconetti was a finalist for the Leadership Award alongside Central Florida Health Care CEO Ann Claussen and Citizens Bank & Trust Vice President Mary Stephenson. She was honored with Kaylor Law Group Attorney Brenda Ramirez, who received the 2020 ATHENA Young Professional Award, and The Lunz Group, which received the 2020 ATHENA Organizational Award.
Falconetti accepted the award November 5 at the RP Funding Center in Lakeland, where she was accompanied by members of the Polk State District Board of Trustees.
"Dr. Falconetti is well-deserving of this award and I could not be prouder of her accomplishments," said Teresa Martinez, Polk State District Board of Trustees Immediate Past Chair. "Since the moment she shared during her interview in 2017 that she had selected Polk State as the only college she was seeking presidency, I knew she would lead our institution and Polk County to further success."
Falconetti has been instrumental in securing $4.9 million in recurring funding for the College.
Additionally, she represents the College and Polk County community in a variety of national and state organizations including the American Association of Community College's Commission on Institutional Infrastructure and Transformation; Excelencia in Education's Presidents for Latino Student Success; Florida College System Council of Presidents as Vice Chair and Policy and Advocacy Chair; Florida Chamber Foundation; Florida Department of Transportation's Multi-Use Corridor of Regional Economic Significance Task Force and Southwest-Central Florida Connector Task Force; Governor Ron DeSantis' Transition Education and Workforce Advisory Committee.
Locally, she serves on several boards of organizations including CareerSource Polk, Central Florida Development Council, Club Hispano de Lakeland, Lakeland Chamber of Commerce, Lakeland Economic Development Council High-Skill High-Wage Initiative, Polk Vision, Reopen Lakeland Taskforce, United Way of Central Florida, The Vanguard School Foundation, Winter Haven Economic Development Council, Winter Haven Hospital, Greater Winter Haven Chamber of Commerce, and 2020 Polk County Heart Walk.
"The City of Lakeland and greater Polk County are fortunate to have Dr. Falconetti and her exceptional leadership," Lakeland Mayor Bill Mutz said. "Dr. Falconetti's dedication to advancing opportunities and ensuring the best quality of life for the residents of our community is deserving of this recognition."
Falconetti expressed thanks to the Lakeland Chamber of Commerce and Junior League of Greater Lakeland for not only honoring women leaders through the ATHENA Awards Program, but for also supporting the development of women leaders for future generations.
"I am personally and professionally dedicated to uplifting all residents of Polk County through quality higher education," she said. "I am grateful to Polk State's partners, including our cities and chambers, for helping to ensure the economic development of our region through life-transforming opportunities for our citizens."