Polk State President Mourns Shooting Victims, Calls for Unity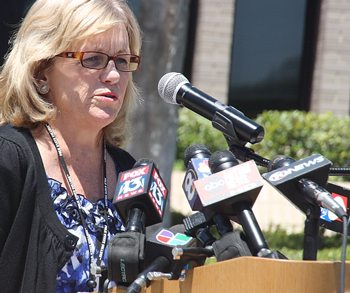 In a public statement Wednesday afternoon, Polk State President Eileen Holden mourned the shooting deaths of two students, expressed hope for the speedy recovery of a third victim, and assured students and employees that the College will help them through the difficult grieving process ahead.
According to the Winter Haven Police Department, students Joe S. Palacios and Christian Rodriguez were killed in a shooting that occurred at 6:45 p.m. Tuesday evening at an apartment complex located at the intersection of Avenue A and Lake Howard Drive.
Esteban Zavala, also a Polk State student, was injured in the shooting and was transported to Lakeland Regional Medical Center, where he was listed in stable condition Wednesday morning.
The students were described as popular, successful and active in student life at the College.
Palacios was a recipient of the Heart of Florida Educational Foundation scholarship, and Zavala is a recipient of the Mountain Lake Farm Workers Scholarship.
Rodriguez was a freshman pursuing an associate's degree in Nursing. Palacios was completing his freshman year and was pursuing an associate's degree in Liberal Arts.
Earlier in the day, Holden encouraged students to seek the help of the College's mental health counselors and that employees utilize the Employee Assistance Program.
Remarks from Holden during Wednesday's address :
While I wish I didn't have to make these remarks under these circumstances, there is nowhere else in the world that I would rather be right now than right here beside this flagpole, gathered with the students, faculty, staff and supporters who make Polk State College so special.
As you all know, earlier today our friend, Chief Gary Hester, of the Winter Haven Police Department, announced the names of the victims of last night's vicious shooting here in our community.
Many of you, like me, were initially aware of the shooting through media accounts and thought, perhaps in passing: "What a tragedy! I'm glad that wasn't me — or anyone I know."
But, a few hours ago, when Chief Hester, whose entire department continues to perform heroic work on this and every case, identified the victims as three Polk State students, everyone associated with this great institution felt as though we had been punched in the gut — that our hearts had been ripped out.
We are here because a senseless act has taken students Joe Palacios and Christian Rodriguez from us, and Esteban Zavala is currently in the hospital. Christian, as you know, was a graduate of our own Chain of Lakes Collegiate High School.
I can tell you that these three young men were successful students, that they were popular, that they were highly engaged in student life here at Polk State — and, we all hope, Esteban will be those things here again soon.
But I can also tell you that how successful, popular or involved they were does not define the magnitude of our grief today.
Our entire College community is focused on the success — and the intrinsic value — of every single one of our students. There is not one person that has ever been associated with Polk State that we would be willing to discount or discard.
When we say, as we often do, "We are Polk" — that is what we are saying. We are a collection of individuals who share communities and dreams and challenges and opportunities.
This afternoon, we are less than we were yesterday.
We are still Polk, but we are missing Joe and Christian, and we continue to worry about and hope for Esteban.
For them and for their families and loved ones, we will continue to grieve, to worry and to pray.
We also, however, must somehow muster the strength to persist.
Not because we can easily shake off the tragedy unfolding around us — but because persisting is what we do.
Take a moment to look around you. You see friends, colleagues, students, mentors — and perfect strangers. All of us are united in our commitment to the College — and, thus, to each other.
As we move forward to what should be the most joyous of Polk State events — Commencement, which is just days away — I ask you to continue looking around you at those friends, colleagues, students, mentors and perfect strangers.
We need each other. That is why we are here.
Eagles in the wild are not known to be flocking birds — but Polk State Eagles certainly are.
I ask you to support one another, to reach out to the families of our affected students, to attend to the needs of colleagues who are stricken with grief.
Enjoy memories of the students we've lost. Remind yourself of the impacts they made in your life and relish the impact you certainly had on theirs — because that's what happens at our College.
Be patient with one another. Be kind. Look for opportunities to be a comfort — and don't hesitate to ask for help when you need it.
But whatever you do, as you move forward from this day, don't forget the moment you heard a local police report that "three young men were shot."
Don't forget that – here in Polk, here at Polk, there are no strangers.
Those young men last night were named Joe, Christian and Esteban.
They were ours, and they remain so.
They were Polk, and they remain so.
We are Polk.
We are grieving, as we must.
But we will persist.
That is the heritage of this College. It is what I see in your eyes and know about your spirit.
I have never been more sad, but I have also never been more proud.
Again: Thank you for being here today. And thank you for all you will do in the coming days to make Polk what Joe and Christian dreamed it would be — and what Esteban will feel when he comes home.
The College referred all questions regarding the ongoing criminal investigation to the Winter Haven Police Department.