Polk State President Falconetti's term as Chair of the Florida College System Council of Presidents concludes after successful year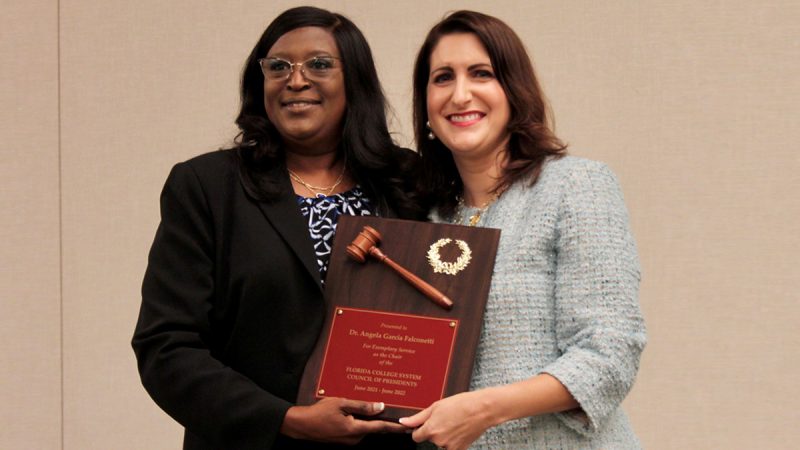 Polk State College President Angela Garcia Falconetti's tenure as 2021-2022 Chair of the Florida College System Council of Presidents concluded after a year full of successes for both the System and College.
The Council is comprised of the 28 presidents from all of Florida's public colleges, and during their June 17 meeting, Falconetti passed the gavel to St. Petersburg College President Tonjua Williams.
"Under Dr. Falconetti's leadership this past year has, undoubtedly, led the Council of Presidents to work collaboratively for what will go down in history as one of the most successful years for the Florida College System," Williams said. "Dr. Falconetti is a visionary leader who fosters collaboration among her peers and builds strong community and industry partnerships that advance the mission of the FCS. She is a strong advocate for student success and helping students achieve their dreams. It has been an honor serving with her and I look forward to taking up the baton and continuing this great work in the coming year."
The Council advocates on behalf of students and the Florida College System to state and federal leaders, advises on legislative initiatives, and oversees the coordination of statewide functions.
The presidents also maintain close working relationships with the Chancellor of the Florida College System, the Commissioner of Education, the State Board of Education, universities, school boards, and public and private entities that work on behalf of Florida's public colleges.
Additionally, members of the Council serve as the Board of Directors of the Florida College System Risk Management Consortium, the Florida College System Activities Association, and the Policy and Advocacy Committee, which serves as an official subcommittee of the Association of Florida Colleges.
"I am grateful for the support and collaboration of my fellow presidents. I am certain that Dr. Williams, as 2022-2023 COP Chair, will lead our System to great heights," Falconetti said. "As my tenure ends, I reflect on the successes of not only our Council, but also of our students, faculty, staff, and institutions. I am thankful that the investment of time has resulted in positive outcomes for our communities and Florida College System."
The 2022 Legislative Session resulted in historic appropriations for the System and Polk State.
At the System level, this includes:
A $103 million increase to the Program Fund, including $30 million in tiered funding, $25 million in recurring performance funds, and $40 million for the Prepping Institutions, Programs, Employers, and Learners through Incentives for Nursing Education (PIPELINE);
$400 million to address deferred maintenance needs;
$30 million for performance funding and $14 million for industry certifications;
$19 million in grant funds for Linking Industry to Nursing Education (LINE); and
$14.4 million to Postsecondary Academic Library Network.
At the College level, this includes:
$13.8 million for Phase I of the Polk State Northeast Ridge Project, a new campus on U.S. 27 in Haines City;
$16.7 million for renovations to the science building on the Winter Haven Campus;
$10.1 million for deferred maintenance across all campuses;
$7.5 million in recurring operational support; and
$5 million in nonrecurring funds to expand Health Sciences programs.
"Dr. Falconetti's leadership has resulted in historical support for Polk State and the Florida College System that will benefit students, faculty, and staff, and the greater Polk County community," said Polk State District Board of Trustees Chair Ashley Bell Barnett. "On behalf of the Polk State District Board of Trustees, we congratulate Dr. Falconetti and the entire College community on a successful year and an even brighter future."
Falconetti and the Council of Presidents are already hard at work on advancing priorities for the 2023 Legislative Session.
"While a great deal of effort is spent advocating for items related to funding and investment, the advocacy work that is less visible is related to substantive bills, those regarding policy," Falconetti explained. "The Council spends a great deal of time working with the legislature to share information about the System and how proposed bills impact the colleges."
"We are thankful to Governor Ron DeSantis for his continued support of the Florida College System and critical workforce development for our communities," Falconetti added. "The work does not stop here, and I am honored to serve Polk State College, the Florida College System, and our Council of Presidents."