Polk State Presents "I am the Greatest: Beethoven and the Muhammad Ali Syndrome" on Jan. 21, 23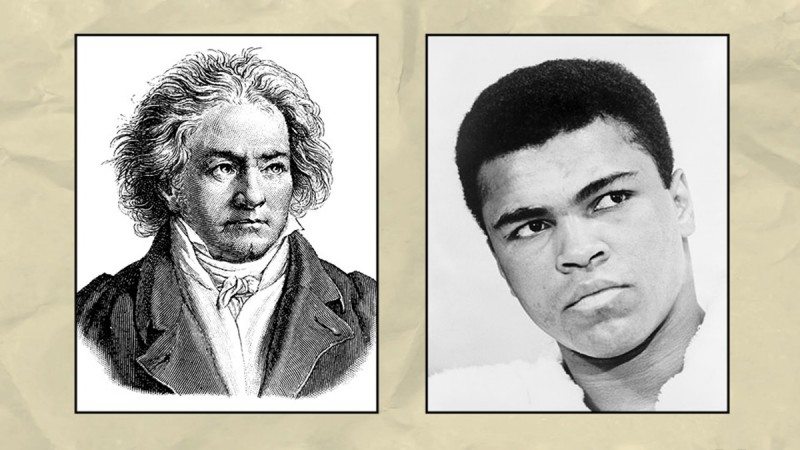 Polk State College's Voices of the People concert series continues its 2015-16 season with "I am the Greatest: Beethoven and the Muhammad Ali Syndrome," a two-pronged event designed to examine the similarities between two of history's most high-profile, and seemingly disparate, figures.
"I am the Greatest: Beethoven and the Muhammad Ali Syndrome" will include a lecture and demonstration on Jan. 21 at 6 p.m. at the Polk State Winter Haven Fine Arts Lobby, 999 Ave. H N.E.
The lecture will be followed by a concert on Jan. 23 at 7 p.m. at the Polk State Lake Wales Arts Center, 1099 State Road 60 East.
Both events are free, but a $5 donation at the lecture is suggested. Seating for the concert is limited. Those interested in attending should RSVP to 863.298.6883, LWAC@polk.edu, or polk.edu/boxoffice.
Polk State Humanities Professor Derek Menchan, director of the Voices of the People series, explained the theme of the events:
"In this set of two presentations, two of the world's most famous and arguably justified narcissists will be considered and featured: the one-time heavyweight champion of the world and perhaps the most revolutionary of all composers of classical music, the titanic Ludwig van Beethoven," he said.
"As with the formidable Muhammad Ali, the composer was possessed by a singular drive and vision, both of which catapulted him to heights of innovation and creation rarely seen in artists. The huge amount of self-confidence and insistence upon reliance upon his own unique, and tradition-breaking, muse make Beethoven at once a memorable and controversial character — much like Ali — and one particularly suited for analysis."
Musicians scheduled to participate in the event include: Jason Amos, a violist with the Boston Public Quartet; Francisco Salazar Vara, a Juilliard-trained violinist who has performed throughout Europe and the Americas; and Karla Donehew-Perez, a violinist and graduate of the Cleveland Institute of Music who soloed with the Puerto Rico Symphony Orchestra at age 9. Menchan, a cellist, will also perform.
Voices of the People is a joint effort by the College's Philosophy Club, Student Activities and Leadership Office, and Polk State Lake Wales Arts Center to offer classical music performances to the community.