Polk State Phi Theta Kappa Chapters Induct New Members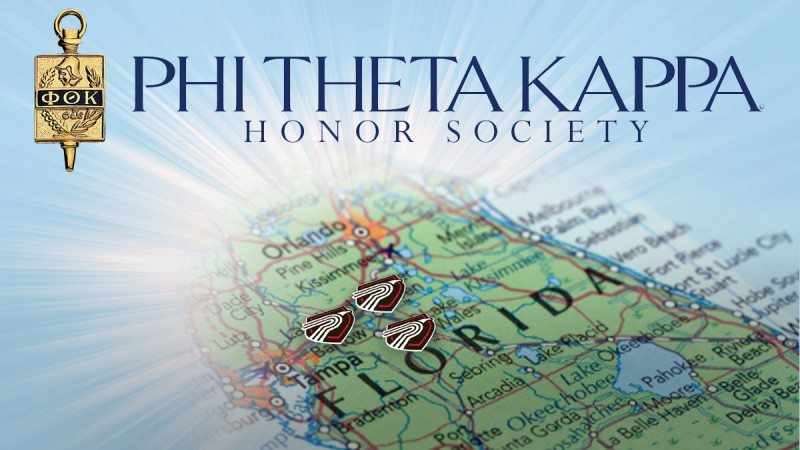 Polk State College's chapters of Phi Theta Kappa, the international honor society of two-year institutions, inducted nearly 80 new members during a ceremony Sunday at the Winter Haven campus.
Polk State for decades had a single Phi Theta Kappa chapter — Xi Pi — to serve both campuses. Earlier this year, in response to an ever-expanding membership, the College added the Beta Upsilon Upsilon chapter at Polk State Lakeland.
Sunday's ceremony was the first joint induction by the two chapters.
Membership in Phi Theta Kappa is by invitation only. To be invited to join, students must have completed 12 college-level credit hours and have at least a 3.5 grade-point average. Members must maintain a 3.0 GPA to remain in the honor society.
Xi Pi adviser Anthony Cornett said membership in Phi Theta Kappa — on both campuses — continues to grow significantly, as reflected in Sunday's induction.
"I think there's a raising awareness of Phi Theta Kappa, and I think in general Polk State's students are of an increasingly high quality. They are studying hard and getting those high GPA's that this organization requires," he said.
Inducted to the Xi Pi chapter on Sunday were:
Maria Adame, Haines City
Shana Call, Winter Haven
Daniel Cameron, Davenport
Paige Clark, Winter Haven
Martin Corbin, Winter Haven
Ashley Daniels, Winter Haven
Marcus Dupont, Winter Haven
Randy Esfahani, Winter Haven
Matthew Garner, Auburndale
Charity Garcia, Lake Wales
Tiffany Gillotti, Winter Haven
Emily Gipson, Winter Haven
Kelly Gonzalez, Winter Haven
Malia Hafner, Winter Haven
Hannah-Rose Hanschell, Lakeland
Caleb Haynes, Winter Haven
Karisten Hinsinger, Winter Haven
Debra Killingsworth, Lakeland
Jeremy King, Winter Haven
Leah Lanoue, Lake Wales
Suleyma Lucena, Winter Haven
Kimberly Lugo, Davenport
Christopher Luke, Winter Haven
Sarah Monday, Auburndale
Gregory Marlowe, Lake Wales
Cole McCormick, Dundee
Marc Mendoza, Winter Haven
Amber Northrup, Winter Haven
Morgan Perkins, Lake Wales
Jennifer Postlewaite, Thonotosassa
Danielle Pruitt, Auburndale
Gregory Pruitt, Haines City
Antonio Rodriguez, Winter Haven
Jim Simon, Haines City
Erica Thomas, Winter Haven
Amanda Tripp, Winter Haven
Bonnie Van Deusen, Winter Haven
James Voisard, Winter Haven
Kaitlyn Warren, Lakeland
Inducted to the Beta Upsilon Upsilon chapter on Sunday were:
Virginia Asbury, Lakeland
Erica Baranski, Lakeland
Robert Bennett, Lakeland
Valerie Bennett, Winter Haven
Angela Berry, Lakeland
Kaitlyn Cariaga, Lakeland
Melissa Craw, Lakeland
Amy Dunfee, Lakeland
Elisha Dunfee, Lakeland
Roberta Goddard Oliver, Lakeland
Skylar Guild, Lakeland
John Hahn, Lakeland
Charity Hammer, Winter Haven
Candice Helvick, Lakeland
Samantha Hester, Lakeland
Leon Janey, Orlando
Gabriel Kelly, Lakeland
Mert Koka, Lakeland
Andrea Lee, Lakeland
Stefan Long, Lakeland
Terri Luparello, Lakeland
Robert Modrall, Bartow
Steven Ousley, Lakeland
Angelina Peralta, Lakeland
Laurie Pittman, Bartow
Therese Reiter, Winter Haven
MeLynda Rinker, Lakeland
Lori Ross, Auburndale
Cathy Schmalfeldt, Lakeland
Hannah Scruggs, Lakeland
Lindsey Shelburne, Lakeland
Patricia Smith, Bartow
Holly Stamper, Lakeland
Jain Stephen, Lakeland
Ian Stewart, Auburndale
Jesse Sumner, Lakeland
Angie Tejeda, Avon Park
Ryan Thibodeaux, Plant City
Hannah Ward, Lakeland
Yolanda Wynn, Lakeland