Polk State offers affordable, quality cybersecurity training to keep companies safe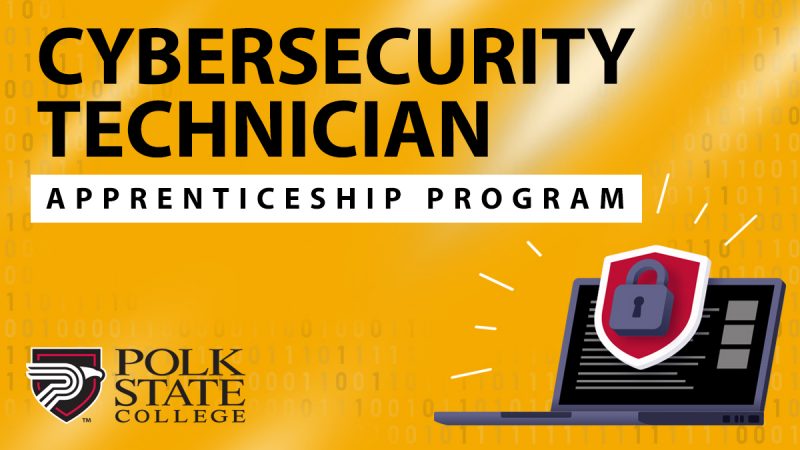 With more than 2,200 cyberattacks taking place each day and the average cost of a data breach reaching $4.24 million, the need for highly skilled cybersecurity professionals is greater than ever. Polk State College is offering the Cybersecurity Technician Apprenticeship Program to provide businesses with an affordable, quality solution.
Polk State is hosting a virtual session about the Cybersecurity Technician Apprenticeship Program on August 2, 2022, from 1:30 p.m. to 2:30 p.m. via Zoom.
Every business is susceptible to cybersecurity threats and the most effective way to reduce cyberattacks is with a skilled information technology team. Polk State, in partnership with Safal Partners and with a grant from the U.S. Department of Labor, is providing companies with cutting-edge cybersecurity training to upskill IT professionals to better protect their organizations.
"Today, every business —regardless of industry or sector— is a tech business, and that means every employer needs skilled cyber workers who are able to keep their data safe," said Howard Drake, Director of the Polk State Corporate College. "Our new cybersecurity apprenticeship program helps employers attract, train, and retain the cyber talent they need and provides workers with paid on-the-job learning, college credits, and industry certifications."
The 12-month registered apprenticeship program includes courses in cybersecurity operations, cybersecurity analysis, computer forensics, system security, and ethical hacking that students complete online and at their own pace, as well as customized and structured on-the-job training.
Graduates can achieve up to 15 college credits toward a Polk State degree or certificate and receive a national credential from the U.S. Department of Labor, while also qualifying for other valuable industry certifications.
Part of the cost of training will be offset for employers through the U.S. Department of Labor grant. Additionally, Safal Partners will provide employers participating in Polk State's program with direct incentive funding and ongoing support.
"Apprenticeship is the gold standard for effective workforce development," said Katie Adams, Senior Director with Safal Partners. "We are proud to have helped develop Polk State's new registered apprenticeship program, knowing it will help companies meet their critical need for finding and training qualified cyber candidates."
Registration is currently taking place for the Cybersecurity Technician Apprenticeship Program, with classes beginning on August 15. More information is available at www.polk.edu/mapit. Interested employers can email mapitsolutions@polk.edu.