Polk State Occupational Therapy Assistant Program Has 100-Percent Pass Rate on Certification Exam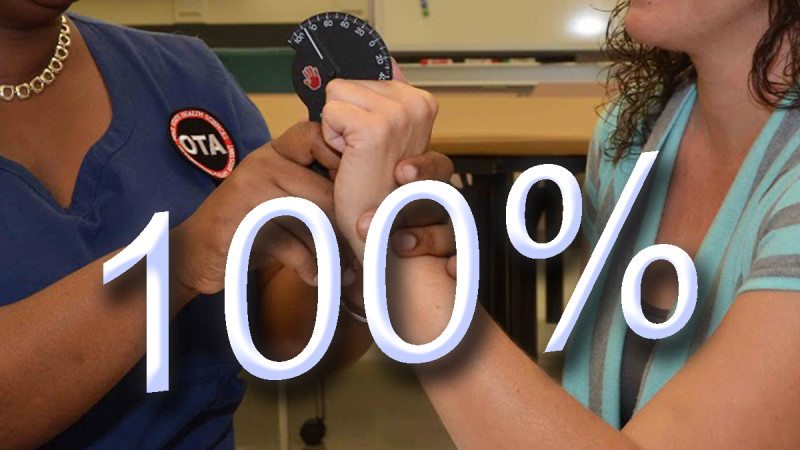 Polk State's Occupational Therapy Assistant Program has continued its tradition of national excellence, with 100 percent of its most recent graduates passing the profession's national certification exam.
According to new data provided to the College, all 14 students in the program's 2012 graduating class passed the National Board Certification in Occupational Therapy exam.
"The certification exam is one of the measuring tapes in our profession, and having 100 percent of our graduates pass it is welcome validation of the instruction we deliver every day," said Polk State OTA Program Director Saritza Guzmán-Sardina.
The NBCOT's occupational therapy assistant exam includes 200 multiple-choice questions. Students are tested on their ability to gather information and formulate conclusions about patients' needs; their ability to select and implement therapies; and their understanding of professional standards and responsibilities.  Guzmán-Sardina said passing the exam is a requirement for working as an occupational therapy assistant.
Occupational therapy assistants work under occupational therapists to help patients develop, recover and improve the skills needed for everyday life, from driving, to getting dressed, to doing household chores. Occupational therapy is used to treat those with emotional, developmental and/or physical disabilities.
Polk State's Occupational Therapy Assistant Program enrolled its first class in 1999. Since then, the program has consistently exceeded the national pass rate on the NBCOT test as well as the national average score on the exam, Guzmán-Sardina said.
"We're always ahead of the country," she said.
Guzmán-Sardina attributed the program's success on the licensing exam to its knowledgeable faculty, clinical partners that provide students with invaluable real-world training, and student-centered curriculum.
Excellence on certification exams is a hallmark of all of Polk State's Health Sciences programs, which also include Cardiovascular Technology, Diagnostic Medical Sonography, Emergency Medical Services, Nursing, Physical Therapist Assistant, Radiography and Respiratory Care.