Polk State Occupational Therapy Assistant alum returns for doctoral work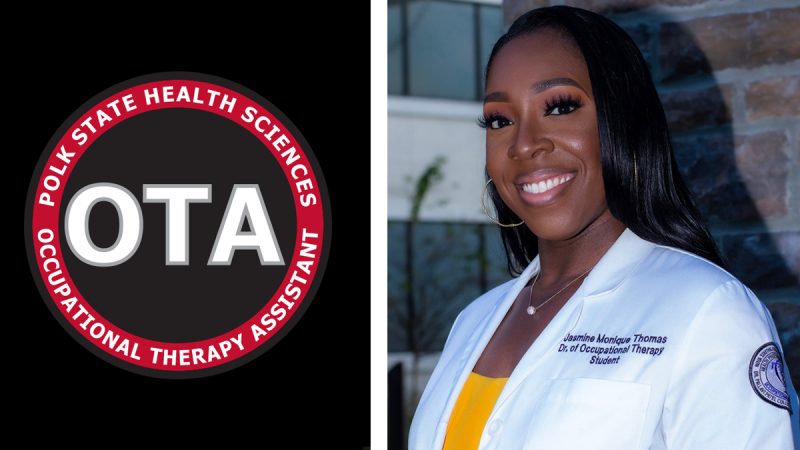 Jasmine Thomas enjoyed and valued her experience in Polk State College's Occupational Therapy Assistant (OTA) Program so much that it was a no-brainer to return to work alongside faculty, staff, and students as she completes her doctoral studies with Nova Southeastern University.
As she approaches the completion of her doctorate degree in March, Thomas reflects on how Polk State OTA prepared her for rigorous coursework and a rewarding career in occupational therapy.
"Polk State laid the groundwork for me," she said. "The things I learned at Polk State helped me to be successful in my doctorate program, set an example for professionalism, established my understanding of expectations of the field, and taught me some life lessons in general."
Thomas completed a bachelor's degree in health sciences after high school. When she applied for a specialized health sciences program to continue her education, she didn't get in and decided to pursue a career as a middle school biology teacher.
"That's how I found OT. Some of my students were interested in OT and I was considering a career change," she explained. "I decided to apply to Polk State and thought, 'if I get in, it is meant to be. If I don't get in, then it isn't meant to be.'"
She got in.
Thomas graduated with her Polk State Associate in Science in Occupational Therapy Assistant in 2018.
"What's great about Polk State in addition to the quality and the faculty and staff is the affordability," she said. "I graduated and didn't owe any money. It positioned me well financially to keep going."
Her three children have also kept her motivated.
"I want to make sure I am financially stable and able to provide for them, and that I am also an example for them," Thomas added. "I want to motivate them in their futures and make them proud."
Upon graduation, Thomas served as an occupational therapist assistant for Life Care Center of Winter Haven as well as on an as-needed basis at AdventHealth's Lake Wales Medical Center.
With her doctorate degree, she aspires to work in higher education and contribute to training the talent pipeline of highly skilled occupational therapy assistants. Simultaneously, she plans to pursue clinical experience as in pediatrics or geriatrics.
"It's a wide-open field where you get to be creative," Thomas said. "That's what attracted me to OT and that's what I want to share with aspiring students. You can one day open your own practice, you can work for others, you can build and implement educational programs – you can start new things that don't even exist yet."
"I have not worked one day as an OTA that was the same exact day as before," she added.
She also pointed to the increasing demand and wages in the field. According to the U.S. Bureau of Labor Statistics, the need for occupational therapy assistants is projected to grow 34 percent by 2030, which is must faster than the average growth of other careers. The median pay in 2020 was upwards of $60,000.
"There's nothing holding you back," Thomas said. "If you are interested in Polk State's Occupational Therapy Assistant Program, go for it."
More information is available at www.polk.edu/ota.