Polk State named Philanthropic Corporation of the Year, student receives Youth in Philanthropy Award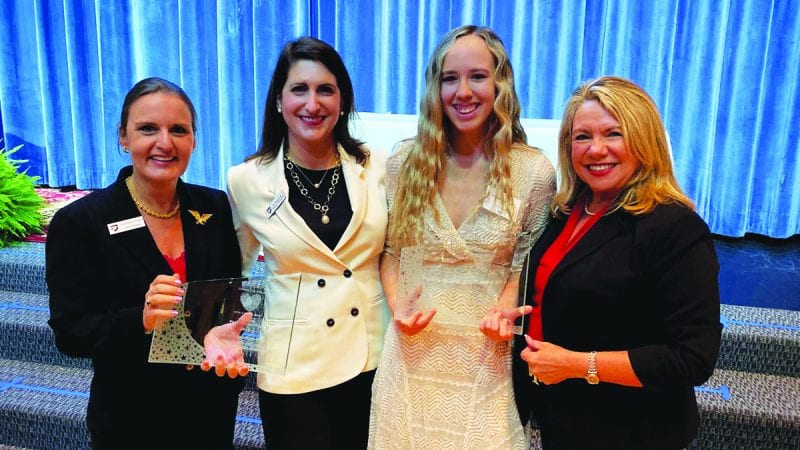 Polk State College and the Polk State College Foundation were collectively named the Philanthropic Corporation of the Year during the Association of Fundraising Professionals (AFP) Greater Polk County's National Philanthropy Day Celebration, where student Makenna Hansel was also honored with the Youth in Philanthropy Award.
Polk State joins corporations recognized in previous years including Allen & Company, Citizens Bank & Trust, Mosaic Company, Regal Lakeland, and Publix Super Markets Charities, Inc.
"It is an incredible honor for the College and the Polk State Foundation to be part of a group of corporations that keep the spirit of giving alive in our community," Polk State President Angela Garcia Falconetti said.
The Polk Education Foundation, Polk County Public Schools' philanthropic organization, nominated the College for the award.
"We wanted to not only recognize Polk State for helping the Polk Education Foundation and our school district; we also wanted to point out that the College does so much for so many in our community," Polk Education Foundation Executive Director Susan Copeland said. "It is rare to find events Polk State is not sponsoring or sending volunteers to, community organizations are allowed to use College locations for events, the Polk State Corporate College and degree programs have been developed to help meet the workforce needs in Polk County, and the College provides many wraparound services for students to ensure they are successful."
"The Polk Education Foundation felt it was important to recognize all the efforts Polk State makes to ensure all of our communities are successful," she added.
The Polk State Foundation awards approximately $1.6 million in student scholarships each year and its generosity extends into the community through many initiatives such as those that Copeland noted.
"The ultimate goal is to have a scholarship for each student who needs one," Polk State Foundation Executive Director Tracy Porter said. "We are dedicated to transforming lives through the power of philanthropy and a Polk State education."
Hansel, a 2019 graduate of Polk State Lakeland Collegiate High School who is continuing her academic journey at the College, was also recognized during the AFP's celebration.
Nominated by the United Way of Central Florida (UWCF) for the Youth in Philanthropy Award, Hansel served as a Volunteerism Officer for Lakeland Collegiate's Student United Way Club in high school.
"Makenna has been passionate about United Way since she was young," said Christina Jackson. "As a Polk State Lakeland Collegiate student, she inspired others through her spirit of philanthropy and by serving the Student United Way in leadership roles. Most recently, she led as United Way Ambassador, encouraging and engaging businesses and individuals to give through Polk, Highlands, and Hardee counties. As a young professional, she is dedicated to improving lives and strengthening the community."