Polk State Music to Present Challenging 'Masterworks' Concert on April 27, 28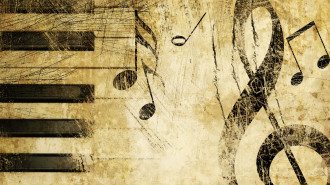 Polk State Music will present its wide-ranging, intensely challenging Masterworks Concert on April 27 and 28.
Both concerts will take place at 2:30 p.m. at Polk State Winter Haven's Fine Arts Theatre, 999 Ave. H N.E. They are free and open to the public.
"If you like variety, and interesting, fun music, we've got something for you," said Polk State Music Professor John Anderson. "The mood will be changing every time you turn around."
Anderson said the concert will blend great works of the past with original works of Polk State Music students.
"They could be the masters of the future, after all," Anderson said.
During Masterworks, the Jazz Combo will perform the original arrangements of When I Fall In Love by student Hayla Hines; Beyond the Sea by student Mark Sapp; The Cantita Band (from Star Wars) by student Andrew Strong; and A Night in Tunisia by student Pharhlerckq Zimero.
In addition to students' arrangements, the repertoire for Masterworks will include the College's Concert Band performing Light Calvary Overture, Incantation and Dance, and an original composition by Polk State Music Professor and Director of Bands Chris Sharp, titled Rivendell.
The Jazz Band will take on classics including the Sing, Sing, Sing, while the Concert Choir will offer three favorite spirituals.
"These are songs that slaves used to communicate with one another, and they were really the beginning of what would become jazz in this country," Anderson said. 'These are outstanding arrangements and very challenging to sing."
The Concert Choir's spirituals will include Every time I Feel the Spirit, Elijah Rock, and John Saw Da Numbah.
Masterworks will also include Ave Maria, an African playground song titled Sansa Croma, and the national anthem.
It will all make for an afternoon that will push Polk State Music students — and keep audiences guessing about what they'll hear next.
"If you don't like a song, stick around for a moment because you're going to hear something that you do like very soon," Anderson said.
In addition to Polk State Music, Polk State Fine Arts includes the College's Theatre and Visual Arts departments, all of which enjoy outstanding statewide reputations.