Polk State Music spring concerts will include debut of new ensemble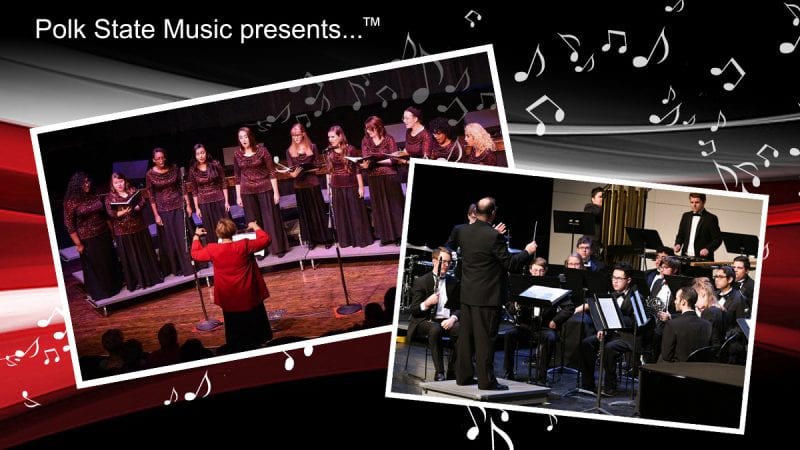 Polk State Music will kick off back-to-back concerts April 25, showcasing the incredible talent of Polk State's students and the large scope of music education available at the College with performances throughout the weekend.
The lineup will also debut Polk State's newest student music group, Sempre Cantando, made up of students Trinity McFall, Lydia Rose, Jade Bailey, and Justin Dos Santos from diverse backgrounds that brings a new blend of music to Polk State.
"Our music department is not only in a time of growth, but one of great proficiency and prosperity," Professor of Music Michelle Manzi said. "This positive change will be evident in all four of our wonderful showcase concerts."
Concerts will take place at the Polk State Winter Haven Fine Arts Theatre at 999 Ave. H N.E., with doors opening an hour before performance times for all shows, which are free for Polk State students, faculty, and staff.
Springtime Spectacular Band Concert
Thursday, April 25, 7 p.m.
Featuring Polk State's Symphonic Band, Jazz Band, Jazz Combo, and Percussion Ensemble
$7 general admission
Latin Soundscapes Percussion Concert
Friday, April 26, 7 p.m.
Featuring Polk State's Percussion Ensemble
$3 general admission
Rock Concert Extravaganza
Saturday, April 27, 7 p.m.
Featuring Polk State's Melangé, Fiori, soloists, and the debut of Sempre Cantando
$7 general admission
Pops Choir Concert
Sunday, April 28, 2:30 p.m.
Featuring Polk State's Concert Choir, Women's Chorus, Orchestra, Melangé, and Fiori
$7 general admission