Polk State Music Presents "Christmas Gala" on Dec. 12, 13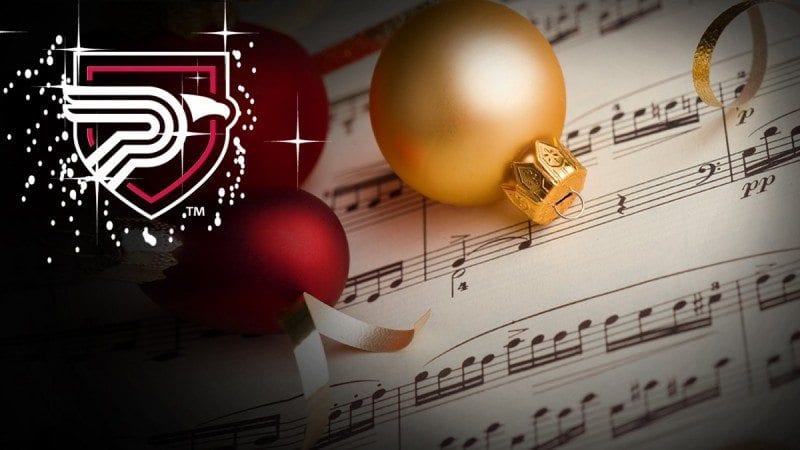 Polk State Music will present its annual holiday concerts on Dec. 12 and 13, and just as audiences have come to expect, the repertoire will feature a mix of traditional favorites and a few surprises, too.
"This concert is always a great way to kick off your holiday season," said Music Department Coordinator and Director of Choral Activities John Anderson. "We're going to be doing everything from 'A Charlie Brown Christmas' to 'White Christmas.'"
"Christmas Gala" will feature the College's symphonic band, vocal jazz ensemble, jazz ensemble and Jazz Society, concert choir, Sorority of Sound, men's chorus and women's chorus.
Pieces to be performed include "Jingle Bells," "Have Yourself a Merry Little Christmas," "Jingle Bell Rock," and "Santa Baby."
"Even though these are well-known tunes, we're doing arrangements of some of them that are very different," Anderson said.
For instance, Mozart's "Eine Kleine Nachtmusik" is familiar as an orchestral composition, but for "Christmas Gala," the Polk State vocal jazz ensemble will sing the piece.
"It's usually performed by a string quartet, but our students will be singing it a cappella," Anderson said. "It's a very funny version."
The show's finale will be "Hallelujah" from Handel's "Messiah."
"This piece is something that our audiences have repeatedly requested," Anderson said.
"It will be performed by the whole crew, the choirs and the bands. The students love it and are doing a great job with it, and the audience is going to love it, too."
Anderson added:
"This is the most collaborative concert we've done in a long time. The different groups are all working together so well. It's going to make for a unique experience for the audience."
Polk State Music will present its "Christmas Gala" on Dec. 12 at 7 p.m. and Dec. 13 at 2:30 p.m. Both shows will take place at the Polk State Winter Haven Fine Arts Theatre, 999 Ave. H N.E. Admission is free for Polk State students and employees, and all high school students, with ID. Admission for the general public is $7.
In addition to Music, Polk State Fine Arts includes Theatre and Visual Arts, all of which enjoy outstanding statewide reputations.