Music students represent Polk State at FCSAA Winter Music Symposium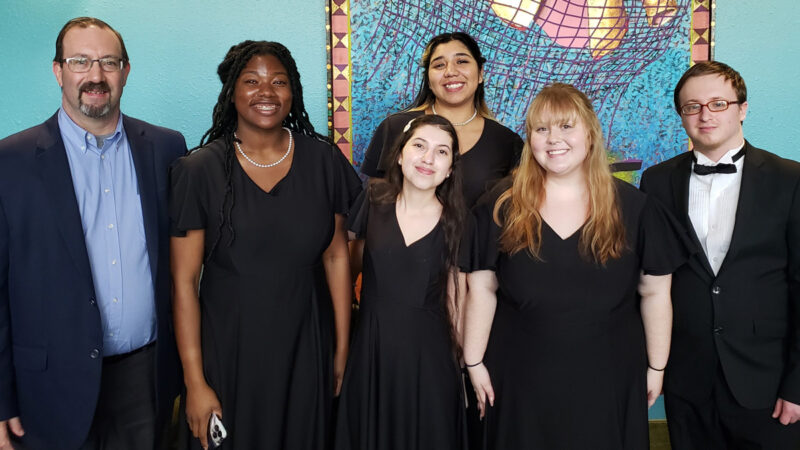 Polk State College's Music Program offers numerous unique opportunities for students. That was never more evident than in late January.
From Jan. 25 to Jan. 28, five Polk State students took part in the FCSAA Winter Music Symposium at State College of Florida's Sarasota Campus. After a two-year hiatus as a result of the COVID-19 pandemic, the Winter Music Symposium returned.
"It is truly an all-state event for the music students to gather and work with the top music faculty from Florida's four-year colleges and universities where the majority of the students will transfer to complete their bachelor's degree," said Don West, Polk State's Department Coordinator for The Arts. "We are proud that our students have opportunities like this to collaborate with a diverse and talented group of musicians, music professionals, and university faculty."
The symposium is open to members of all 28 of Florida's state colleges. Daniel Tackett, a band member and fourth-year student at Polk State, enjoyed the experience.
"It was fun to finally be able to do this," he said. "It was really fun playing with more experienced musicians. We were able to watch some fantastic performances as well."
Students spent two days in masterclasses under the direction of top-notch faculty from across the state, including the University of South Florida, University of Florida, and Stetson University. The Polk State students watched performances from professionals before concluding the event by performing themselves along with fellow students from across the state.
"What stands out is the passion everyone has for their craft," said second-year Polk State student Gillary Santiago. "They absolutely love what they're doing. They work hard and take nothing lightly. It was amazing. I loved it – one of the best experiences of my life."
Santiago, Faith Brown, Zena Douglas, and Bridget Hand represented Polk State's Choir. Tackett was the lone band member from Polk State.
"It was a great learning experience," Tackett said. "Just like Professor West does with us, the faculty really helped us and gave us knowledge that we can use in the future."
Santiago offered similar sentiments.
"Passion and drive will take you far," she noted. "We learned a lot from the master classes and from seeing these people perform that we can take with us for the rest of our lives."
The symphonic band performed four songs during the Winter Symposium. The choir sang five. The camaraderie between the students from across the state, Douglas noted, was evident.
"I think it was amazing, the community we built," Douglas said. "Everyone was very welcoming. We all worked so well together. It was awesome to see people with the same passion and same goals that we have."
For Douglas, those goals include majoring in Music Education and becoming a high school choir teacher. Santiago plans on majoring in Music Performance. She hopes to one day travel the world as a performer.
"At Polk State, they prepare people who want to be music majors very well," Santiago explained. "Here, they really dig deep into the fundamentals of music. Music conveys emotions that sometimes can't be spoken. It speaks to the inner part and connects people to their experiences; I find that very beautiful."
Douglas chronicled the event and will be posting it to the choir's Instagram account, @polkstatechoir. She and Santiago each felt the experience brought the group closer together.
"I felt like it brought us to a new level of friendship," Douglas said. "Being together for four days taught us a lot about each other. I thought we all meshed really well."
Santiago said she thinks the experience will strengthen Polk State's Music Program in general.
"We did this for ourselves, but we were also proud to represent Polk State," she said. "I feel like the symposium brought us together. I was really anxious, meeting people from different parts of Florida, but we had so much fun. I feel like getting to know each other brought us together, so that we can bring the choir together as a whole and maybe even recruit for the program."
Other opportunities at Polk State
The FCSAA Winter Symposium is just one of many opportunities afforded by the Polk State Music Program. On Jan. 21, four students – Douglas, Abigail Thompson, Hand, and Brown — were accompanied by Professor West and Music Professor Virginia Zechiel to the Branscomb Auditorium at Florida Southern College for the Lakeland Symphony Orchestra and Opera's performance of Cavalleria Rusticana.
"This was the students first opportunity to see a live opera performance and they were truly inspired," West said. "The experiences they bring back to Polk State College will help strengthen our music program and inspire their peers to strive for excellence."
Tackett, who plans to major in Music Composition, wants to be a composer one day. Thanks to a Polk State connection, he previously had the opportunity to perform with Grammy Award-winning vocalist Renée Fleming.
"Professor West's desire and ability to fight for us has given us an opportunity to do many things," Santiago said. "He's always working so that we have these opportunities. He gives us drive to do more."