Polk State Music to Present "Fall Festival of Singing" on Oct. 16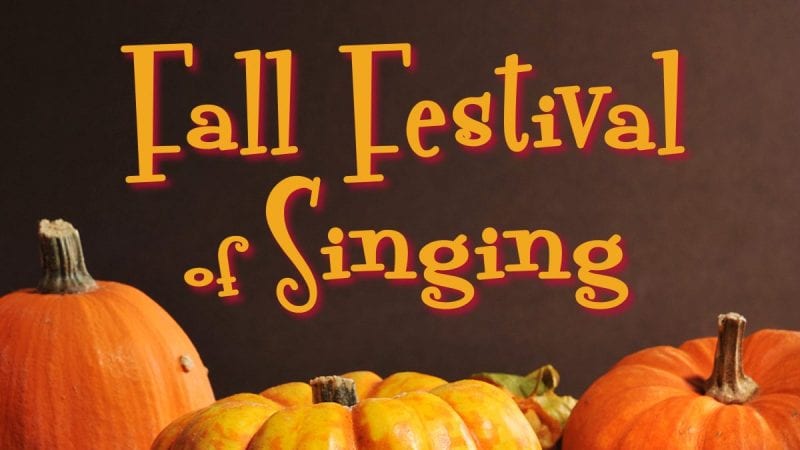 Polk State Music will begin its 2016-17 concert season with "Fall Festival of Singing" at 2:30 p.m. Sunday at the Polk State Winter Haven Fine Arts Theatre, 999 Ave. H N.E.
The concert is free for Polk State students and employees, and all Polk County high school students. Tickets for the general public are $7 for adults and $5 for children.
The College's choirs and vocal ensembles will perform during the event, singing selections dating from the 16th century to modern day.
"There is so much variety in this concert," said Polk State Music Department Coordinator and Professor John Anderson. "I'm so proud of all the students. They excite me every day. I live for rehearsals. We can't wait to share their talents with the community during this concert."
Sunday's repertoire includes a Renaissance-era madrigal titled "April Is In My Mistress' Face," performed by the Vocal Ensemble.
"Madrigals were the pop music of the Renaissance. They're short songs, usually about love. They are considered the first really great pieces for voices — and they're extremely fun to sing," Anderson said.
The Vocal Ensemble will also be performing "Welcome to the Renaissance" from the Broadway musical "Something Rotten!" and "The Girl from Ipanema," the 1960s hit by Antonio Carlos Jobim.
The Men's Chorus will perform three pieces, including "Sieze the Day" from Disney's Broadway musical, "Newsies."
The set for Burgundy, a newly formed vocal ensemble, will include arrangements of Adele's current hit, "Send My Love," as well as Leonard Cohen's "Hallelujah," made famous in the mid-1990s by Jeff Buckley. Sorority of Sound, an all-female ensemble, will sing Sara Bareilles' version of "Sittin' on the Dock of the Bay," among other pieces.
Michelle Manzi, professor of music and director of women's chorus, said Dolce Fiamma, another all-female performance group, will add a folk music element to the concert. Its set includes "Sail Away," featuring Winter Haven-based hammer dulcimer player Sally Anderson.
"It's a very fun piece that's all about exploring the opportunities and the beauty you can experience in the world," she said.
The Concert Choir will round out the event with "Always Something Sings," to be performed with members of the newly established Florida Philharmonia Orchestra.
For more information, call 863.297.1050 or visit polk.edu/boxoffice.
Polk State Fine Arts includes Music, Theatre, and Visual Arts, all of which enjoy outstanding statewide reputations.