Polk State Music Department Breaks New Ground With Concerts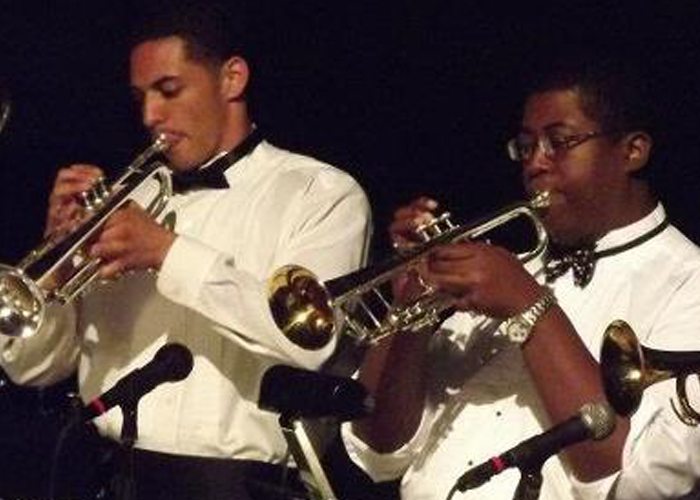 The Polk State Music Department will perform two shows in October, both of which will be unlike any others in its history.
Music Professor John Anderson said the Department is able to put on larger-scale, more elaborate productions thanks to the increasing numbers of students it is attracting and the talent they bring. There are currently 150 students taking courses through the Music Department, and nearly half of those are Music majors.
"We're getting a lot of really fine musicians. They're just blowing me away," Anderson said.
The first concert, "Saturday Night Jazz at Polk," will feature students in the Music Department's Jazz Band, Jazz Combo, Vocal Jazz Ensemble and Jazz Guitar Ensemble who will perform favorites such as "Birdland," "Ain't No Mountain High Enough," and "When You Wish Upon a Star."
"We've never done a show that's just jazz. Jazz is a very challenging medium, and our students are getting some really good experience through this show. For the audience, it will be fun and very upbeat," Anderson said.
Anderson added that Vocal Jazz Ensemble performers will be performing a capella jazz numbers, and that instrumental performers will improvise throughout the evening.
"It will be a one-of-a-kind night. If we were to do this show the next night, it would be totally different," he said.
The second performance will be "Broadway in Concert," an event that will be filled with music from "Phantom of the Opera," "Monty Python's Spamalot," and "Sweeney Todd."
What will be noticeably different about the "Broadway in Concert" performance is that the Concert Band, Concert Choir, String Ensemble, Women's Chorus and Vocal Jazz Ensemble will intertwine their performances. In the past, each group would play or sing separately from the others.
"It's very popular on Broadway these days to have the musicians playing their instruments on stage and the performers singing and dancing all around them. We're taking a cue from that. Of course, we're not doing any dancing, but we'll have the singers and instrumental performers all together on the stage," Anderson said.
In addition to both the shows being entirely new ventures for the Music Department, this will also mark the first time it has staged two unique productions back-to-back. Typically, the Music Department has simply performed the same concert twice.
The October shows, in addition to offering audiences two totally different experiences, allow the students to explore different styles and stretch their talents.
"It makes you a better musician. It's rare to find a musician who does only one thing," Anderson said.
"Saturday Night Jazz at Polk" will be at 7:30 p.m. on Oct. 20. "Broadway in Concert will be at 2:30 p.m. on Oct. 21. Both concerts will be at the Winter Haven Fine Arts Theatre, on the Winter Haven campus, 999 Ave. H. N.E. They are free and open to the public.
In addition to Polk State Music, Polk State Fine Arts includes the College's Theatre and Visual Arts departments, all of which enjoy outstanding statewide reputations.