Polk State Mourns Math Professor Carolyn Horseman, Who Spent Final Weeks Doing What She Loved — Teaching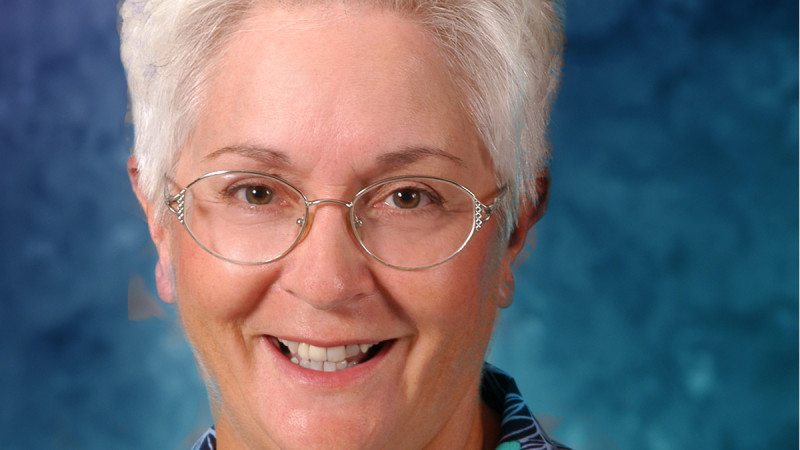 Polk State College is mourning Carolyn Horseman, a dedicated educator who taught until the last weeks of her life.
Horseman, 68, died Sunday.
According to her obituary in The Ledger, Horseman was a native of Charlotte, N.C., who loved singing, golfing, bird watching and baseball. But what she loved most of all, aside from her family, was teaching.
Naturally gifted in math, Horseman taught the subject at the college level for more than 40 years.
"Carolyn enjoyed helping the students get going," said her husband, Tom. "A lot of people have a lot of apprehension about math. She could help them get through that anxiety."
In 2006, Horseman joined the math faculty at Polk State College's Winter Haven campus. An early adopter of online education, she began teaching online classes in 2008. At first resistant to Internet-fueled change, Horseman soon realized that online classes presented new opportunities to help students.
"We're reaching students that would not be in school," Horseman told News@Polk in 2012. "Most of my students online have a job, have children, and they're working at 1 o'clock in the morning. We're reaching a whole population that had no idea they could go back to school."
Horseman would go on to receive the nationally recognized Quality Matters certification for three of her online courses: College Algebra, Intermediate Algebra and Trigonometry. Quality Matters is a nonprofit that provides tools and training to assure the quality of online and hybrid courses. To receive Quality Matters certification, courses must meet detailed standards and pass a series of reviews.
"She was right there at the forefront of online education," said Math Professor Paul Pletcher. "She had a strong commitment to education and her department, and was a strong proponent for online education."
Lead Instructional Technologist Nathan Neuman worked closely with Horseman in the development and refinement of her online courses.
"She was a leader when it came to online education and innovation," he said. "She definitely had a passion for education, but above all else, a passion to help students. I know she made a big impact."
Neuman added that Horseman was constantly improving her courses because she wanted to spend as little time as possible answering technical questions, and as much time as possible teaching her subjects.
Mathematics Professor Anna Butler said that Horseman was meticulous about answering her students' questions.
"There are students who are so anxious about math that they go with an avoidance tactic. They don't want to see you, talk to you, or make a human connection," Butler said. "Carolyn figured a way to backdoor that anxiety in her online classes. When she would answer a question, she would archive it and make it available to all her students. She had folders and folders of answers to questions. By doing that, she could help students who had the same questions, but didn't want to ask.
"She was very proactive about teaching online. It's a lot of work. You wouldn't do that if you didn't have the best interest of the students at heart."
In June 2014, Horseman was diagnosed with cancer, but she continued to teach through the fall and spring semesters.
"She was declining physically, but because her classes were online, she didn't have to do a lot physically," said Tom Horseman. "Teaching gave her something to do. It kept her mind off what was happening. It was really a blessing for her that she could continue working."
Aside from her impact in online education at Polk State College, Horseman's colleagues are remembering her for her friendship.
"Carolyn and I started here at the same time. She was the first person I met," said Accounting Professor Edna Mitchell.
"She was very gracious and always willing to share her knowledge, whether it was with her students or her peers. She went out of her way to make sure that if there was anything she could do to help anyone, she did it.
"We have lost one of the most excellent, fantastic professors we could ever have. I know that I will miss her every day. Just her smile was out of this world."
Added Butler:
"She taught me about living strong, being proactive, and seeking out ways to help … I would also like her family to know how much she thought and talked about them. She was happy with her life and with her job. She really enjoyed it."
Tom Horseman, of course, feels the loss on the deepest level. He is still trying to fathom life without his wife of 38 years.
"The main thing is that she and I have been partners in life. We have done everything together. We have shared our lives. We were very seldom without each other."
In addition to her husband, Horseman is survived by her daughters, Maggi Horseman and Katie Horseman; her sister, Charlene Sellers; and her brother, Russ Eppley.
According to her obituary in The Ledger, the family will receive friends on July 18 at 4 p.m. at Oak Ridge Funeral Care, 2425 W. Havendale Blvd. in Winter Haven. A celebratory memorial of Horseman's life will follow at 5 p.m. In lieu of flowers, the family asks that donations be made to Good Shepherd Hospice, 105 Arneson Ave., Auburdale, FL, 33823, 863.297.1880.
Those wishing to share a memory or sentiment may do so at the Polk State Facebook page. Polk State provides counseling to students, faculty and staff in need.