Polk State Librarians Offer Their Suggestions for Summer Reading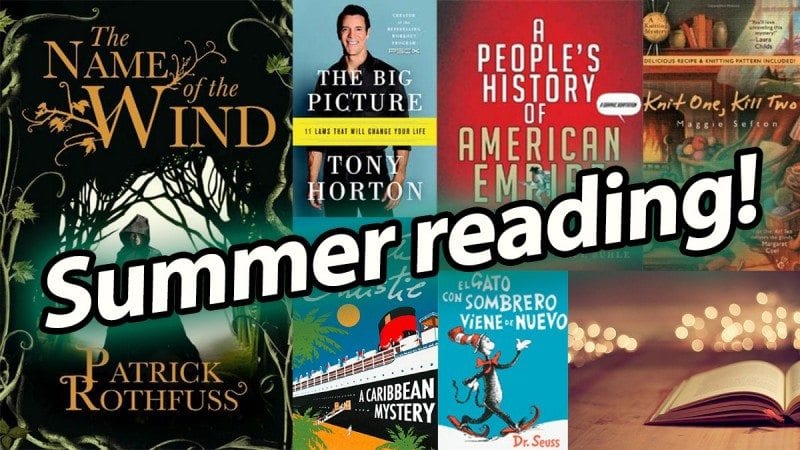 Packing for a weekend at the beach?
Jetting off for a much-needed vacation?
Just lounging by your backyard pool?
No matter what you have planned for the summer, it's always a good idea to have a good book at the ready.
For summer reading ideas, News@Polk consulted Polk State's librarians and library staff members, who returned a list of suggestions more varied than the bathing-suit styles on South Beach.
From knitting-themed mysteries to self-help guides, here's what our librarians are reading this summer. Check 'em out:
"The 'Knitting Mysteries' are about a yarn shop, and have a knitting pattern and recipe in the back that have been mentioned somewhere in the book. I've gravitated toward this subgenre because it is easy escape reading that appeals to my hobbies."
Cori Large, administrative assistant, Polk State Winter Haven Learning Resources Center
"I am thinking about beginning to learn some French this summer, and then my daughter, Leslie, added Italian to the mix as her in-laws-to-be are Italian. I decided that I learned English fairly successfully with Dr. Seuss. So, I have purchased several seminal works in French and Italian to read ad nauseam: 'Le Chat au Chapeau,' 'El Gato en el Sombrero,' 'Les Oeufs Verts au Jambon.' I am sharing the experience with my dog, Duglis. He says he is getting a little sick of the cat milieu and he was kind of upset with the treatment of the dog in 'Comment le Grinch a Vole Noel.' He has requested 'Go, Dog. Go! (Alle Chien Alle).' I tried to explain to him that 'Go Dog. Go!' is P.D. Eastman but, if I can find it, I might just get it to shut him up. After Dr. Seuss, we will be moving on to Voltaire.'
Chris Fullerton, director of the TLCC and Learning Resources at Polk State Winter Haven
"'The Big Picture: 11 Laws that Will Change Your Life' by Tony Horton gives advice on workouts, eating, and life in general, all with Tony Horton's goofy humor. I love it. Also, 'The Name of the Wind' by Patrick Rothfuss is an amazing fantasy novel about a young man who grows to be a famous wizard and his journey to get there."
Michelle Joy, professional librarian, Polk State Winter Haven Learning Resources Center
"During the summer, I like to re-read some of my old favorites, mainly so that I don't have to use too much brainpower while sitting by the pool. My go-to is always Agatha Christie. Ones set at the beach include 'A Caribbean Mystery,' featuring clever Miss Marple, and 'Evil Under the Sun,' featuring the dapper Hercule Poirot."
Pam Hoepner, librarian, Polk State Airside Center
"I would like to recommend 'A People's History of American Empire: A Graphic Adaptation.' It's a graphic-novel adaptation of Howard Zinn's 'A People's History of the United States.' It's a novel approach to history, and I think it is a great read for people 18-24 — or even older — who are curious about history."
Jarrod Jones, emerging technologies librarian, Polk State Winter Haven Learning Resources Center
"'The Girl on the Train' by Paula Hawkins. Set in present-day London, the protagonist, Rachel, takes the train every morning and observes the not-so-distant neighborhood she once happily lived in with her husband.  Daily, she observes  from her seat on the train, the 'perfect' couple who lives only a few houses down the street from her former home now occupied by her ex-husband and his new wife.  One days she sees infidelity, the next day someone goes missing.  A favorite page-turner, I enjoyed the suspense so much I hated it when the book ended."
Courtlann Thomas, director of the TLCC and Learning Resources at Polk State Lakeland