Polk State Lakeland's Wellness Center Opens Monday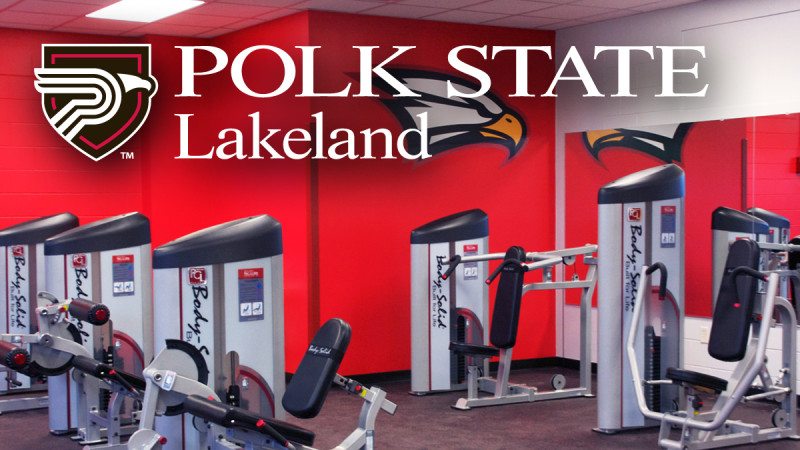 Polk State Lakeland's Wellness Center officially opens Monday, an occasion that campus officials say is about students having a place to exercise — but also so much more.
"With the addition of the Wellness Center, the campus is not only a place for students' minds, but for their bodies, too," said Provost Stephen Hull.
"It gives students another reason to stay on campus, to forge new friendships, to deepen their connection to the College. It's about expanding the experience Polk State provides its students."
The Lakeland Wellness Center measures 4,800 square feet and is located on the northeastern edge of campus, in what was once a storage building.
When it was used for storage, about half the structure was enclosed, though it lacked air conditioning and insulation. The other half was merely a concrete slab surrounded by brick walls.
Construction began in the spring to retrofit the enclosed side — and completely transform the slab side. The contractor on the project was Crossroads Construction and the architect was Straughn Trout Architects, both of which are based in Lakeland.
In some ways, the project was reminiscent of the 2010 Lakeland Student Center project, which involved gutting the original 16,000-square-foot structure and constructing an 8,000-square-foot addition.
"Like the Student Center, the Wellness Center is about utilizing existing space to its fullest potential," said Travis Altman, project engineer for planning and construction at Polk State Lakeland.
"The Wellness Center is located in what is prime real estate on campus. We've added structural value — and a lot of value for the students."
The finished Wellness Center not only adds value, but a big "wow factor" to the campus. The side that was once the enclosed storage space is now a cardio room, complete with treadmills, ellipticals, stationary bikes, weight machines and free weights.
The equipment was purchased by the Student Government Association from Play It Again Sports in Lakeland, which in a bit of Polk State trivia is owned by W.R. "Sandy" Fortin, a member of Polk State's first graduating class.
"I'm very proud to be an alum of Polk State and of all the growth — including the new Wellness Center," Fortin said. "There are so many positive things happening there. It's exciting to be part of it."
The part of the building that was once the walled slab has become men's and women's locker rooms and an aerobic room, where group exercise classes will take place.
Aesthetically speaking, the entire Wellness Center is outfitted in the College's color scheme — even down to a red and black rubberized floor. It has its fair share of gadgets too, namely seven flat-screen TVs in the cardio room and a projection screen in the aerobic room.
Overseeing the Wellness Center will be Steve Linamen, who was hired earlier this month. Linamen, also the head women's soccer coach, has a bachelor's degree in Organizational Management from Warner University and is completing a master's degree in Athletic Administration from Ohio University. He has previous experience in running facilities similar to the Wellness Center.
In addition to the same equipment and amenities students would find in an off-campus gym, Linamen said, they will also receive personalized training advice.
"We're going to help students gain all the information they need to work out properly," Linamen said. "When they come in to this facility, unlike others where you're either on your own or you have to sign up for personal training, we're going to provide them with information and assistance to help them reach their specific goals, whether it's to lose weight or gain muscle."
The Wellness Center will be open from 7 a.m. to 7 p.m. Monday through Thursday, and 7 a.m. to 5 p.m. on Friday. It is available for use by all students and employees with a College ID.