Polk State Lakeland Student: Starting a Club Gave Her a 'Home'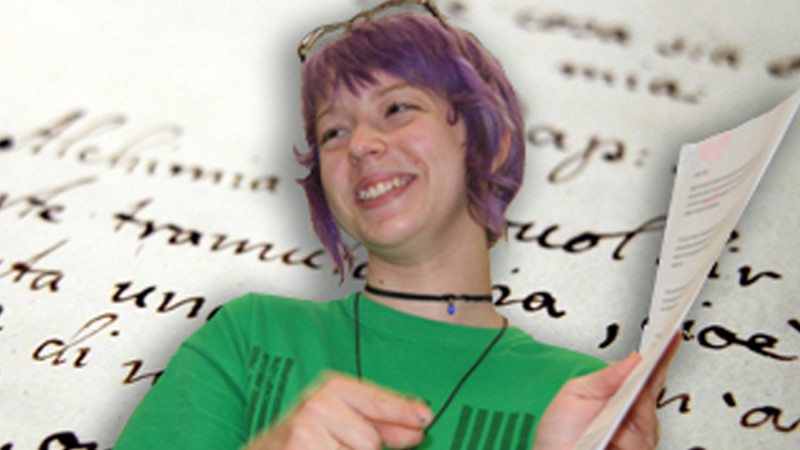 It's just before two-o'clock on a Thursday afternoon, a meeting of the Polk State Lakeland Creative Writing Club is about to begin, and President Mishala Buchanon is slumping in her chair, giggles and wisps of lavender-dyed hair escaping from under her voluminous orange hoodie.
Then the meeting comes to order and Buchanon is transformed, leading her dozen fellow students in discussions on points of grammar and line-by-line critiques of their writing — and all with infectious enthusiasm for predicates and prepositions.
Buchanon and this club she's created, more than an English teacher's dream come true, embody the central tenet of student life at Polk State — that students have the ability to make it whatever they want it to be.
"The club makes going to school a lot more fun for me. I have a home here now," she said.
Last fall, Buchanon, 16, began attending Polk State Lakeland Collegiate, transferring from Auburndale High School for more challenging academics and a jumpstart on her associate's degree.
The downside of the move, however, was leaving behind the writing club she'd so loved at Auburndale — and finding that Polk didn't have anything similar.
This semester, she decided to do something about it.
"I was in a creative writing club during my freshman and sophomore years of high school and I really enjoyed it, so when I started at Polk, I felt like something was missing. I took a creative writing class, but it just wasn't the same. I figured, why not start a club? I had a feeling that there were plenty of skilled authors, poets, screenwriters, and the like at Polk, and yet there was no community for them here. I said to myself, 'Nay, this will not do!'" she explained.
When English Professor Eileen Murphy heard Buchanon's idea, she quickly signed on as adviser, and Professor Lisa Rosa agreed to serve as co-adviser.
"I'd thought about doing this before, but the opportunity hadn't arisen," Murphy said. "Workshops like the ones students get to take part in through the club are a complement to our formal classroom studies and so vital to students' writing."
The club meets every Thursday from 2 to 4 p.m. in LAC 1237. Members — there are about 13 who attend faithfully — spend the time critiquing each other's writing and occasionally making presentations on pieces they've read outside the club.
In just the few weeks since the club began, it's already made a difference for the students involved.
"I've definitely seen growth. Even if students don't submit something to be critiqued, being with other writers is inspiring — there's just something in the air," she said.
Sherine Patterson, a student in the College's Bachelor of Applied Science program, said she appreciates having a forum to share her writing and receive constructive criticism.
"I wanted to improve my writing skills. I'm here for inspiration and encouragement," she said. "I feel I've already grown as a writer. I had never written poetry before, but since coming to this club, I've written two poems that I'm really proud to have shared."
As for Buchanon, she ultimately wants to become a chef, but for now, she looks forward to each Thursday afternoon, when she has the opportunity to share her love for writing with others who understand it.
"I feel more tied to the College, like I'm more involved. I've found common ground with other students," she said.
Note to College employees and students:
The Creative Writing Club is currently taking entries for its Creepypasta Horror Writing Contest.
Polk State employees and students may submit horror-themed fiction pieces or poems for a chance to win a $30 prize. All submissions must be original and must include a title. Submissions will be limited to one per person.
Rules regarding formatting and length apply.
Deadline is 11:59 p.m. on Oct. 25. To submit entries or for more information, email PolkStateCWC@gmail.com.
Winners will read their entries during the Creative Writing Club's Halloween bash, on Nov. 1 from 2-4 p.m. in LAC 1237. Skits will be performed and there will be free food.