Polk State Lakeland Honors Veterans, Winter Haven Event is Tuesday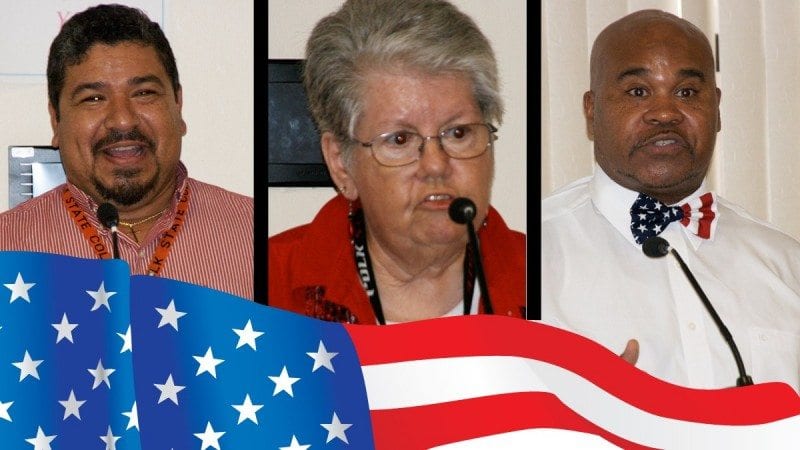 Polk State Lakeland paused Monday to honor veterans, thank them for their service and sacrifice, and remind them that the College is ready to help as they transition to the classroom.
"Thank you for your service and for coming back to participate in Polk State College, whether that's as a student, faculty or staff member," said Polk State President Eileen Holden in her welcome to the crowd of nearly 100 that gathered for the morning event at the Polk State Lakeland Student Center.
"At Polk State, we are working every day to eliminate the barriers that stand between veterans and their education. That means providing not only services and facilities, but also compassion. That is why we are here today, to mourn the veterans who didn't come back, to celebrate those who did, and thank all who served."
Following Holden to the microphone was Freddie Acevedo, network support specialist at the College, a retired Army drill sergeant, and the day's featured speaker.
Acevedo shared anecdotes from his more than 20-year military career, which sent him to Europe as the Berlin Wall came down, to the Middle East for Operation Desert Shield, and to assignments across the United States.
His military career was full of sacrifice, and even after his service ended, he struggled with Posttraumatic Stress Disorder. But he also gained a deepened appreciation for the opportunities the United States offers, lifelong friendships and leadership skills that he still uses today.
Acevedo reminded student-veterans in the crowd that they are not alone in their transition to the classroom.
"Our veterans counselors are here to help you. They can guide you to your benefits. They have so much knowledge to share, you just have to seek them out," he said.
Acevedo concluded his remarks by saying, "Thank you veterans, past present and future. I salute you."
Also speaking during the event were Polk State Nursing Director Annette Hutcherson, an Army National Guard veteran, who talked about trust and teamwork — two qualities the military instills that are also necessary for success in civilian life.
"No matter what you decide to do in this world, you need trust and teamwork," said Hutcherson.
She went on to share stories of being sent to a firing range with a weapon she had taken apart and reassembled herself — an exercise that taught her to trust herself. Then there was the time when she and others from her unit had to set up a field hospital in Germany, despite bad weather and insufficient clothing, an experience that taught her the importance of teamwork.
The third speaker of the day was Byron Loyd, veterans academic advisor at Polk State Lakeland, who spoke of several mentors he encountered during his service to the Army.
"I salute you all," Loyd said of the veterans in the room. "Thank you for your service to our nation. We are Polk. Soar, Eagles!"
Polk State Coordinator of Veteran Services Carole Toney, also an Army veteran, closed the event with a slideshow that captured the event's theme of "Good Company." The slides included photos of Polk State students and employees from their days in the military, as well as pictures of celebrities who served.
"Polk State's veterans have been all over the world, and some have been back and forth a couple times," Toney said. "You served in good company."
The event struck a chord with Daniel Heckler, a Lakeland resident who was on campus Monday to register for his first classes at Polk State. He will begin as a student in January, and is glad to know he will be attending an institution that appreciates veterans.
"This means something to me," said Heckler. "I have friends and family who served. This was a patriotic, respectful way of honoring what they did for this country."
Also in the audience was Jerry Whalen, who served four years in the Navy in the 1950s. Thinking back on his own days in the military, he said events like these go a long way in boosting spirits of those who give so much to our country.
"It means a lot," he said. "It's a great appreciation."
Polk State Winter Haven will host a Veterans Day event Tuesday at noon in WST 126. Sponsors for both events include the Polk State Student Government Association, Polk State Student Activities and Leadership Office (SALO) and the Polk State College Foundation.