Polk State Lake Wales Arts Center's "Up Close & Personal Series" to Feature Country, Gospel Caribbean; Free Concerts Start June 13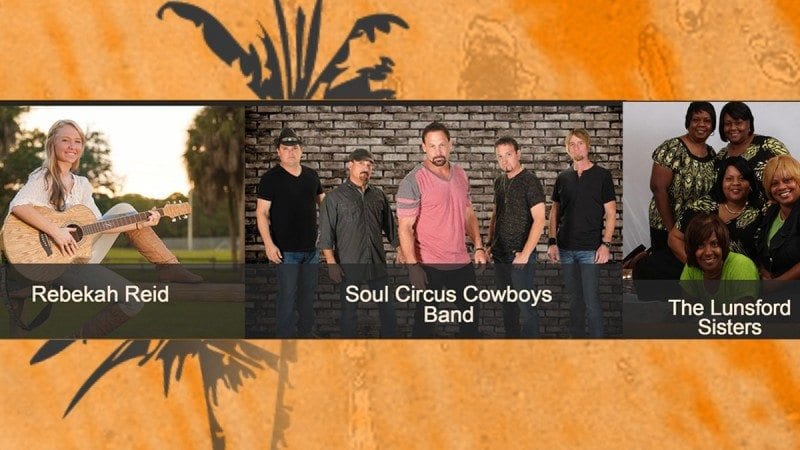 The Polk State Lake Wales Arts Center will host its Up Close & Personal Summer Concert Series beginning June 13, giving patrons the opportunity to enjoy rising talents in genres from country to gospel — and all for free.
"The Polk State Lake Wales Arts Center is a great venue for family entertainment, and for hosting acts that have countywide interest," said Osubi Craig, director of the Arts Center.
"Our goal is to bring world-class art experience of all forms to students, families and the community as a whole, and Up Close & Personal is a perfect example of just that."
Up Close & Personal gets started June 13 with three country music performers, including 16-year-old Rebekah Reid. Reid, a Sebring native, is a singer/songwriter whose interest in music began in church and school choirs. The self-taught guitarist has since performed across the state.
Joining Reid for the evening will be Soul Circus Cowboys. Lead singer Billy McKnight founded the group in 2009, recruiting drummer Jason Alfano, bassist Michael Bach, guitarists Terry Cole and Stephen Haendiges, and fiddler Greg Holt, to create their eclectic sound.
Rounding out the June 13 event will be 14-year-old Angela Rodriguez, who began singing at just 5. By age 13, she'd placed in the top 18 on La Voz Kids, a Spanish-language singing competition. 
Up Close & Personal continues the following Friday, June 20, with gospel music performances by Ryan Horton and The Lunsford Sisters. Horton, at just 25, has crafted his own unique "urban" gospel sound. He performs both as a solo artist as a background vocalist with Israel & New Breed.
The Lunsford Sisters have been collaborating for more than a decade. Members of the group perform with the hope that every member of their audiences will be changed, encouraged, saved, delivered and uplifted.
The final installment of Up Close & Personal takes place June 27. To wrap up the series, the Arts Center will again host Rodriguez, but this time she'll be performing Caribbean music.
Simona B. will be next on the stage. Simona B. took the Dallas music scene by storm with her fresh take on Tejano music in 1994. As the lead singer of the four-piece group Cielo, she won first place in a Houston "battle of the bands" competition in 1997. In 2009, she made her salsa debut with Marc Anthony's "Si Te Vas." The genre proved a perfect fit, and she's been performing at La Joya, an upscale restaurant and club in Irving, Texas, ever since.
Following Simona B. will be Zubie & The Crew. The ensemble is headed by Zubie, a Trinidad-born entertainer who directs Passion Entertainment, a Tampa-based Caribbean entertainment company. In addition to his own electric and captivating live performances, Zubie is the force behind the only Calypso competition in Tampa. He is a singer, songwriter, producer, stand-up comedian and promoter who has collaborated with soca and reggae artists from New York City to the Caribbean. 
Finally, steel drummer and guitarist Floyd Lewis will wrap up the series. He started playing in Grenada in 1975, and is heavily influenced by Bob Marley. His music fuses American favorites and Caribbean flare, and he performs with the belief that music should be felt, not just heard.
Doors for all three evenings of Up Close & Personal will open at 6 p.m. Performances will take place from 6:30 to 9 p.m. All concerts are free and open to the public.
The Polk State Lake Wales Arts Center is located at 1099 State Road 60 East. Call 863.298.6883 or email LWAC@polk.edu to RSVP. For more information, visit polk.edu/Arts Center.
In addition to the Polk State College Lake Wales Arts Center, Polk State operates the JD Alexander Center in downtown Lake Wales.