Polk State kicks off semester's Career Services events with Transfer Student Roundtable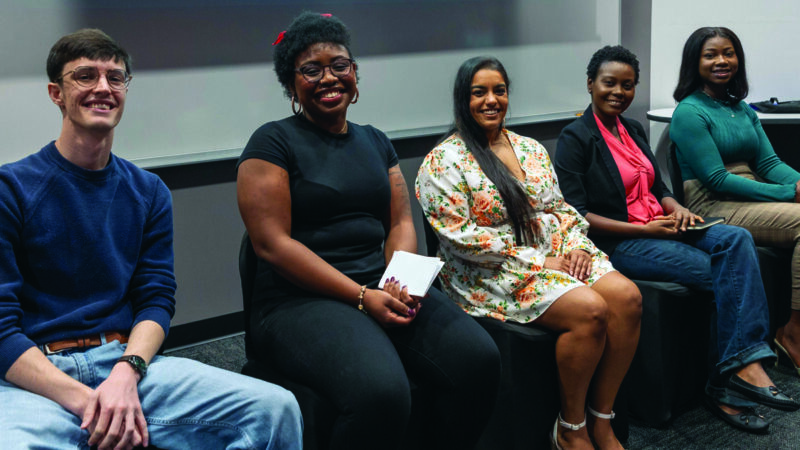 Polk State College launched its robust calendar of Career Services events for the Fall 2023 Semester on Wednesday with a Transfer Student Roundtable, where students had the opportunity to learn from graduates who have transferred from Polk State to universities.
"These individuals were just like you just a few months [or years] ago," said Warren Brown, Coordinator for Career Services. "Now they are thriving at universities, so listen to their experiences and take the gems they will be providing us here today."
Brown moderated the roundtable discussion, asking the participants about their decisions to start at Polk State and transfer to a university, how they chose the university they transferred to, and what the process for transferring was like.
Berlie Saint-Louis, who received her degree in Accounting at Florida Agricultural & Mechanical University (FAMU), shared her motivation for pursuing her higher education: "Education is really important in my family, and I was always told that if you are educated, your future career will look different." Currently working as an accountant, Saint-Louis aspires to become a Certified Public Accountant (CPA) which will elevate her career.
She encouraged students to take advantage of the resources available at Polk State, including scholarship opportunities and professors and staff.
"Polk State made it so easy for me to transfer," Berlie Saint-Louis said. "They did the work for me – from my advisors making sure I was taking the right classes to needing my transcripts and documents. It just took a couple of phone calls – it was a really smooth process."
Sinead Fernandes echoed this sentiment, adding that the "financial freedom" Polk State provided early on in her higher education journey continues to benefit her today. As an international student, Fernandes would need to pay a more costly out-of-state tuition, but through scholarship opportunities at the College and at her transfer university, Florida Polytechnic, she pursued her schooling tuition-free.
Fernandes, who received her bachelor's degree in Computer Engineering and her master's degree in Electrical Engineering now has her "dream job" as a test development engineer for Jabil, a Fortune 500 company.
"Transferring from Polk State to Florida Poly was a little more challenging for me as an international student, but my advisors at both Polk State and Florida Poly were very helpful," she shared of her transfer experience.
She recommended students get involved in student life, which connects students to opportunities such as scholarships like those she benefited from.
"My greatest advice is to apply for as many scholarships as possible," she said. "Getting involved on campus and connecting with your professors and peers is a great way to learn about scholarships."
Other Polk State programs that were touted included TRiO, which provides support and resources such as a student success center, mentoring, financial aid planning, and college tours for underrepresented students.
Roxane Aupont, who is pursuing her master's degree in French at the University of South Florida, credited TRiO with introducing her to USF. A native of Haiti, Aupont speaks English, French, Creole, Spanish, and some Latin.
"My passion is to use my languages to help others. The assistance I received through TRiO helped me realize that USF was the best fit for me because I would be able to major in language, while other universities only have minors," Aupont explained.
She enrolled in the Fuse Program at Polk State, which guarantees eligible students who complete their Associate in Arts degrees at Polk State with admission to USF. Through this program, Aupont also benefited from advising services at both schools, which aided in the transfer process.
"I felt seen and cared for," Aupont said. "My advisors at both Polk and USF kept me on track with my classes and made the transition from college to university life much smoother. Being at a university can be overwhelming. The class sizes are double what they are at Polk State. But you will come to appreciate it."
Whetchina Jean, who received her Bachelor of Applied Science in Supervision and Management from Polk State with a concentration in Healthcare Administration, is now studying to become a registered nurse at Rasmussen University.
She encouraged students to capitalize on the one-on-one connections that can be made in smaller class settings while they are at Polk State before they go on to larger universities.
"At Polk State, you are able to have those personal connections with your professors and your peers," Jean said. "At a university, it's a little harder to make those connections."
At Polk State, Jean took advantage of student life opportunities, traveling to Tallahassee and New York with SGA. She was also a work-study student in the Registrar's Office, where she learned firsthand about the transfer process.
Josh Starr echoed this advice. He graduated from Polk State in May with his Bachelor of Applied Science in Supervision and Management with a concentration in Public Administration. He is pursuing a Master's in Public Administration at USF.
"If I would have had an opportunity like this to hear from transfer students when I was a student at Polk State, I would have taken a lot of notes. This is such a valuable experience."
"SGA was the highlight of my Polk State career," he said. "SGA helps push you to your potential."
Starr aspires to become a city manager and shared that his USF experience differs from Aupont's because his class sizes are smaller.
"A piece of advice that I have for those who may be hesitant or intimidated by the bigger universities is to look into career fields that are maybe not so popular," Starr shared. "A lot of people don't think about becoming a city manager or working in local government, even though there are a lot of job opportunities (and high salaries) out there, so my class sizes are smaller with fewer students."
Despite their varying experiences, the roundtable participants encouraged students to take advantage of Polk State's resources, get involved in campus life, and connect with professors, staff, and peers. All of these opportunities, they said, benefited them on their higher education journeys.
"If I would have had an opportunity like this to hear from transfer students when I was a student at Polk State, I would have taken a lot of notes," Aupont said. "This is such a valuable experience."
Additional Career Services events are listed below and are open to all students. More information is available by emailing careerservices@polk.edu.
September 20 at 10 a.m. | Social Media 101 Workshop | LAC 1254 on the Lakeland Campus
September 20 at 1 p.m. | Republic Airways Visit | ASE 103 at Airside Center East
September 27 at 10 a.m. | Getting Involved on Campus | WLR 317 on the Winter Haven Campus and LAC 1254 on the Lakeland Campus
October 4 at 10 a.m. | Networking Workshop | WLR 317 on the Winter Haven Campus and LAC 1254 on the Lakeland Campus
October 12 from 10 a.m. to 2 p.m. | Transfer Fair | LAC 1254 on the Lakeland Campus
October 18 at 10 a.m. | Scholarships and Financial Aid | WLR 317 on the Winter Haven Campus and LAC 1254 on the Lakeland Campus
November 9 at 11 a.m. | Eagles Talk Panel Discussion | WST 126 on the Winter Haven Campus