Polk State KCTIPS Director Capt. Garcia: Growth comes from getting out of your comfort zone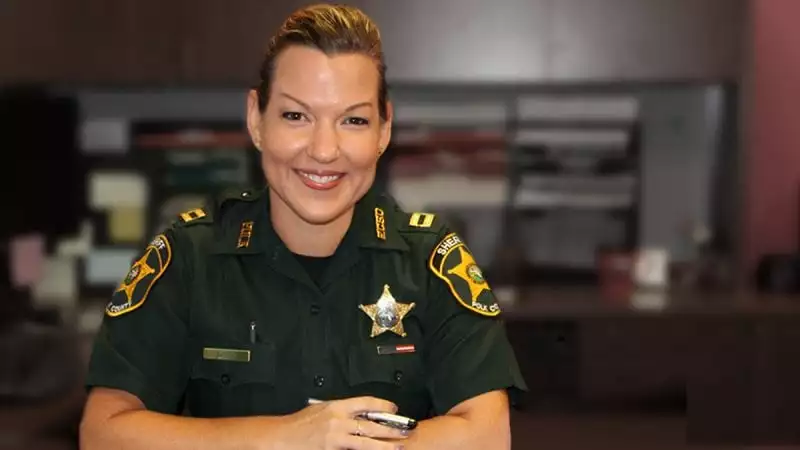 Capt. Theresa Garcia's 20-year career in law enforcement has been a successful one, with Garcia quickly rising through the ranks, starting her career as one of few female narcotics detectives, and now settling into the director's position at Polk State College's Kenneth C. Thompson Institute of Public Safety (KCTIPS).
Her goals include developing high-performing recruits by ensuring KCTIPS continues to provide relevant and rigorous training. Her advice to students: "The greatest growth comes from getting out of your comfort zone."
Garcia, an Ohio native raised in Cape Coral, moved to Polk County to attend what was then Polk Community College. In 1999, she started as a dispatcher at the Winter Haven Police Department (WHPD) to pay for classes toward an Associate in Arts degree. On the job, she saw narcotics detectives come into the station and thought, "I could do that."
"I never thought about going into law enforcement because I didn't think I looked like a detective," Garcia explained, "but when I saw them come in from an undercover operation wearing normal clothes, I realized I could be effective at that job because I didn't look the part."
That day, she went to the police chief's office to share her newfound aspiration and to request the department sponsor her as a recruit in the College's Law Enforcement Academy.
"When your motivation comes from the heart and you know you're meant to do something, you just do it."
For 10 and a half months, she attended the academy from 6 p.m. to 10 p.m. and worked dispatch from midnight to 7 a.m.
"It was hard work, but when your motivation comes from the heart and you know you're meant to do something, you just do it," said Garcia, reflecting on her time as a student.
She moved to full-time patrol with WHPD and was then promoted to the narcotics division as the undercover detective she had dreamed of being.
It was an eye-opening experience, said Garcia, who was quickly noticed by other organizations for her skills and for being one of few females in the undercover detective profession at the time. She was working on taskforces investigating large scale drug trafficking organizations when she applied to the Polk County Sheriff's Office (PCSO), where she started as a deputy sheriff in 2001.
Naturally, she transitioned into a detective position and was promoted to sergeant, overseeing all levels of drug enforcement for the PCSO, including a tactical drug unit taskforce that focused on organized crime and worked closely with the Federal Bureau of Investigation (FBI) and Drug Enforcement Administration (DEA).
But it was when she was sent back to patrol after more than 10 years as a detective with the PCSO that she experienced some of her greatest professional development, she said.
"We work reactively in investigations and proactively in patrol," Garcia explained. "I realized that the greatest growth comes from getting out of your comfort zone and challenging yourself."
"I realized that the greatest growth comes from getting out of your comfort zone and challenging yourself."
She took her transition back into patrol as an opportunity to continue serving the community with her leadership and integrity.
As a patrol lieutenant, she oversaw a team of 14 sheriff's deputies, a K-9, and a sergeant, before rising to the rank of patrol captain, overseeing nearly 120 units in the district.
"Patrol is where I learned true leadership, teamwork, and versatility in the field," Garcia said enthusiastically.
She took the news that she would be transferred to the director of KCTIPS in August as an exciting opportunity to give back to the College and community that allowed her to accomplish a rewarding career in law enforcement.
She noted Polk State's reputation for quality programming and expert instructors who bring real-world experience to their classrooms.
"I look forward to working as a team to produce quality recruits," Garcia said. "I want to continue the growth here at Polk State as well as my growth professionally in a collegiate environment."
Garcia credits Polk County Sheriff Grady Judd with providing her with opportunities for continued professional development and,  most importantly, for his encouragement and support to go back to college to seek further education.
She started her career with a high school diploma and now holds a bachelor's degree in Organizational Management and a master's degree in Business Management from Warner University.
When she's not working, she's horseback riding or cheering on her husband, Lakeland Police Chief Ruben Garcia, as he participates as a competitive shooter.
"I encourage students to dream big because I accomplished so much more than I thought I could."
"I'm not the chief's wife, though," she joked. "He's the captain's husband."
Garcia's strength and leadership make her an asset to the Polk State KCTIPS team, which she is thrilled to be a part of.
"I encourage students to dream big," she said, "because I accomplished so much more than I thought I could."