Polk State KCTIPS cadets sit in on "eye-opening" hearings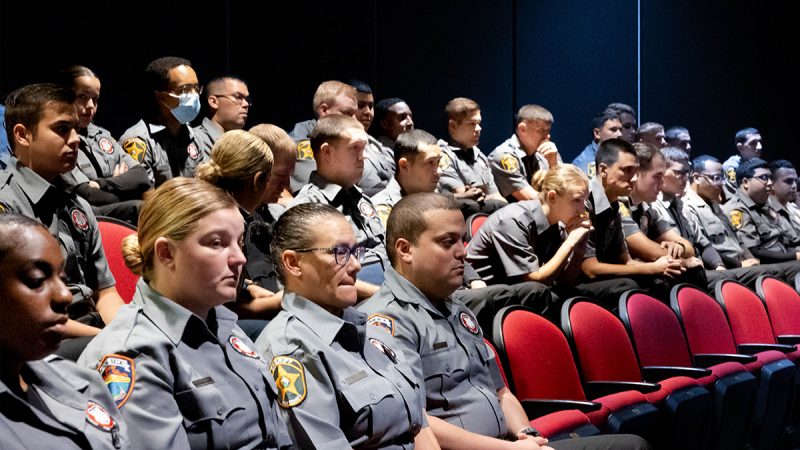 Students at the Kenneth C. Thompson Institute of Public Safety (KCTIPS) at Polk State College put in hundreds of hours of training to become certified as law enforcement, corrections, or probation officers. On Tuesday, Sept. 20, they learned how quickly that credential can be taken away.
Students sat in at a Criminal Justice Standards and Training Commission (CJSTC) probable cause hearing at Polk State's Center for Public Safety (CPS). The hearings are to determine whether there is a probable cause – the same standard used by officers to make arrests – that officers violated the qualification standards to work in law enforcement or corrections.
"For our students to see these hearings is a great opportunity," said Capt. Theresa Garcia, Director of KCTIPS. "We want the students to realize that they can put in these 770 hours (to become law enforcement officers) and lose it all just like that. For people in this profession, the consequences are greater because the expectations are higher."
The hearing marked the second year in a row that a CJSTC probable cause hearing was held at CPS. Eight such hearings are held annually. There is set to be another hearing held at CPS in 2023. With just 43 certified training centers in Florida, KCTIPS students were given a unique experience.
"It was neat to sit in on and see," student Mackenzie Pagan said. "It just shows the responsibility we have when we become officers. People think it's easy, but you can't mess up. We're all human, but a badge doesn't give you the benefit of the doubt. You're held to a higher standard."
In total, there are 19 CJSTC board members across the state. September's hearing featured three voting members and two others to serve as alternates.
"It was very eye-opening that your job can be gone with one bad decision," student Murray Outlaw said. "Just the small dot of an i can put you on blast up here."
The students watched as the board heard six cases. In all but one of them, probable cause was found. Those law enforcement and corrections officers will now move on to administrative hearings with the full 19-member CJSTC board to determine discipline. That could result in a suspension up to the revocation of their credentials.
"Being in that position, you're not above the law," student Olga Rios said. "I felt the board was very fair. It really opened my eyes to the importance of treating people how you want to be treated."
Rios referenced one case heard where an Orlando-area police officer was chasing a running suspect. The officer used his Taser to take the man to the ground but continued to use the Taser after the man was down. The officer claimed the man had a fanny pack and was reaching into his pockets. He also claimed his department didn't allow officers to put suspects in handcuffs until backup arrived – a claim the CJSTC Board did not believe.
"A lot of the cases today had to do with officers letting stress get the best of them," said Rheanna Pidgeon, a KCTIPS student. "In class, we just learned about dealing with stress and managing your emotions. In a matter of minutes, these people's lives can change forever."

One of the cases heard involved a recently terminated sergeant from a Tampa-area sheriff's office for domestic violence. In that case, the sergeant threw his live-in girlfriend to the ground and struck her multiple times. The sergeant, a supervisor, had worked more than 13 years as a law enforcement officer.
"It doesn't matter if you're there for five or 20 years," Rios concluded. "Even the smallest thing can put your job in jeopardy."
In the domestic violence case, the terminated sergeant request a letter of guidance. Instead, the board unanimously found probable cause.
"The domestic violence case was hard for me to hear," Pidgeon reflected. "I can't believe he would ask for a letter of guidance. If he was arresting someone for the same thing, would he just give someone community service? No, he wouldn't."
"Everything was clear-cut," Outlaw said of the case. "He clearly committed domestic violence. To me, he's not qualified to be out there arresting people for the same thing."
In the case, the sergeant apologized for his actions and claimed he never thought it could happen to him. According to the board, the victim had visible injuries when law enforcement responded.
"This was a sergeant," Pagan said. "If he'd do that to his girlfriend, what makes you think he wouldn't do the same thing to someone out on the streets?"
In addition to get an up-close view of how quickly their law enforcement career can end, Garcia noted that the students were also able to get a glimpse of some of the mistakes that law enforcement and corrections officers make. Two of the most common, she said, are domestic violence and driving under the influence. There was a case involving each of those two violations at the hearing.
"Today, everything is recorded, and the pressure can really get to you," Pidgeon said. "Feeling like you have to be perfect is tough. This shows that police officers are human. At the same time, we have people's lives in our hands."