Polk State Jewel of the Ridge Jazz Festival Begins April 8; Free Events to Feature Local, International Talent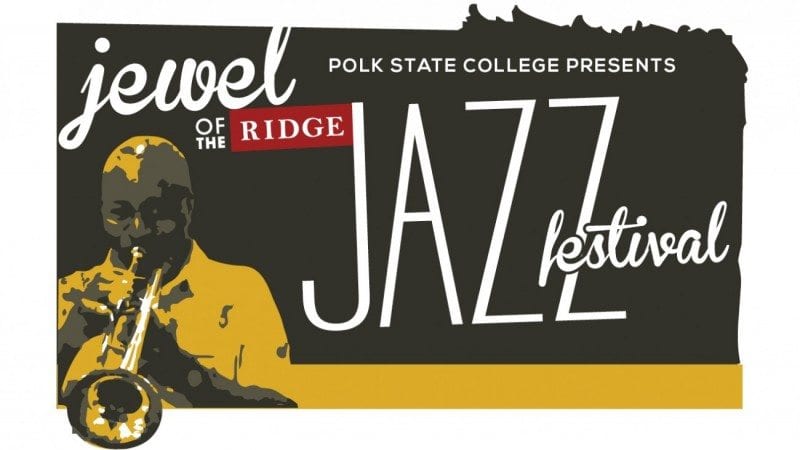 Polk State College's Second Annual Jewel of the Ridge Jazz Festival, a whirlwind event featuring local and international talent, kicks off April 8.
"The caliber of entertainment we're bringing to the area this year — you're going to have to come out to hear it to believe it," said Osubi Craig, director of the Polk State Lake Wales Arts Center, one of the primary venues for the Festival.
"It's going to feel like you're visiting a jazz club on the West Coast or in New York."
The weekend's schedule includes:
April 8
12:30 p.m.
Polk State JD Alexander Center
New Orleans Nighthawks, a jazz ensemble made up of seven "snowbirds," whose sound combines traditional jazz and swing.
April 9
12:30 p.m.
Polk State JD Alexander Center
Randy Corinthian Trio
Saxophonist Randy Corinthian, who trained at Florida A & M University and Florida State University, has shared the stage with jazz greats such as Ellis Marsalis. A public school teacher in South Florida, Corinthian was also honored by Legacy Magazine as one of South Florida's "40 Under 40 Black Leaders of Today and Tomorrow" in 2012.
April 10
Noon
Polk State JD Alexander Center
Master guitarist Larry Coryell, who in his nearly 50-year career has ventured into nearly every genre of the musical world, earning him the title "godfather of fusion." He has recorded more than 100 albums, performed with legends such as Miles Davis and Jimi Hendrix, and appeared on the cover of Rolling Stone magazine.
April 10
6 p.m.
Polk State Lake Wales Arts Center
Randy Corinthian Quartet
April 10
7:30 p.m.
Polk State Lake Wales Arts Center
Omar Sosa's Quarteto AfroCubano. Bandleader Omar Sosa, a seven-time Grammy nominee, fuses jazz, world music, hip-hop, and electronic elements, all while sticking true to his Afro-Cuban roots.
April 11
3 p.m.
Lake Wailes Park
Polk State College Jazz Ensemble
4 p.m.
Lake Wailes Park
Harrison Center for the Visual and Performing Arts Jazz Ensemble
5:15 p.m.
Lake Wailes Park
Victoria de Lissovoy and Charlie "Topp" Hines.
de Lissovoy began her musical training at age 2, and has performed at venues from San Francisco to Chicago to New York. When she's not working the stage, she's works as a Kindermusik instructor, a licensed social worker, and vice president of Arts in Health Care, Polk, Inc.
Hines has been playing the trumpet professionally for 55 years. As a teenager, he played in the Air Force Band, performing for two U.S. presidents. He received his formal training from Boston's Berklee College of Music, and in 1978 earned induction into the Georgia Music Hall of Fame.
7 p.m.
Lake Wailes Park
Encore performance by Larry Coryell
Addresses for the locations listed above follow:
Polk State JD Alexander Center — 152 E. Central Ave., Lake Wales
Polk State Lake Wales Arts Center — 1099 State Road 60 East
Lake Wailes Park — 33 N. Lake Shore Blvd., Lake Wales
In addition to musical entertainment, attendees will want to check out an exhibition curated by the Polk Museum of Art, which will be on display at the Polk State Lake Wales Arts Center's Michael Crews Gallery. The exhibit, "Body & Soul," pays homage to the spirit of jazz, with photographs by Herman Leonard and other artists. The exhibit will be on display April 7-10. Hours are 8 a.m. to 6 p.m.
The Jewel of the Ridge Jazz Festival is presented by Polk State College in partnership with the Lake Wales Arts Council.
All events are free and open to the public.
In addition to the free events, Omar Sosa will perform at Bok Tower Gardens' Pinewood Estate on April 9 at 7:30 p.m. Only 50 seats are available. Tickets are $50 and may be purchased via boktowergardens.org. A reception with Sosa will follow the performance.
For more information, call 863.298.6883, email LWAC@polk.edu, or visit polk.edu/artscenter.