Polk State JD Alexander Center Partners with Public Library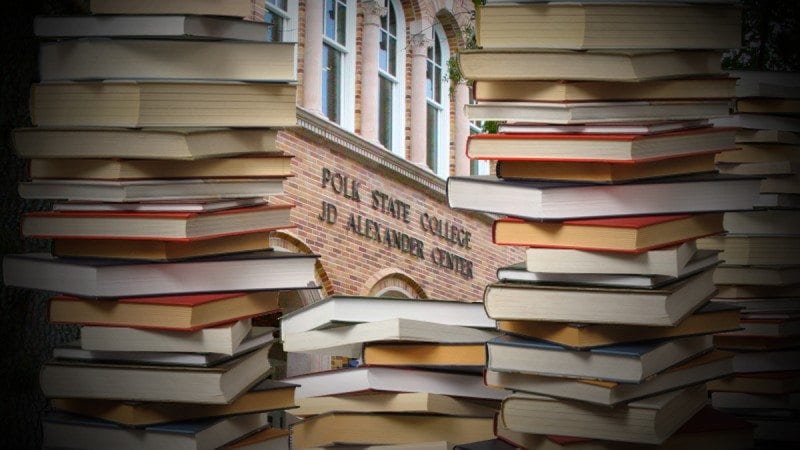 There's a new place for public library books in Lake Wales: the Polk State JD Alexander Center.
Late last year, the College and the Lake Wales Public Library partnered to establish a new "deposit collection" at the JD Alexander Center, located at 152 E. Central Ave.
"Literacy is at the heart of education," said Polk State JD Alexander Center Director Cheryl Garnett. "Of course we're thrilled by this new partnership, because it's a new way to give our students — and the entire community — the chance to improve their literacy, succeed in school, and ultimately, succeed in life." 
Deposit collections are small assortments of books located at off-site locations. The Lake Wales Public Library has started placing deposit collections around town to extend services to those who may be unable or unlikely to visit the library.
So far, the library has several deposit collections for children. With the addition of the Polk State JD Alexander Center, it now has two collections for adults.
"It's part of our recognition that not everyone has time to do a public library stop," said Tina Peak, director of the Lake Wales Public Library.
"We recognize that we need to come out of our walls and reach the people. This is a very simple way to do that, and partnering with Polk State just makes sense."
The JD Alexander Center's collection consists of about 40 titles, including bestsellers, a few mysteries and romance novels, and a handful of classics. The selection is updated every 90 days.
Borrowing from the collection is simple; patrons just write their name and the book title in a notebook. Borrowing is also based on the honor system. The library expects the books to be returned, but there are no due dates or fees to hold patrons accountable.
The JD Alexander Center's deposit collection is located in the Student Success Center. Students or members of the public can access the collection Monday through Thursday from 7:30 a.m. to 7 p.m., Friday from 8 a.m. to 5 p.m., and Saturday from 9 a.m. to 1 p.m.
"That was a big part of the decision to put a collection in at JDA," Peak said. "It opens earlier and stays open later than the library, so we're giving greater access to those who might just be too busy to come in to the main library location."
Garnett, who serves on the Lake Wales Public Library's board of directors, said the response in the first 90 days since the collection was installed has been positive. She hopes to expand the partnership to include a widened selection of books and additional library services.
Polk State Winter Haven Library Director Christina Fullerton said the Lake Wales Public Library partnership nicely complements resources the College provides.
"Our main focus is providing research materials," Fullerton said. "It's great that our students and members of the public will be able to make a connection to a place they might never have gone.
"Every connection you can make in your community tips the scale in your favor."
In addition to the Polk State JD Alexander Center, Polk State College also operates the Polk State Lake Wales Arts Center.