Polk State JD Alexander Center Director receives Community Leadership Award from Lake Wales Chamber & EDC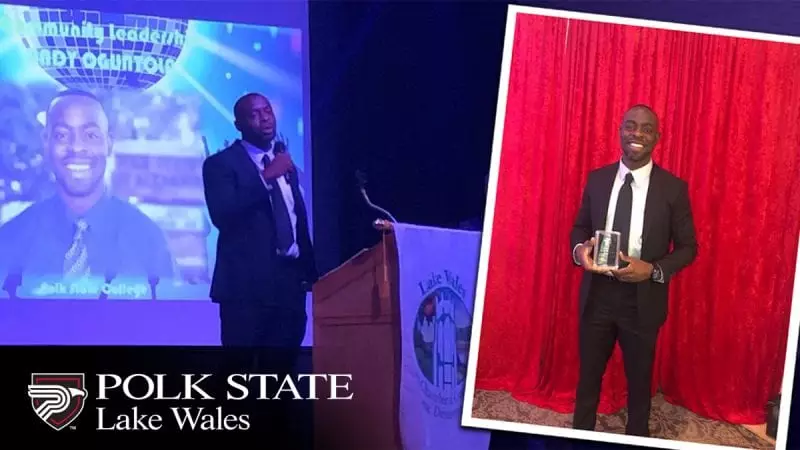 Andy Oguntola doesn't believe he should be rewarded for his community service because it's something he feels he's supposed to do, but he is nevertheless grateful to receive the Community Leadership Award from the Lake Wales Area Chamber of Commerce and Economic Development Council.
Oguntola, Director of the Polk State JD Alexander Center in Lake Wales, was recognized May 9 at Lake Ashton alongside honorees including Lake Wales City Manager Ken Fields, who received the Public Servant Award, and Attorney James Weaver, who was named Citizen of the Year.
"At the Polk State JD Alexander Center, we take every opportunity to get involved in our community to empower our students and ensure that their support doesn't end when they walk out of our doors," said Oguntola, chairman-elect of the Lake Wales Area Chamber of Commerce and Economic Development Council.
"The College is committed to serving the residents of southeast Polk County, and we are incredibly thankful to Lake Wales for its continued support of our students, the College's mission, and the critical role Polk State plays in the positive growth of our community," he added. "This award truly represents the great relationship between Polk State College and the Lakes Wales community."
Oguntola moved to Lake Wales nearly 20 years ago when he enrolled at Webber University, where the Kissimmee native earned bachelor's and master's degrees in business administration. He also holds a doctorate in education from Nova Southeastern University and joined Polk State in 2016 after serving as director of admissions and registration at Valencia College.
With Polk State JD Alexander Center's location in the heart of downtown Lake Wales, Oguntola said he is driven to maintain the "right pulse" at the campus, fostering strong community ties that are beneficial to both students and residents.
The Lake Wales Campus serves about 1,100 students each year – nearly 10 percent of Polk State's total student population. Many are minorities, transportation disadvantaged, and financially in need, meaning Oguntola's work at the Polk State JD Alexander Center is truly life transforming by providing residents of Lake Wales and rural southeast Polk County with affordable, accessible associate and workforce baccalaureate degree programs that would otherwise be out of reach.
Additionally, through initiatives such as the annual Start Right Campaign school supply giveaway and partnerships with organizations including Lake Wales Charter Schools, Oguntola has positively impacted the lives of many. He has coordinated the distribution of free backpacks, school supplies, food, and haircuts for more than 500 students from kindergarten through college, and has brought together in excess of 45 higher-education institutions each year for a college fair at Lake Wales High School.
"I want to make a difference in every aspect I can," said Oguntola, who also serves on the Lake Wales Charter School Board of Trustees and Family Literacy Academy at Lake Wales Board of Directors. "Lake Wales is a strong supporter of Polk State, and Polk State is a strong supporter of Lake Wales."
Kevin Kieft, President and CEO of the Lake Wales Area Chamber of Commerce and Economic Development Council, explained that access to higher education and career workforce training is a critical component to robust and effective economic development planning.
The connection between higher education and the community's economic prosperity is particularly significant at the Lake Wales Campus where 44 percent of students receive federal need-based Pell Grants. More than $12 million in additional annual income has been earned by the more than 500 southeast Polk students who have earned degrees from the College since the Lake Wales Campus opened in 2009. These gains begin to improve overall economic conditions for families and the community.
"Polk State College and Andy are the partners you want on your side when looking to attract and retain quality employers and jobs to the greater Lake Wales area," Kieft said. "Andy goes above and beyond in the community to not only better the students and Lake Wales Campus, but to also increase the quality of life and economic vitality of the area – the ultimate goal that we are all striving to achieve."
Polk State President Angela Garcia Falconetti called Oguntola's leadership and community service a model that professionals at all colleges should strive for to ensure higher-education institutions and the communities they serve are working together toward their goals.
"Andy personifies Polk State's role as the 'community's college' and is incredibly deserving of this recognition by the Lake Wales Area Chamber of Commerce and Economic Development Council," Falconetti said. "The College is fortunate to have his leadership at the Lake Wales Campus and is grateful for the support Polk State receives from the Lake Wales community. Both are pivotal as we request Governor Ron DeSantis' support in preserving funding for the Polk State JD Alexander Center."
The 2019 Legislative Session concluded May 4 and the state budget now awaits Governor DeSantis' review and approval. Polk State College Access to Academic and Workforce Programs, $2.5 million of Polk State's recurring operational budget, is at risk of veto and the College is requesting the community's support to protect these funds to ensure the Lake Wales Campus can continue to serve southeast Polk County with quality higher education and workforce training.
"Through my involvement in Lake Wales, I have had the opportunity to see where the city is going and Polk State College is a huge part of that," Oguntola said.