Polk State Jazz Society Performs At Florida Music Education Association Conference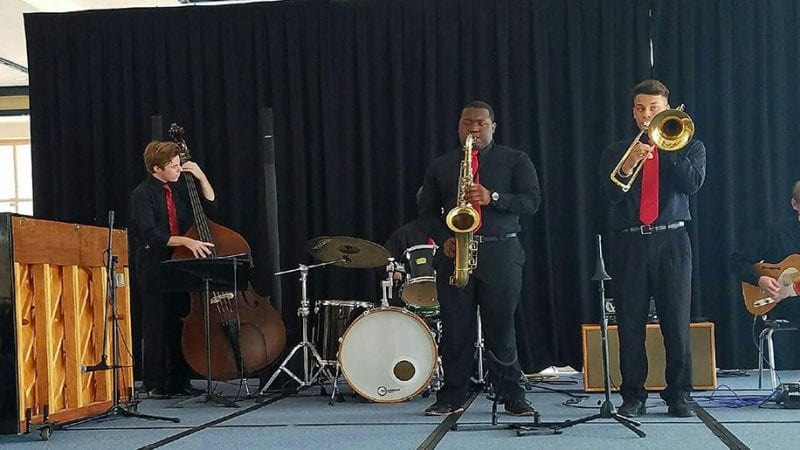 Polk State Jazz Society, an ensemble of musicians selected from the College's jazz band, were one of six organizations chosen to present a mini-concert at the 2017 Florida Music Education Association State Conference (FMEA), January 13, at the Tampa Convention Center.
The FMEA Conference is the third-largest music education professional development conference in the United States. In addition to approximately 250 clinic sessions and concerts, the conference is host to the All-State Bands, Orchestras, and Choruses. More than 10,000 attendees, including secondary music directors, elementary music teachers, music supervisors, college students, college music teachers, school administrators, K-12 students performing in the All-State ensembles, students and professional musicians performing with invited performing ensembles, and parents of performing students will take part in the conference events.
The Jazz Society performed at the lobby stage of the Tampa Convention Center. The lobby stage is the main hub of activity for conference attendees and visitors, and therefore provides the group with considerable exposure. "We are honored to have this opportunity to share our talented and hard-working students with our Florida's professional music educators," said Don West, Polk State College Director of Bands.
Since its inception in 2014, the Jazz Society has performed for the Governor, the State Legislature, and at community and college events. Members of the group are: Joseph Lewis, saxophone; Alex Irizarry, trombone; Luke Wilmoth, piano; Ian Albritton, guitar; and two students from Harrison School of the Arts, Mason Frier, bass and Ben Wilmoth, drums.
The students credit Polk State College with their multi-faceted music development, as well as their academic success. Working with the group has encouraged each student to maintain proactive management of their schedules and priorities. They have learned through discipline and hard work the value of their education and the intense focus that must be applied to achieve musical and academic achievement. Professionally, the students have honed in on skills that will last them a lifetime: multi-tasking, teamwork, entrepreneurship, and community engagement.
The Jazz Society, most of all, has benefited from building a group of musicians who not only love playing music together, but who also recognize the importance of friendship and accountability. They lift one another up; they give each other help, and they encourage each other to strive and dream big.
The FMEA performance is one of the biggest accomplishments, so far, for the Jazz Society group. They have more music to share and we look forward to their continued success in the coming year.