Polk State Hosts Denison Middle Students for Day of Hands-On Learning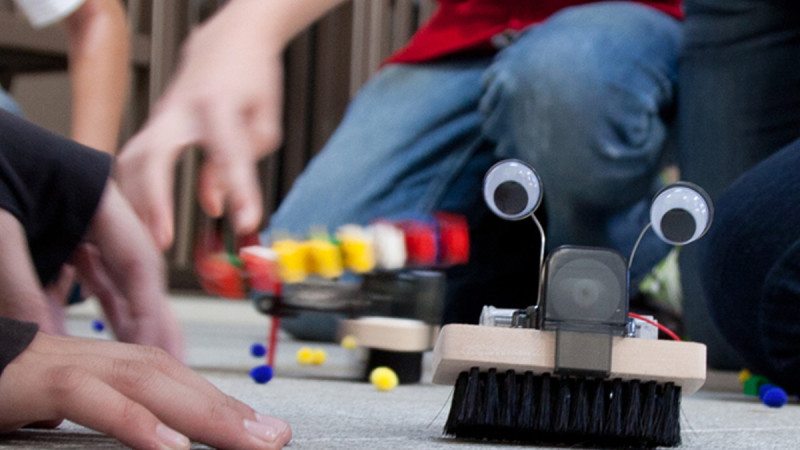 Polk State College recently hosted two-dozen students from Denison Middle School for a day of hands-on learning about the human body and robotics.
The day's activities were all part of techPATH, a Florida High Tech Corridor educational initiative.
During the Jan. 15 field trip to Polk State Winter Haven, the seventh- and eighth-grade students participated in activities that tested their knowledge of human organs and built small robots under the direction of Polk State Chain of Lakes Collegiate High School Professor Suzy Halverson and several of her students.
The Denison students also learned about STEM education — science, technology, engineering and math — during a presentation by Jeff Bindell, a techPATH director.
Halverson wrapped up the students' time at Polk State by explaining the relationship between STEM, robots, and medicine, the perfect prelude to the second part of the Denison field trip: a visit to Winter Haven Hospital. While there, the Denison students met with Dr. Sijo Parekattil, director of robotic surgery and urology and co-director of Polk State's Robotic Surgery Credential program.
The students each got a turn at the controls of the hospital's da Vinci Surgical System, and also got to try out other medical machinery.
Halverson said the ultimate objective for the day's activities was to get students to see the connections between what they learn in their science and math classes and real-life career possibilities.
That objective was definitely reached, Halverson said.
"The kids were all very excited. They didn't want to leave. They just wanted to learn more," Halverson said.
Christopher Yannes, who coordinates the College's Career Pathways program agreed. Career Pathways is a partnership between Polk State College and the Polk County School Board that allows students at career academies or career centers to receive free college credit for their coursework if they choose to attend Polk State College.
"The students were definitely making those connections between the classroom and the real world," said Yannes, one of the organizers of the field trip.