Polk State Hosting Youth Baseball Camp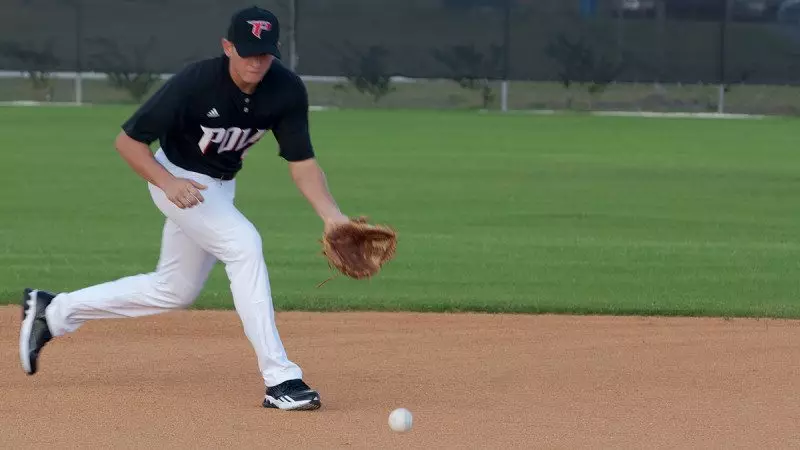 Polk State College's 2013 Youth Camp and Al Corbeil Baseball Camp will take place in June.
Camp participants will practice all the game's fundamentals — hitting, fielding, throwing, bunting, base running and pitching. Campers will also practice their sliding using the always-popular Slip 'n Slide, and will play two games per day.
During the course of the camp, awards will be given for hustle, attitude, and for various competitions.
Leading the camp will be Polk State's experienced, title-winning coaching staff.
Head Coach Al Corbeil is entering his fourth season at Polk State. Under his watch, the Eagles in 2012 earned a berth to the NJCAA World Series, the first in the program's history. The Eagles also in 2012 earned their second consecutive Suncoast Conference Championship, and the title game of the FCSAA/NJCAA Division 1 Gulf District Baseball Tournament. In late 2012, he was named Coach of the Year by the National Diamond Club, an organization for the state's professional baseball scouts.
Assistant Coach Collin Martin, also entering his fourth season at the College, helping the Eagles since then to break numerous school offensive records in runs, RBI, doubles, triples, at-bats, walks, stolen bases and hit-by-pitches. He previously coached at Florida Southern College, Winter Haven High School and for the Cotuit Kettleers of the prestigious Cape Cod League and the Florence Freedom of the Independent Frontier League.
Assistant Coach Brad Cook, also entering his fourth season, has helped the school set numerous pitching records in ERA, runs-allowed average, innings pitched, opponent batting average, and walks per game. He was previously pitching coach for Florida Southern College and head coach at Johnson City (N.Y.) High School.
The camp is open to boys and girls ages 13 and younger.
Camps will take place June 17-20 and June 24-27; both are from 9 a.m. to 2 p.m., except for Thursdays, which end at noon.
The camp will take place at Polk State's baseball field, located on the campus of Polk State Winter Haven, 999 Ave. H N.E.
The cost of the camp is $150.
For more information, please see the Youth Baseball Camp 2013 brochure.