Polk State Hosting Polk County Fire Rescue EMS Week Symposium May 19-21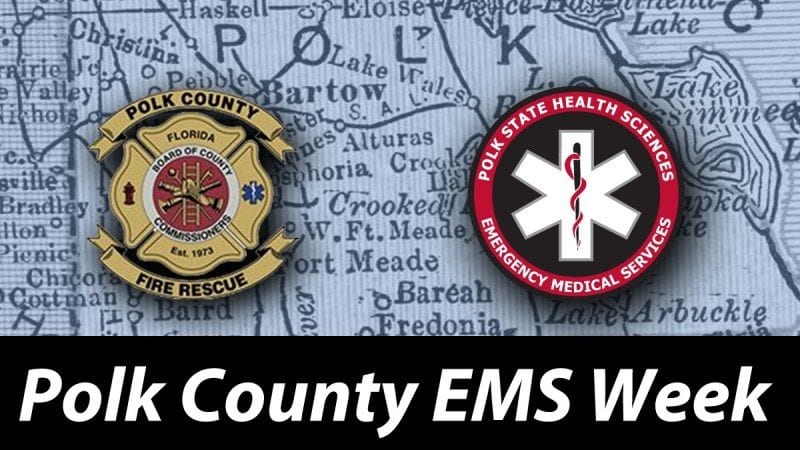 Polk State College's Winter Haven campus will host Polk County Fire Rescue's upcoming EMS Week Symposium on May 19, 20 and 21.
EMS Week is a national recognition of EMS professionals that dates back to 1973. EMS Week events will take place around the country during the week of May 17-23.
At Polk State, lectures will take place from 8 a.m. to 5 p.m. each day; registration begins at 7:30 a.m. each day.
The May 19 lectures will take place in WLR 102 in the morning, and in the WMS building in the afternoon. The May 20 and 21 lectures will take place in the Student Center (WST).
The lectures are open to the public, but will be of particular interest to working or aspiring EMS professionals. To attend, register at pcfremssymposium.eventbrite.com.
Polk State EMS Program Director Don Guillette said the symposium is a new event for PCFR, and Polk State College is proud to be its host.
"This is about continuing to develop a relationship with PCFR by educating, and facilitating the education, of Polk County's EMS professionals," he said.
Experts and topics scheduled for Polk State College include:
May 19, 20, and 21
Dr. Evan Allen, "Stroke"
Dr. Todd Haber, "Ultrasound for Pre-Hospital"
Rick Savage EMT-P, "Pig Lab," "Hands-On Airway"
Dr. Olumide Sobowale, "Trauma"
May 19 and 20
Dr. Paul Banerjee, "Sepsis" and "Cardiac Arrest," May 19 and 20
May 20 and 21
Don Guillette, EMT-P, RN, Polk State Emergency Medical Services program director, "Capnography in Pre-Hospital Setting"
May 19
Dr. Peter Antevy, "Pediatrics & Handtevy System"
Dr. Joe Nelson, state EMS medical director, lunch and learn
Dr. Greg White, "Spinal Cord Injury"
May 20
Molly Morris, BSN, RN, "Burn Care"
Deb Riley, RN, "VAD Patient in the Community"
May 21
JoAnn Emerson, BSN, RN, "Toxicology Update"
Dr. Noor Kassire, "Things I Wish I Knew About Pediatric Trauma"
Polk State Winter Haven is located at 999 Ave. H N.E.
The field of EMS has three tiers, with paramedics at the top, above emergency medical technicians and emergency medical responders. Polk State EMS offers training options for those seeking to work at any level of the EMS ladder, and an associate's degree in EMS for paramedics interested in career advancement. In addition to EMS, Polk State Public Safety offers associate's and bachelor's degrees in Criminal Justice, and an associate's degree in Fire Science. In addition to EMS, Polk State Health Sciences programs include Cardiovascular Technology, Diagnostic Medical Sonography, Nursing, Occupational Therapy Assistant, Physical Therapist Assistant, Radiography and Respiratory Care.