Polk State To Host FIRST LEGO League State Invitational: More Than 48 Teams Scheduled to Attend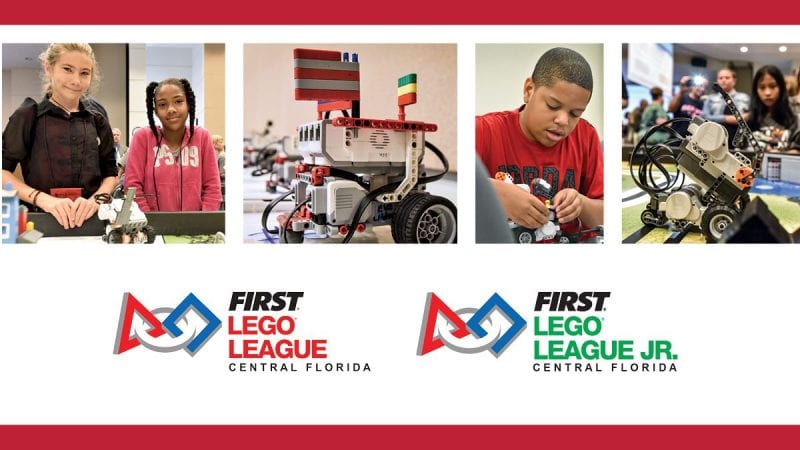 More than 1,600 students and LEGO enthusiasts are expected to gather at Polk State College's Winter Haven campus on May 6, as it hosts the FIRST LEGO League State Invitational.
Forty-eight teams of up to 10 students ages 9 to 14 from all over the State of Florida will compete in the FIRST LEGO League State Invitational from 9 a.m. to 4 p.m. at the Polk State Winter Haven campus, 999 Avenue H, NE.
Each team will design and build a robot using LEGO MINDSTORMS®, a programmable robotics construction set. Robots must be able to complete prescribed challenge tasks including the delivery, retrieval, and manipulation of a variety of field elements within two and half minutes. The teams compete in three rounds and are judged based on the highest individual score achieved.
"It's essentially a sporting event that involves engineering," said Michael Schweim, a robotics teacher at McKeel Academy of Technology. "The robots must maneuver through a 4 foot by 8 foot field and complete a series of tasks in a timed run. It's amazing to watch."
Last year, Polk State became a FIRST LEGO League Affiliate Partner for an eight-county region; Schweim represents Polk State in the partnership.
Teams compete in three categories— Robot Game, Core Values, and Project.
During the Core Values portion, teams are given a unique challenge to overcome. During the challenge, judges assess a team's ability to work collaboratively and quickly to resolve the issue. This practice allows students to understand team dynamics, how to mitigate conflict, and resolve complex problems.
The third category aligns with the theme of the year where teams will address a real-world problem.
"This year, the problem is called ANIMAL ALLIES," Schweim said. "The teams had to come up with a unique solution for improving the way humans interact with animals or how animals interact with humans. Teams are required to find a solution that is not already known. Also, they had to share that solution with members of their community. During the competition, they will present their solution to a panel of judges."
Judges will also interview the students about their strategies and programming decisions. Students participating in these events glean more than just "building a robot." Teams get a first-hand look at how to build a program, marketing, public relations, public speaking, and are exposed to real-world problems and real-time solutions.
Schweim said the events will make for great spectating opportunities for anyone interested in LEGO construction and STEM (science, technology, engineering and math) education.
"These are students who could be doing anything else, but they are engaging in their learning in a productive manner. It really hammers home coding, math and science concepts, and dealing with real-world problems. It's what education should be," he said.
"This is an incredible economic opportunity for our community," said Polk State Vice President for Strategic Initiatives and Chief Information Officer Naomi Boyer. "Students and families are coming from all around the state of Florida to participate in this event, showcasing Polk County as a high-tech, innovative community. These students are our pipeline to future economic vitality."

FIRST, For Inspiration and Recognition of Science and Technology, is an all-inclusive, character-driven, K-12 education program that uses robot challenges to build science and technology skills and interests. More than 10,000 students statewide participate in FIRST. In a recent study conducted by Brandeis University, FIRST has shown a dramatic impact on the lives of team members— STEM majors, school engagement and work-life skills gained— increased exponentially.
Polk State's involvement in FIRST LEGO League is just one of its many robotics education initiatives. The College offers a STEM-based enrichment academy for children ages 6 to 8 and 8 to 14. Kids at College, a summer program, includes courses in robotics, rocketry, science and programming. More information about
This year, Polk State has added TeacherBot, a hands-on robotic boot camp designed for elementary and middle school teachers and team coaches. Participants will choose an age specific track that is designed to align with the specific robotic platform, curriculum and competition sequence.
"Robotics is a great way to engage young students," Boyer said. "TeacherBot will provide teachers and coaches with skills to incorporate robotics into their curriculum and programs. Most importantly, you don't have to be a teacher to attend. TeacherBot is open to those who work with students, whether in a classroom setting, after school program or home school. Polk State College is committed to building strong academic pathways for our community."
The College also offers an Associate in Science degree program in Engineering Technology as well as certificate programs that require competencies in manufacturing robotics. For students interested in other STEM degrees, the College offers the course work for those pursuing Associate in Arts degrees for the purpose of transferring to STEM baccalaureate degrees at 4 year colleges or universities. Such classes might include: computer information systems, mathematics and statistics, and in various sciences — including biochemistry, physics, and botany.
For more information on the FIRST LEGO League State Invitational, please visit centralfloridarobotics.org. To learn more about Polk State technology programs, please visit polk.edu.