Polk State To Host Public Forums for Presidential Search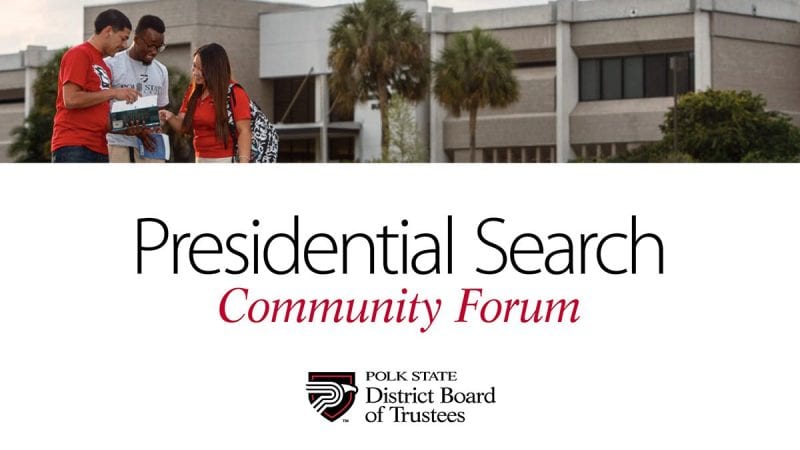 The Polk State College District Board of Trustees Presidential Screening Committee invites the public to participate in community forums to gather input on the desired characteristics for the next Polk State College president.
"Community involvement in the presidential search is a crucial component of the selection process," said Mark Turner, Chairman of the DBOT Presidential Screening Committee. "We welcome the opportunity to hear from community members as they share their thoughts on what they would like to see in our next president."
Forums are open to the public and will take place at Polk State Winter Haven on Wednesday, February 15 from 4:30 – 5:30 p.m. in room WST 126 and at Polk State Lakeland on Thursday, February 16 from 4:30 – 5:30 p.m. in room LAC 1133. For more information about the presidential screening process, please visit polk.edu/presidential-search.
Located in Winter Haven, FL and established in 1964, Polk State College is a multi-campus institution serving over 20,000 students with Bachelor of Applied Science, Bachelor of Science, Associate in Arts and Associate in Science degrees, as well as a wide range of certificate and workforce training options. The College also operates three charter high schools. Polk State's advantages include small class sizes; hands-on learning; dedicated faculty; day and night classes; online options; affordable tuition; excellent financial aid; a diverse community and vibrant student life, including fine arts opportunities, clubs, and intercollegiate athletics.