Polk State Has Several Options for Kids This Summer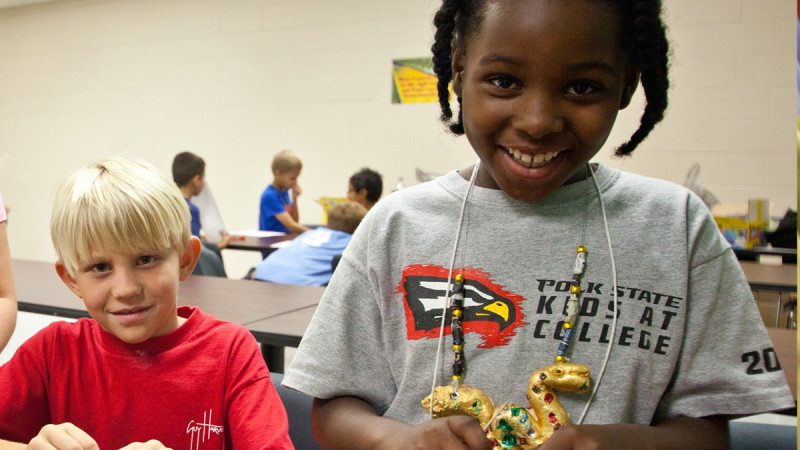 Polk State College has several exciting, educational options for children this summer, including two new programs that emphasize robotics and Kids at College, a popular choice for Polk County families since it began 20 years ago.
Kids At College
For 20 years, Polk State has hosted its annual Kids at College, a program for kids ages 5 to 14.
Kids at College participants choose from 50 classes. Among the new classes to be offered this year will include:
"Awesome Accessories," which will teach students how to make bows, tutus, bracelets and other accessories.
 "Duct Tape Design," which will teach students how to use duct tape to make practical and artistic items, such as roses, wallets, bags and belts.
"Video Game Creation," which will teach students the concepts of video game creation and allow them to build games that they can play online.
Other courses will be available in Photoshop, Robotics, Rocketry, Science, Spanish, and a wide variety of other topics.
Polk State Kids at College will take place Monday-Thursday during two sessions: Session 1, June 17-27, and Session 2, July 8-18.
Classes will be available during each session at both Polk State Lakeland and Polk State Winter Haven. Lakeland classes are from 8:15 a.m. to 12:30 p.m.; Winter Haven classes are from 1:15 to 5:30 p.m.
Morning classes, 8:15 a.m. to 12:30 p.m., will also be available during Session 2 at Bok Academy, 13901 U.S. 27, Lake Wales.
The cost per class ranges from $50 to $70.
Registration will begin in April at polk.edu/kac. The registration deadline for Session 1 is June 13; the deadline for Session 2 is July 1.
For more information, contact Polk State Kids at College Program Coordinator Brenda Bracewell at 863.298.6826 or bbracewell@polk.edu.
Scholarobotics Academy
First launched in 2012, Polk State's Scholarobotics Academy is offered through a partnership with Winter Haven Hospital, and is available to any high school student who is eligible for dual-enrollment at Polk State and who is at least 16.
Participants complete a three-credit-hour course in medical terminology, led by Polk State Professor Suzanne Halverson at Polk State Chain of Lakes Collegiate High School.
As a complement to what they learn under Halverson, students also spend several hours each week at Winter Haven Hospital, training on the da Vinci Surgical System with Dr. Sijo Parekattil, a board-certified urologist and robotic surgery specialist.
Scholars are given the opportunity to select a STEM (Science, Technology, Engineering and Math) research project using the medical robotic system. Scholars also have the opportunity to present STEM research projects at professional conferences, including the Robotic Assisted Microsurgical & Endoscopic Society (RAMSES) Multispecialty Robotic Microsurgery Symposium.
The Scholarobotics Academy is limited to 12 students; participants will be selected by a committee.
The Scholarobotics Academy will take place June 22 to Aug. 6. The cost is $25.
Registration for the Scholarobotics Academy will begin April 1. Find an application and more information at scholarobotics.org.
TALON Robotics
Now in its second year, TALON Robotics delivers STEM education (science, technology, engineering and math) to middle- and high-school students through the fun of building and experimenting with robots.
TALON's middle-school program, Eaglebots, is open to 120 students. Students will use LEGO Robotics kits for in-class projects and competitions. They will also take field trips to connect their experiences to the working world.
TALON's high-school program, Technobotics, will serve 72 high-school students. Participants in Technobotics will have the option of participating in either a Digital Media or Robotics option. In the Digital Media option, students will design, plan and produce a multimedia marketing campaign for the entire TALON Robotics program. This option is available only to students with previous digital media experience who have received approval from the program's two instructors. In the Robotics option, meanwhile, high-school students will use the TETRIX Building System for hands-on experience in robotics design and programming.
The Eaglebots program will take place June 12-28. The Technobotics Robotics program will take place June 17-28. A program-wide robotics competition will take place on June 27 at Polk State Lakeland.
Dates for the Technobotics Digital Media option are still being determined.
All options will be available at both Polk State Lakeland and Polk State Winter Haven. Programs take place from 9 a.m. to 4 p.m. daily; students may arrive as early as 8 a.m. and must be picked up by 5 p.m.
The cost for TALON Robotics is $360.
Registration for TALON Robotics will begin April 1 at polk.edu/talon. Registration will continue until all available spots are filled. A non-refundable $35 registration fee is required for Eaglebots and the Technobotics Robotics program.
Polk State Lakeland is located at 3425 Winter Lake Road. Polk State Winter Haven is located at 999 Ave. H N.E.