Polk State grad finishes what she started 30 years later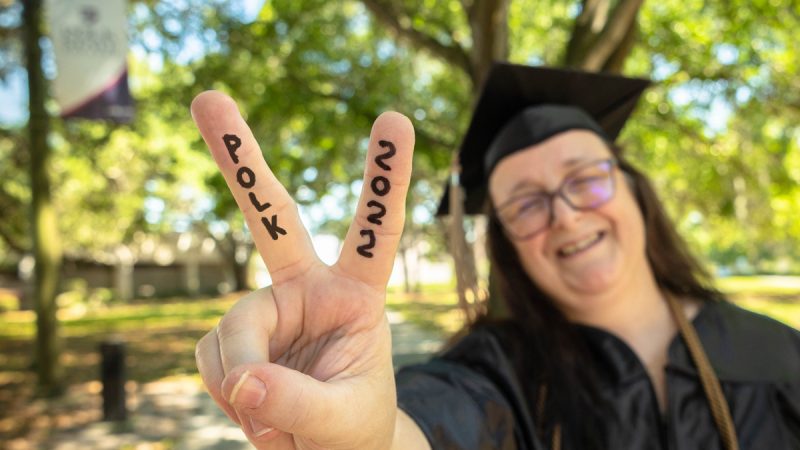 Jennifer Donnal was just a year out of high school when she first stepped foot on campus at Polk State College. Through trials and tribulations, Donnal is leaving the College 30 years later with a Bachelor of Applied Science in Supervision and Management with a concentration in Business Administration.
A 1991 graduate of Bartow High School, Donnal, 48, of Auburndale, was unsure of what she wanted to do when she first gave college a try in 1992. In 1993, she made the decision that it wasn't for her, and left school one semester shy of earning a Polk State Associate in Arts.
"I should've stayed," Donnal said. "When you're young and dumb, you don't always do what you ought to do."
As a young woman, Donnal spent her early working career in retail. Her husband, Eric, was in retail management and the couple raised three children. In September 2012, Donnal took a job in court processing at the Polk County Sheriff's Office.
In October 2015, life for the couple seemed to be hitting new heights.
Donnal had just earned a promotion to an accounting position and the couple purchased their first home. They had not yet made their first payment when tragedy struck.
In November 2015, Eric Donnal died unexpectedly in his sleep. For his widow, moving forward seemed impossible.
"When you're raising kids…you don't always have your own identity," Donnal said. "I knew I needed something to give me hope."
A Leap of Faith
Desperate and making only a modest income, the thought of returning to college had always been in the back of Donnal's mind. She decided to take advantage of the Sheriff's Office's tuition reimbursement program and return to Polk State. To her surprise, she maintained all her credits and was already 75% of the way to an associate degree.
"It was scary," she recalled. "I didn't know if I could still do it."
Donnal ultimately completed her associate degree in the summer of 2019. There were moments along the way however, that reminded her of the grind the first time around.
"I remember taking algebra to finish my AA and I was like, 'oh my gosh, why?'" Donnal said. "It was OK. I passed that class with an A."
After that, Donnal settled in, taking classes at her own pace. Polk State, where she once felt out of place, became a place of rejuvenation.
"The first time I attended Polk State, I did not know what I wanted," Donnal said. "Now, it has changed my life. I have not felt this comfortable, this confident, this whole, in a long time. It's given me my life back. I feel like I have a purpose again."
Donnal is a mother to three daughters: Hannah, 26, Whitney, 25, and Kaylyn, 23. In front of her father, William Curtis, and daughters, she will walk as a college graduate on May 5. Throughout the process, Donnal said she's been fortunate to have family support.
"They've been proud of me the whole time," she said. "They know it was something I always wanted to do. My dad tells me all the time. He starts to cry."
What's Next
With her new degree, Donnal hopes to pursue a supervisory position – which require a bachelor's degree — at the Sheriff's Office.
"She has a very bright future here," said Linda Herstine, Accounts Payable Supervisor at the Sheriff's Office. "One thing I've always noticed about her is her strength and refusal to give up. We saw her at her low point, and we watched her pick herself up."
At her position in the agency's Fiscal Services Department, Donnal enjoys training and mentoring new hires.
"She's very detail-oriented," Herstine said. "She's always willing to help. If she sees someone in need, she does whatever she can to make sure that person's needs are taken care of. I'm blessed to not only have her as a coworker, but as a friend."
Becoming a leader, Donnal said, has taken time.
"I've had to change," she remarked. "I've had to grow. I've had to become a self-sufficient person."
In addition to support from her family, Donnal said she also gets plenty at work.
"We are so proud of her," Herstine said. "She's truly a success story. She's had a lot on her plate with work and school and just handled it all so well."
Donnal is grateful to the Sheriff's Office for the opportunity afforded to her to get an education.
"That's a great benefit to have," Donnal said of the tuition reimbursement program. "I got my education without any student loans."
Donnal is ecstatic about her accomplishments.
"I have a future," she said. "I have plans. I have a life in front of me."