Polk State Foundation lightens load for hardworking Respiratory Care student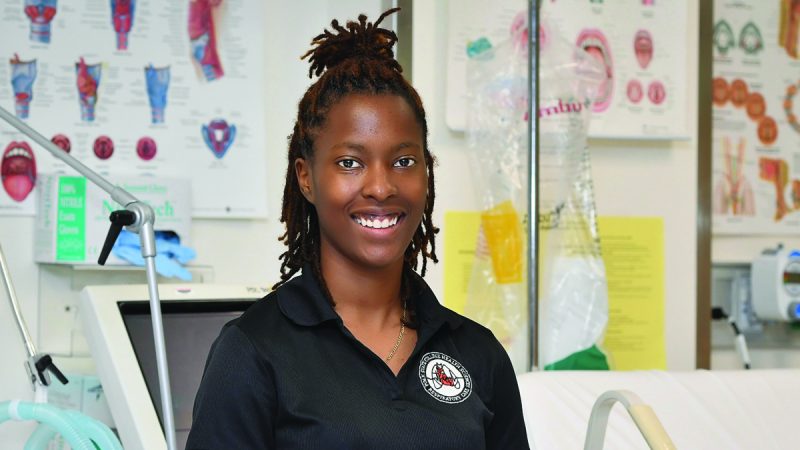 Shaledra Turner's busy schedule includes a full-time course load as a Polk State Respiratory Care student, early morning clinicals, and working weekends and nights in emergency medical services on a private ambulance. She admits that she doesn't get a lot of sleep, but now she will be able to rest easier with a $2,000 scholarship.
Turner has spent the semester seeking scholarship opportunities so that she can cut down on the number of hours she needs to work and focus more on her studies, especially in the months leading up to her graduation next spring. Through the Polk State College Foundation, Turner learned about the Program for Continuing Education's Organization Scholarship for Women – Women Helping Women Reach for the Stars.
"I am grateful this organization took the time to get to know me, my story, my goals, and that I am really just trying to be an overall better person and leader for my class and community," said Turner, who serves as student body president for her Respiratory Care class.
The Lakeland native, who graduated from Lake Gibson High School in 2014, was inspired by her parents' careers in health care as well as her experiences needing medical care growing up.
Turner was born prematurely at 2 lbs., 10 oz., and spent the first year of her life in the neonatal intensive care unit at Lakeland Regional Health.
"Polk State has a reputation of being No. 1 in Lakeland for all types of health sciences."

Shaledra Turner
Respiratory Care Student
"Growing up, I was constantly in the emergency room. When you're young, you don't know the difference between a doctor, a nurse, or anybody else, but I remember having these people come around with this little mask that made me feel better," she explained. "As I got older, I realized that they weren't doctors or nurses, they were respiratory therapists."
She enrolled in the Polk State Respiratory Care Program in August 2020 after taking some general education courses and trying out the Emergency Medical Services Program earlier in her higher education journey. As she explored the different avenues available to her, she kept thinking about the respiratory therapists who helped her as a child.
"I decided that I want to become a respiratory therapist for children so that I can give back what respiratory therapists gave to me," she said.
Her experience at Polk State and in the EMS Program made the College her first choice when she decided to pursue respiratory care.
"Polk State has a reputation of being No. 1 in Lakeland for all types of health sciences," Turner said. "Especially with my background working in the health care setting, I have heard nothing but good things about Polk State's programs. They're tough, but they equip students for anything and everything. I know that when I step out of this program, I will be able to accomplish anything that is put in front of me and that's the kind of confidence I want to have."
In addition to the rigor of the curriculum, Polk State's Respiratory Care Program provides students with ample real-world experience in the clinical setting thanks to partners including Winter Haven Hospital – BayCare, where Turner is currently completing clinical hours.
She is also dedicated to her studies outside of the classroom, utilizing the Lakeland Campus lab as a study hall and squeezing in homework in the back of the ambulance between patients when she can.
"There really is no downtime," Turner said, "but it is molding me into a better person. It's amazing to see how much my drive has increased over the last year in this program."
Turner's recent scholarship will allow her to lessen her workload and increase the time she has to study and complete assignments toward her Polk State degree.
"We appreciate the Polk State Foundation's partnerships with community stakeholders. We are making a difference in students' lives."

Shana Kent Smith
Respiratory Care Director
"We appreciate the Polk State Foundation's partnerships with community stakeholders," Polk State Respiratory Care Program Director Shana Kent-Smith said. "We are making a difference in students' lives."
And Polk State Respiratory Care students will go on to make a difference in the lives of their future patients.
Polk State Respiratory Care 2020 graduates boast 100 percent pass rates on their entry-level (CRT) and registry level (RRT) certifications, exceeding national averages of approximately 80.5% percent and 67.2 % percent, respectively, illustrating the great level of preparedness and skills Polk State Respiratory Care graduates possess.
Turner looks forward to reaching that level and is on track to graduate in spring 2022.
"When I get into clinicals, I find myself really giving my all to my patients as if my license is on the line and I don't even have my license in respiratory care yet," Turner explained, "I see the lightbulb flickering and know that by the time I finish this program, that light bulb will be shining bright."