Polk State Flight Team Brings Home Numerous Awards from National Intercollegiate Flying Association Competition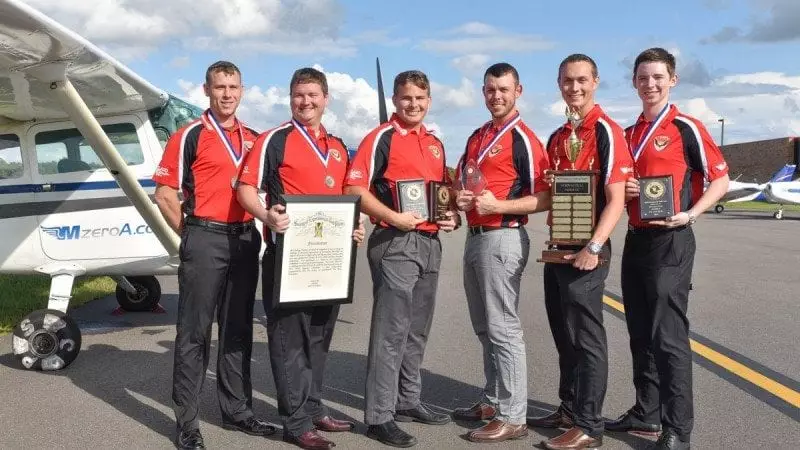 Polk State College's Flight Team is celebrating numerous awards won at the recent National Intercollegiate Flying Association Region 9 SAFECON competition.
"This is a huge accomplishment for the Flight Team," said Polk State Flight Team First Officer Aaron Poidevin. "I think it has opened a lot of people's eyes to the quality of the program and education that Polk State Aerospace offers."
During the weeklong SAFECON competition in Melbourne, Polk State's Flight Team, which goes by the name Talon 6, competed against teams from schools such as Embry-Riddle Aeronautical University, Florida Institute of Technology, Jacksonville University, Auburn University and Miami Dade College. Teams from these more established programs consisted of, in some cases, several dozen students.
"We have six members on our team," Poidevin said, "so this was a really big feat for us. No one thought we would do this well."
The Flight Team is a club for Polk State Aerospace students, allowing them to gain additional experience as they prepare for their careers as pilots or aviation-related personnel. The club was formed in January. This was the club's first time competing at NIFA.
In addition to Poidevin, members of the team include Captain Trae LeFan, Michael Brandt, Justin Wayman, Dillon Kraushaar and Matthew Pickett.
During the competition in late October, Polk State's Flight Team received the following awards:
Team Regional Safety Award — This award was based on an interview Poidevin gave with competition judges about Polk State Aerospace's safety procedures. In addition to rigorous safety procedures and policies, Polk State Aerospace also hosts regular safety seminars for students and members of the broader aviation community.
Society of Experimental Test Pilots' Challenge Award, given in recognition of the team's continuous improvement of aeronautical knowledge and skills, and performance at the NIFA competition.
2nd place in Message Drop — This competition involved dropping a box from the airplane and hitting a target on the ground. Kraushaar was the drop master in this competition. Poidevin was the pilot.
2nd place Short Field Landing —LeFan won this award, which tested participants on their abilities to land with only limited runway space available.
3rd place Power Off Landing — LeFan won this award in a competition that tests participants' abilities to land during engine failure.
5th Place Pilot — LeFan won this award based on his scores in all other competitions compared to all other participants.
6th place Power Off Landing — Poidevin
7th Place Preflight Event — Brandt won this award in a competition that tests participants' abilities to inspect their aircraft before takeoff.
8th place Computer Accuracy — Poidevin won this award in a competition that requires participants to solve numerous mathematical problems related to flight, such as fuel conversions.
8th Place Male Pilot — Poidevin won this award based on his scores in all competitions compared to all other male participants.
8th place Navigation — This competition required participants to develop a detailed flight plan, including how much fuel they would use to reach their destination and how long it would take them to reach checkpoints along the way. Participants were judged based on how close they came to their estimates. Poidevin was the pilot for this competition, while Kraushaar was safety observer.
10th place ground trainer — Pickett won this event, which tests participants' skills on a flight simulator.
Polk State Aerospace offers the Associate of Science in Professional Pilot Science, the Associate of Science in Aerospace Administration, and the Bachelor of Science in Aerospace Sciences, which has concentrations in both Pilot Science and Administration.