Polk State feels like home for new registrar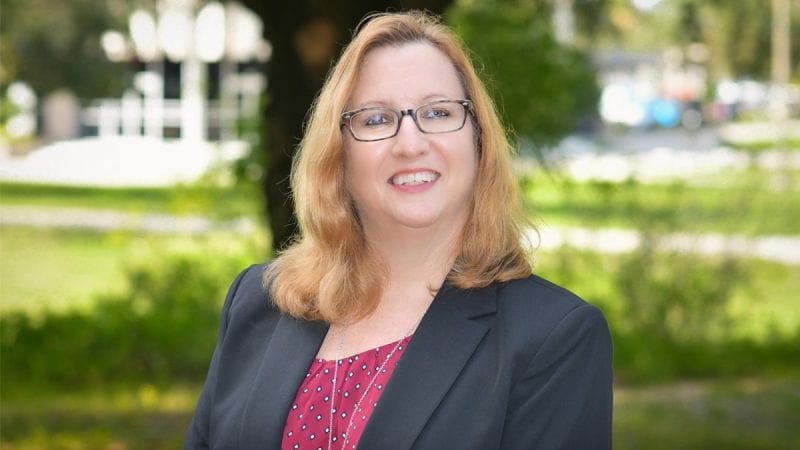 For Susan Desbrow, assuming the registrar's position at Polk State College feels like home, although she's not a Polk County native.
"It is very much a family environment here at Polk State," said Desbrow, who is originally from Gainesville and served the College between 2012 and 2014 as the assistant registrar. "Everyone here is welcoming and supportive, and because of that, it truly feels like coming home."
She started in December as Director of Student Enrollment Services and Registrar, following the retirement of Kathy Bucklew, who served the College for 13 years. Both Desbrow and Bucklew share similar philosophies, Desbrow said, which include ensuring that the student experience is as smooth as possible, from applying to college, onboarding and registering for classes, to graduation.
"I am embedded in the student process – I work for the students," she said. "The greatest part is graduation, celebrating the students, and knowing that we were able to help them along their journeys."
It's even more special because, Desbrow says, she was once in the position of many college students. After high school, she achieved her Associate in Arts degree from Santa Fe College before transferring and completing her Bachelor of Arts in English at the University of Florida.
"When I started college, I was lost," she said. "I was like many students today, and I want to help them along the way."
"I'm thrilled to be back at Polk State College. I have a great staff with experience and knowledge, I believe in what they envision for the College, and I believe that we can continue to enhance the student experience with the support of our administration."

— Susan Desbrow
Director of Student Enrollment Services and Registrar
While she was a student, Desbrow started her career in higher education as an admissions advisor at Santa Fe, where she worked part-time while working on her degrees. She transitioned into a full-time position when she felt called to continue to help students with navigating the academic environment.
"I saw an opportunity for growth and I love being able to help students – whether it's an individual student or something that I can do to smooth processes for all or a group of students," Desbrow explained.
Her innate ability to help others is beneficial in her position as registrar, in which she oversees admissions, registration, testing, and advising during onboarding – a process that she admits can be overwhelming for students, including first-time-in-college and first-generation-in-college students.
But at Polk State, the policies and procedures are in place to allow for a smooth transition to the College, and Desbrow invites student input one-on-one and through student surveys to allow for the continued growth and streamlining of the onboarding process.
"It is my goal to identify pain points for our students and figure out how we can be proactive in explaining and simplifying the process," she said.
Prior to her interview with Polk News, Desbrow was reading up on how to best serve students in the Generation Z population, illustrating her deep commitment to serving Polk State's diverse student population and the students of the future.
"I am constantly learning," she said.
Her experience is an asset to the College. Prior to joining Polk State, Desbrow served as registrar for Pensacola State College. Her service also includes time as an enrollment specialist at the College of Central Florida, and coordinator of enrollment services and interim associate registrar at Broward College.
When she's not working or researching higher education trends, Desbrow enjoys being outdoors, kayaking, and reading.
"I'm thrilled to be back at Polk State College," she said. "I have a great staff with experience and knowledge, I believe in what they envision for the College, and I believe that we can continue to enhance the student experience with the support of our administration."