Polk State Facility Receives LEED Gold Certification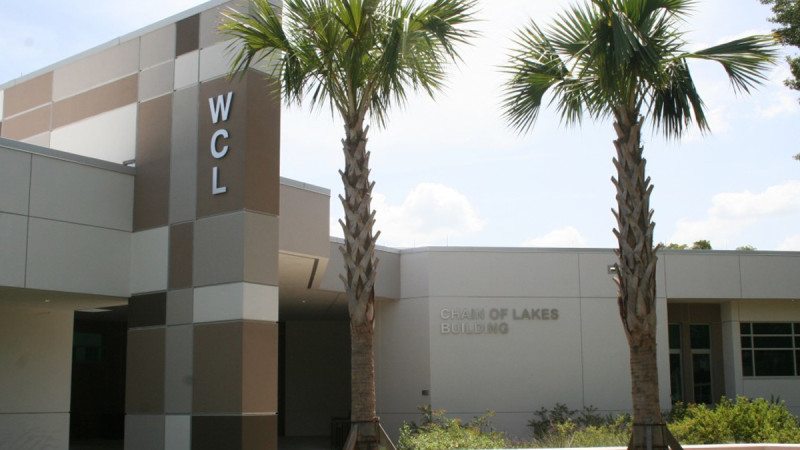 Polk State has received its second LEED certification through the U.S. Green Building Council — and this time it's gold.
Polk State recently received notice that its newly constructed Polk State Chain of Lakes Collegiate High School building has met the requirements for LEED Gold certification. LEED, Leadership in Energy and Environmental Design, is a rating system developed by the USGBC. To earn LEED certification, a structure must adhere to strict standards for everything from energy savings to water efficiency. Gold is the second-highest level of certification
"This is an honor for the College and a credit to our partners in this project," said Polk State President Eileen Holden, "And it is an appropriate recognition of the College's stewardship philosophy. We care about our community, and we are proud to grow in a way that enhances local sustainability."
Lakeland-based Straughn Trout Architects designed the Polk State Chain of Lakes Collegiate High School building, continuing decades of collaboration since the College's inception. Straughn Trout Architects partner A. Ernest Straughn prepared the original master plan for Polk's Winter Haven and Lakeland campuses, and the firm has designed numerous buildings and renovation projects on both campuses.
"We are very excited with the success of this project that embodies the forward-thinking character of Polk State as well as our firm," said Jerry Trout, principal of Straughn Trout. "The state-of-the-art facility complements the campus while at the same time creating a unique identity and home for Polk State's COL High School."
A USGBC list of LEED-certified buildings shows that the Polk State Chain of Lakes Collegiate building is one of only two in the county with gold-level certification, and the only to receive certification through the LEED for Schools program. LEED for Schools addresses issues such as classroom acoustics, mold prevention and environmental site assessment.
According to the USGBC, LEED is recognized as an international mark of green building excellence, with more than 44,000 commercial projects in all 50 states and 120 countries participating.
The College is on a "hot streak" with LEED certifications. Earlier this year, working with Lakeland-based Furr & Wegman Architects, the College earned its first LEED certification for its Lakeland Student Center, a project that involved retrofitting an existing building to meet LEED standards. The Polk State Chain of Lakes project is entirely new construction and represents the first project in the College's long-term commitment of having all new buildings meet LEED standards; the College's Clear Springs Advanced Technology Center currently under construction in Bartow will also adhere to LEED.
"We think this award says a lot about what Polk values," Holden said.
Robbie Manikis, project engineer for planning and construction on the Winter Haven campus, agreed.
"We're teaching people to be more responsible when it comes to using energy and to be more green," he said.
The 14,545-square-foot Polk State Chain of Lakes Collegiate High School is located on the College's Winter Haven campus. Built by Tampa-based A.D. Morgan Corp., it opened in fall 2011.
Among the features of the building that contributed to its LEED award are:
•All roof surfaces collect rainwater that is then stored in a 6,000-gallon tank and used for outside irrigation and toilets. The rainwater-collection system, combined with low-flow water fixtures, reduce the building's water use by 37 percent over comparable buildings.
•Extensive insulation, extended overhangs that shade the building from direct sun, a daylight harvesting system that adjusts indoor lighting as needed depending on the amount of natural light available, and a high-efficiency HVAC system mean the building uses 28 percent less energy than comparable buildings.
•Its landscaping consists of Florida-friendly plants that do not require irrigation once established. When plants do need watering, a micro-irrigation system uses collected rainwater, eliminating the use of potable water for irrigation.
•Storage racks and access to showers and changing facilities encourage the use of bicycles.
•Seventy-nine percent of construction waste was recycled or salvaged; 18 percent of the content of construction materials is recycled; 15 percent of the contents of construction materials were extracted and manufactured from within 500 miles; and 70 percent of wood products were harvested following certified forestry practices that protect forest ecosystems.
The building, in addition to being a physical example of environmental stewardship, is also helping to educate students about green building and design. Straughn Trout orchestrated a partnership between Polk State Chain of Lakes Collegiate High School and the Green Education Foundation, an international nonprofit that offers free programs providing curricula and hands-on activities for K-12 students and teachers, encouraging them to think holistically about global sustainability concerns and solutions. Through the partnership, Polk State Chain of Lakes Collegiate students may take an independent-study elective on green building, using the building as a firsthand example of achieving water and energy savings.
"The Green Building Course is designed to educate students on green building attributes and benefits, and provides them with the educational resources necessary to understand, identify and improve environmental inefficiencies within their own school buildings. The long-term results of this program will be a student population more aware of their own environmental impact and better prepared for the new 21st-century green economy," said Tim Hoeft, LEED accredited professional at Straughn Trout, who has participated in Green Buildings Course classwork at Polk State Chain of Lakes Collegiate.
Polk State Chain of Lakes Collegiate Professor Suzy Halverson, who teaches the Green Building course as part of a STEM (Science, Technology, Engineering and Math) curriculum, said students who opt for the elective learn about topics such as energy and water efficiency, indoor environmental quality and sustainability, as well as the materials that are used in green building. The building is used as a firsthand example of green building to foster discussion and help bring those concepts to life for students.
Polk State Chain of Lakes Collegiate High School Director Bridget Fetter says the building's impact on instruction will be long-lasting.
"Green building is really the way of the future, and we're proud that at Polk State Chain of Lakes, our students are learning in a state-of-the-art building. Everything, from the rainwater collection system, to the extensive use of natural lighting, to the use of Florida-friendly plants, is a learning opportunity," she said.
Polk State College operates Polk State Chain of Lakes Collegiate in Winter Haven and Polk State Lakeland Collegiate as public, charter high schools. Students fulfill high school requirements while also earning college credit — all at no cost. In many cases, students graduate with both their high school diplomas and associate degrees.