Polk State Enrolling for Last Two Grant-Funded Manufacturing Training Workshops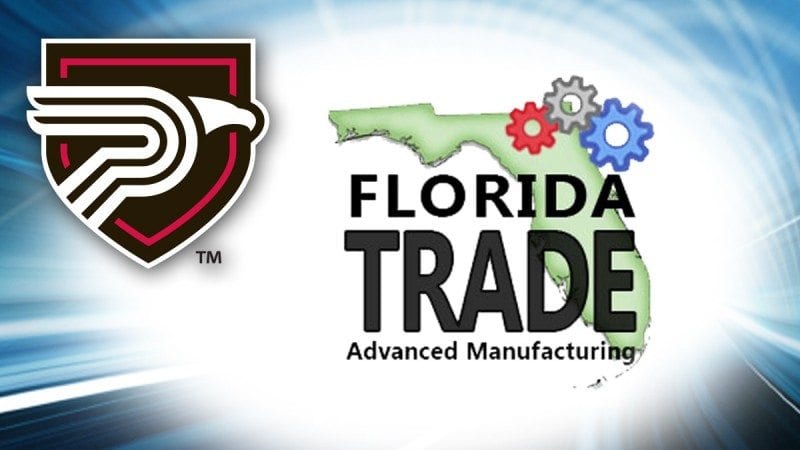 There are only two more opportunities to participate in a grant-funded manufacturing training program at Polk State College.
"This is a great program for anyone interested in re-engineering themselves, bettering themselves, or just looking to make more money in the manufacturing industry. If you've been thinking of doing this program, but just haven't gotten around to it yet, you don't have much time left," said Wyatt Dube, program coordinator of the Florida TRADE grant at Polk State.
In 2012, Polk State received $1.2 million in grant funding from the U.S. Department of Labor. The money was part of a $15 million package awarded to a 12-college consortium for implementation of the Florida TRADE (Transforming Resources for Accelerated Degrees and Employment in Advanced Manufacturing) program. Florida TRADE targets three groups of workers: the unemployed, veterans, and those currently working in manufacturing who want to expand their skill sets.
With the money it received, Polk State has offered several sessions of what has been described as a "manufacturing boot camp," a quick, but intense, program that leads to entry-level manufacturing industry certification.
Polk State has used the grant money to offer the training for free; the value of the program is approximately $1,500 per participant.
Since Polk State began offering the program in 2014, 72 participants have graduated. Of those, 42 are now working in the manufacturing industry, earning wages as high as $20 per hour.
"It's a tough three weeks, no question about it, but the work pays off. When participants leave here, they have a nationally recognized manufacturing certification that they can present to employers as proof of their competencies in safety, quality, maintenance awareness, production and processes. However, they still have to go to the interviews and sell themselves. Members of the grant staff and CareerSource Polk will help in finding interview opportunities, but it is up to each student to obtain employment. That being said, having this industry credential is a huge foot in the door and is recognized by many local manufacturers," Dube said.
Participants in the Florida TRADE "boot camp" spend just over three weeks in class, Monday-Friday from 8 a.m. to 5 p.m. During those three weeks, participants also take the assessments required to earn the Manufacturing Skill Standards Council's Certified Production Technician (CPT) certification and the OSHA-30 Industrial Safety certification, which validates training on the recognition, avoidance, abatement and prevention of safety and health hazards in workplaces.
At the end of the program, participants also receive resume-writing help from CareerSource Polk.
To increase the likelihood that Florida TRADE participants will move directly into internships or jobs, Polk State College incorporates visits from local hiring managers into the training schedule. During those visits, participants learn about hiring requirements, processes, internships and job openings.
Polk State has received rave reviews from participants and employers alike for the Florida TRADE training.
"After completing my CPT training at Polk State College, I was offered a job working with MaxPak Fulfillment Center. I went from no income to bringing home $900 to $1,000 per week. I am forever grateful to CareerSource Polk, Polk State College and my instructor for allowing me the opportunity to participate in the CPT program. I cannot adequately express my gratitude and the sense of pride I feel in knowing that I can now provide for my family," said Tyrone Simpson, who earned his CPT at Polk State in 2015.
Carl Kelly, chilled unit manager at Florida's Natural, commented on the value the CPT carries in today's manufacturing industry:
"Florida's Natural believes so strongly in the value of the CPT national certification that we include it on our employment application, 'CPT preferred.' The CPT provides us with the confidence that the prospective employee has the foundational skill set necessary to function as an effective member of our team. With the need for skilled people at an all-time high, we applaud the initiative of individuals who take a proactive position in regard to their own employment opportunities. The CPT certification provides individuals with employment advantages in the advanced manufacturing industry. "
An added benefit of the Florida TRADE program: the CPT articulates into 15 college credit hours toward the Associate in Science in Engineering Technology degree program at Polk State, or any other public state college that offers the degree.
Polk State's Florida Trade grant will expire soon. The final classes will convene June 15 to July 9 and Oct. 5-28. Classes take place at the Polk State Clear Springs Advanced Technology Center, 310 Technology Drive in Bartow.
Prospective participants should contact Wyatt Dube at wdube@polk.edu or 863.297.1010 ext. 4670.