Polk State EMS Students Among the State's Best on Exams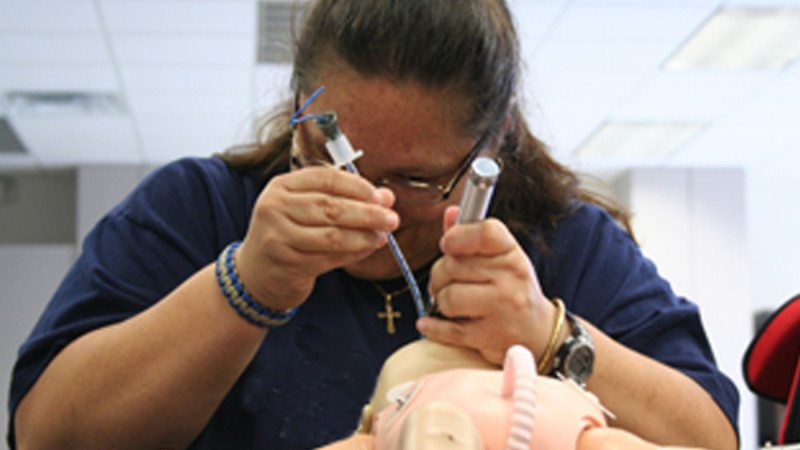 To look at it in terms of time and money, it doesn't make much sense for Jeanette Perez to study in Polk State College's Emergency Medical Services program.
The round-trip commute from her east-Orlando home is 160 miles and as long as three hours. She spends more than $200 in gas per month just to get to class. Tolls are another $45.
But several times a week, she settles in behind the wheel and makes the trek, a drive she says is worth it, no matter the chunk it takes out of her wallet and schedule.
"This is a rigorous program, and I know that the training I'm getting is really great," said Perez.
Perez is just one of many who travel for Polk State's Emergency Medical Services program. They come from across Central Florida, ignoring the numbers on their odometers and at the gas pump to focus on numbers that will have a much greater bearing on their future success.
Numbers such as those recently released by the Florida Department of Health, which show that in the past year:
95 percent of Polk State students passed the state's paramedic certification test on their first attempt, beating the state average of 88 percent.
100 percent of Polk State students have passed the paramedic certification test on their first try in seven of the past 11 years.
85 percent of Polk State students passed the National Registry of Emergency Medical Technicians certification test, the second highest passage rate in the state.
Results such as these have become something of a tradition for Polk State EMS, contributing to its regional draw and respect.
"EMS is very much a specialty and it takes a very special individual with extremely confident skill levels in order to face the challenges we face on a day-to-day basis," said Jim Wilson, EMS chief with Plant City Fire Rescue, who also teaches as an adjunct in Polk State's EMS program.
"The difference between a Polk State grad and grads of other programs is that Polk State grads are better prepared to face those challenges without me having to do a lot of on-the-job training."
Wilson, who has experience with other EMS training programs, said a number of things set Polk State apart.
One is the faculty: Program Director Don Guillette has worked in the EMS field since 1987, and currently works as a paramedic for the City of Orlando. Guillette's clinical education coordinators, Ramon Chico and Frank Dunn, also have many years in the field — Dunn still works as a paramedic — as do the 35 adjuncts who work with students every day.
"Polk State is like a 'who's who' as far as the faculty and adjunct base. At some programs, the instructors have only a few years of experience, but at Polk State, they have decades, so they are capable of brining all that field experience into the classroom," Wilson said.
Because Polk State EMS faculty have such extensive experience in the field, they place a higher level of expectation on their students, Wilson said.
"From the moment the students enter the program, students know that they are becoming something bigger than themselves. EMS is very special; it is a calling. It's not just a job or career. When it is instilled in you that you are becoming part of something very special, it is inspirational. From the very moment they enter the program, the are inspired to do more and do better than they probably ever thought they would," Wilson said.
Also from the first day, students are held highly accountable for their progress, Wilson added.
The EMS program is always being modified to meet student needs and better ensure their success on certification exams. One of the most intense modifications of recent years has been in monitoring the skills of students training to become Emergency Medical Responders.
EMS has three tiers, with EMR being the first. EMRs provide initial, hands-on emergency care, carrying out jobs such as checking vital signs, starting a patient on oxygen, and bandaging. At the second tier are Emergency Medical Technicians who provide basic life support, such as CPR, splinting and spinal immobilization. At the top tier are paramedics, who provide advanced life support, such as intravenous therapy, intubation, medication administration and defibrillation. Polk State EMS offers training options for those seeking to work at any level of the EMS ladder, and an associate degree in EMS for paramedics interested in career advancement. The program also provides Pediatric Advanced Life Support and Advanced Cardiac Life support training for Polk County Fire Rescue.
In the past, Guillette explained, those training as EMRs completed a midterm and a final exam. Now, they must pass five exams during the course of the semester. Moreover, the types of questions included in the exams are scenario-based, preparing students for the questions they will encounter on the EMT certification exam.
"We're holding them accountable to pass the boards," Guillette said.
To intensify the experience of its paramedic students, Polk State EMS follows national guidelines that exceed state requirements. For example, Guillette said, Polk State paramedic students must perform at least 15 intubations on real-life patients, even though the state requires only five.
Exams and hands-on training only go so far. Chico said it's the intangibles — the real-life lessons he and his fellow instructors provide — that ready EMS students to enter the field and make a difference right away.
"We teach them what to expect, and that's nothing like what's in the book," Chico said. "We make them understand that what we're teaching is real and it's not just to take the next test. You can affect the patient in a positive, long-lasting way."
As for Perez, she has another year of commuting to go before she'll graduate with her associate degree in EMS.  That's a lot of wear and tear on her car, but she wouldn't have it any other way.
Polk State Health Sciences includes programs in Cardiovascular Technology, Diagnostic Medical Sonography, Emergency Medical Services, Nursing, Occupational Therapy Assistant, Physical Therapist Assistant, Radiography and Respiratory Care. Polk State's Health Sciences students regularly outperform their peers in the state and nation on required licensing exams.