Polk State EMS overcomes challenges of pandemic to keep students and first responders on track to achieving their goals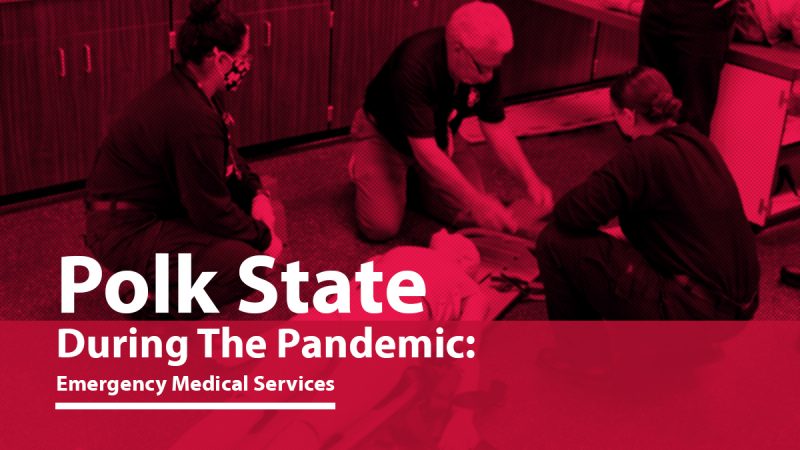 When many classes were being transitioned online at the onset of the pandemic, faculty and staff with Polk State College's Emergency Medical Services (EMS) Program were strategizing how to get students back into the classroom and working closely with local partners to provide clinical experiences as soon and as safely as possible.
Like the majority of the College's health sciences and public safety programs, EMS is built on hands-on experiences and field training that provide students with top-notch skills and a firsthand understanding of the fast-paced environment and life-saving responsibility their careers will entail. The COVID-19 public health emergency presented obstacles for this style of learning.
"When COVID hit, our students were moved off ambulances and out of hospitals because of the uncertainty of the public health emergency. That was the hardest hurdle to get over," Interim EMS Program Director Frank Dunn explained. "You wouldn't want an emergency medical technician (EMT) or paramedic coming to your house after calling 911 and having you as the first patient they've ever seen. It's extremely important to have that hands-on experience so that they know what a patient feels like, sounds like, and looks like when they're in different types of medical emergencies."
Polk State worked with Polk County Fire Rescue, Lakeland Fire Department, Winter Haven Fire Department, and Lakeland Regional Health to provide students with clinical experiences during the pandemic.
Students were grateful because they can't finish the program and test for their certifications without successfully completing both the academic coursework and clinical hours. Additionally, students were concerned about how their education and training may be derailed if they became ill with COVID-19. However, faculty and staff have gone the extra mile to provide a strong support system for EMS students.
"Students have asked 'What if I test positive? Do I fail? Do I lose money?' The system we have set up works very well," Dunn said. "If a student has any type of [COVID-19] symptom, they contact us before they come to campus and we tell them not to come to campus. In the meantime, they will Zoom into their lectures. Instructors will teach classes live and the student will be at home on Zoom. They can also send in their homework electronically and take all their exams [remotely] on Honorlock. They don't skip a beat; they don't miss anything."
"They may get behind clinically a little bit, but we will adjust schedules to help accommodate them," he added. "We don't want students to worry."
Students can also find ease of mind with the extra precautions EMS is taking in addition to Polk State's Return to Campus Plan because of the unique nature of the program. Students are required to follow Centers for Disease Control and Prevention guidelines, including always wearing cloth face coverings and practicing social distancing when able.
Dunn explained that some lab activities require students to work in close proximity as they would together in an ambulance or in a hospital. The program requires students to wear gloves during these hands-on lessons in addition to washing their hands and using hand sanitizer often.
But before they even come to the class and lab spaces, EMS students are met at a specified entrance at the College's Center for Public Safety for health screenings each day.
"Our average day starts with coming into school at a specific entrance where we check in with an instructor who asks us a series of questions 15 minutes prior to class," explained paramedic student James Dygert. "Then we go to our classroom and start our day."
"The experience as a student during COVID-19 is not without its challenges… but the school has done a great job at adapting and working around classroom limitations," he added.
Student Farah Renshaw agreed, noting that going to paramedic school during a pandemic provides a unique opportunity for students to gain even more real-world experience than they may have before.
"Going into this field, you are going to be close to sick people all the time," Renshaw explained. "That's what you're getting into – it's a risk-a-lot, save-a-lot situation."
Both Renshaw and Dygert are Emergency Medical Technicians for Polk County Fire Rescue balancing work with their schooling, in addition to the impacts of the public health emergency.
They shared that they enrolled in Polk State EMS with confidence that they will complete the paramedic program as even stronger first responders.
"I chose Polk State because the College has a good reputation and they tend to prepare people well for the field," Renshaw said.
Polk State EMS boasts some of the highest pass rates in the state and nation on both the National Registry of Emergency Medical Technicians and National Registry of Paramedics at 95 percent and 100 percent, respectively.
"It's a very challenging program, but it has a very rewarding end result," Dygert. "A lot of time goes into it but it's worth it when you feel prepared when you are working and doing your clinical. You come out feeling like you earned your certificate, and you know what you're doing."
Individuals who are interested in the Polk State EMS Program's emergency medical response (EMR) or emergency medical technology (EMT) tracks can enroll for summer or fall courses. Open enrollment for summer will start on April 5 and open enrollment for fall will start on June 1.
Individuals who are interested in the paramedic track are invited to attend a virtual information session on March 18 at 4 p.m. by clicking on this Zoom link. Applications for the paramedic program will be accepted from April 1 through April 30. More information and the application are available online at www.polk.edu/emergency-medical-services/paramedic/paramedics-program-application.